Femminielli Noir –
Medium for hverdagens absurditet (interview)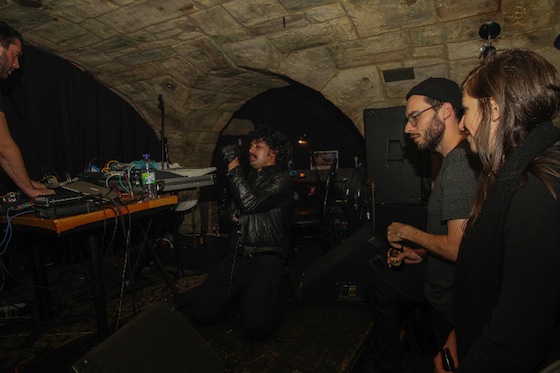 Af Alexander Julin.
Femminielli har over den senere tid gjort sig bemærket med en længere række LP- og EP-udspil – og som en del af Dirty Beaches liveband. Nu er han atter aktuel i et nyt samarbejde, denne gang med Jesse Osborne-Lanthier, der også går under kunstnernavnet Noir. Dette har resulteret i projektet Femminielli Noir, som inden for den nærmeste fremtid er klar med henholdsvis et kassettebånd, L'Éveil, og en EP, Malas Influencias. I denne anledning har jeg bl.a. spurgt ind til absurditetens rolle i deres musik, de gennemgående tematikker, sprogvalg og udgivelsesformater.
Canadiske Bernadino, som gemmer sig bag karakteren Femminielli (italiensk for mand med kvindelige træk), er født i et spansktalende land, vist nok Puerto Rico, og er siden flyttet til Quebec og Montreal i Canada, hvor han har både har lært sig fransk og engelsk. Jesse Osborne-Lanthier er producer og lydkunstner baseret i Montreal.
P/A: What is your driving force when making music?
B: Really, it's everything, but lately, especially with Femminielli Noir it stems from a negative output on everyday absurdity.
Would you describe your music as conceptual? Why?
B: Yes, although I'd never planned for it to be…things kind of panned out that way. It's like, when I'm making music, or art, or whatever you want to call it, the experiences and states I'm living through are transferred to the medium. It's not as "intellectual" as it may seem, it's more sensible and primitive; you live through stuff, make peace with it or don't, and it automatically applies to what you're doing. The moment becomes the concept.
What role do you think "absurdity" plays in your work?
B: A big part of what I make (lyrically) is absurd, but these are only "stories", or a way of browsing through philosophies. I'm not trying to convey that I am a parody, a specific caricature, but rather shuffling through thoughts and building a dialogue from different ideas. I'm very interested in the contradiction of words and actions; it's fun to adhere to different opinions and see where this takes you… it leads to very interesting discussion. Even in interviews, concepts, flirting, relationships, whatever; it's important for me not to always reveal what I really think, to go with it and see where it takes me. It's fun and adventurous.
Do you label your music as sincerely serious or do you think that it reflects humour as well? Especially when it comes to sexuality in your works…
B: It's both. The seriousness and parody are derivatives of the sensual rapport I have to the stories I make up… Sexuality is something you don't really need to think about, it's so blatantly imbedded in culture, art, the world, ourselves… Sensuality is more interesting, as it can be more vague and mysterious, very playful and malleable, especially in a creative context. Sexuality is what comes after sensuality, to me it seems more structured and played out, you have more chances of recalling the negativism in it, feeling embarrassed, shame and confusion when thinking about the events afterwards… Sensuality is more fluid, and doesn't necessarily need to be sexual, it can stay in the romantic domain, it doesn't need to lead to sex it can take you elsewhere. Læs resten