Det syvende familieportræt (FRKWYS feat. Borden, Ferraro, Godin, Halo & Lopatin)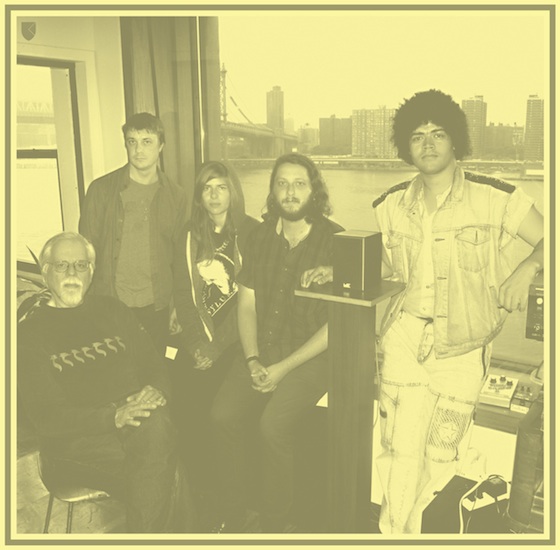 Pladeselskabet RVNG International (Julia Holter, Blondes, Sun Araw m.fl.) lancerede i 2010 en serie af udgivelser med navnet FRKWYS – kaldet Freakways -, hvor de sammensatte særlige orkestre til at udforske den elektroniske musiks grænser. Det vil sige, reminiscenser af de gode gamle pladeselskabsdage, hvor labels i høj grad var medskabere af deres bands og projekter. De har også et andet projekt, der hedder RVNG OF THE NRDS. Begge projekter er meget con amore, anti-kommercielle oplag og lidt af et familieforetagende, idet en sjov detalje ved udgivelserne er, at coveret altid er et fællesportræt af musikerne. En nævneværdig parallel til det improviserede øjebliksbillede i FRKWAYS.
"Our FRKWYS (Freakways) 12″ series pairs contemporary artists and their progenitors by way of remix, reinterpretation, and original collaboration. Like the Folkways releases, each installment in the FRKWYS series lives under a thematic banner (albeit sometimes loose) and explores a different facet of electronic music. It's been inspirational / exhilarating working with both our peers and artists whom we hold close to heart as heroes. The willingness and enthusiasm on both sides to experiment in this context has created an unbounded feeling to the series. As you'll hear, the results speak for themselves. This is future future music."
Det syvende familiealbum i FRKWYS-serien, ganske vel fra sidste år, er lige dumpet ind i min postkasse, og det er en smuk blanding af den kosmiske, hypnagogiske tomgang og let improviserede synthesizer- og elektronisk musik, som generelt har og har haft en stor plads på Passive/Aggressive. Medvirkende er Laurel Halo, Daniel Lopatin, James Ferraro, Samuel Godin og minimalisten David Borden. Hver af deres musik taler for sig selv, men fælles… WOW!
previous post: Hooray For Earth –

Mixtape for Denmark