Joshua Abrams –
ceremoniel krautrock for lut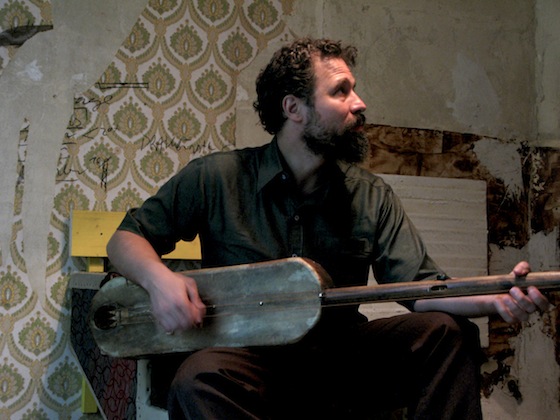 De to Joshua Abrams-album ("Natural Information" og "Represencing") er bredt set blevet fremhævet blandt de bedste udgivelser i 2010 og 2012 af en vifte af internationale medier fra internetradioer, blogs, store dagblade, jazzmagasiner og de største musikmagasiner – samt på vores egen årsliste. Det underlige nok ikke, at han har lavet et album, som tiltaler sig så mange forskellige typer lyttere, men snarere at et så beskedent og svært tilgængeligt oplag på 550 af "Represencing" kan nå så langt ud i afkrogene af musiklandskabet. Abrams bor og indspiller sin musik i Chicago, der specielt i 60'erne og 70'erne fostrede fri og spirituel musik i musikerkollektivet AACM, og han har blandt andet optrådt med Bonnie Prince Billy og Kurt Rosenwinkel.
"I'm interested in creating music that focuses on continuance. Not episodic music, but music that has a long way of reformulating itself."
Joshua Abrams laver etnografisk musik på det marokkanske bas-instrument, gimbri, som er en del af den spirituelle traditionelle musik, som blev praktiseret af sufierne og Gnawa-folket. Gimbri er en del af lutfamilien, men dog med et noget andet klangunivers. En lut lugter af Bach og Van Wissem og Goodiepal – guimbri af kidnapninger, avocado, dadelshakes på rismælk, mild pot og trancemusik. Abrams spiller lange trance-induserende numre båret af den afrikanske klang af gimbrien oven på et lag af slagtøj som trommer, klokker og gonger. Det er psykedelisk folk fra fremmede himmelstrøg med en stærk nærmest krautrocket iscenesættelse – herunder en støjende, uendelig improvisatorisk arrogance.
 Info: Reprensencing udkom i 2012 på Eremite Records.
previous post: Parquet Courts –

detaljedjævelske postpunk-riddere