Festskrift "RHYTHM" (2020/2021)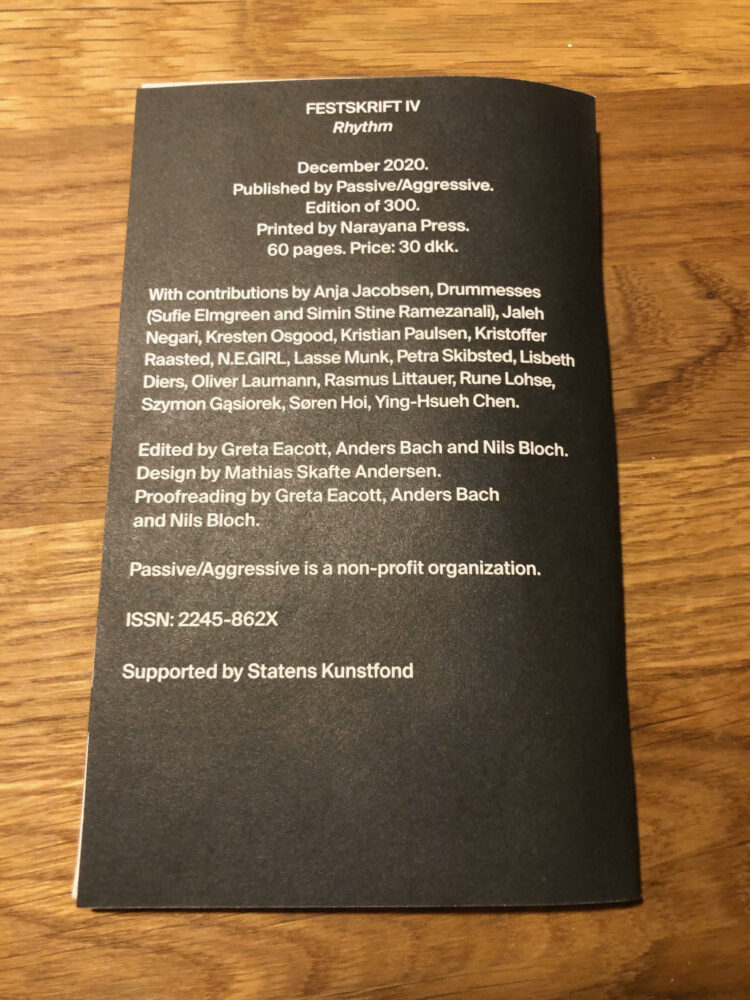 FESTSKRIFT IV
RHYTHM
Edition of 300.
56 pages.
Printed by Narayana Press.
Price: 30 dkk.
With contributions by: Anja Jacobsen, Drummesses (Sufie Elmgreen & Simin Stine Ramezanali), Jaleh Negari, Kresten Osgood, Kristian Paulsen, Kristoffer Raasted, N.E.Girl, Lasse Munk, Petra Skibsted, Lisbeth Diers, Oliver Laumann, Rasmus Littauer, Rune Lohse, Szymon Gąsiorek, Søren Hoi, Ying-Hsueh Chen.
Edited by Greta Eacott, Anders Bach, and Nils Bloch.
Illustrations and design by Mathias Skafte Andersen.
Festskrift IV was supported by Statens Kunstfond
ISSN: 2245-862X
This publication was delayed from December 2020 to February 2021 due to COVID-19. The publication can be ordered for free by sending us your address at info@passiveaggressive.dk or by subscribing to patreon.com/pasaggressive – you just have to pay for the delivery, or you can pick up the publication at a few safe spots in Copenhagen.