Sudden Death Of Stars –
euforiserende ringle-rangle fra fløjlsundergrunden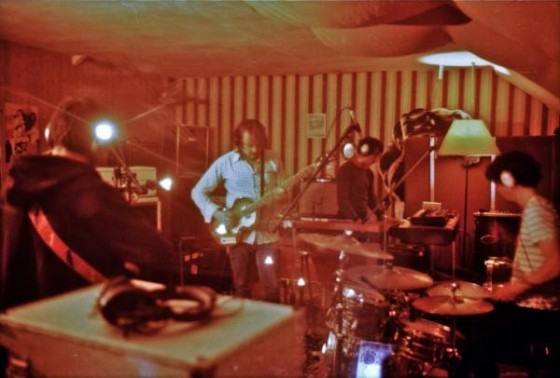 Af Andreas Melchior
Mange vil sikkert anskue Sudden Death Of Stars fra Rennes i Frankrig som en genoplivning af midt-60ernes psykedeliske rock: Flimrende folk-rock-guitarer, Beatles-bas, blævrende tremolo og et sivende orgel. Man bør imidlertid i mindst lige så høj grad dreje sit øre i retning af de ringlende 80'ertoner fra bands som Go-Betweens, Rain Parade og The Chills.
Man kunne klassificere Sudden Death Of Stars som en slags "neo-paisley underground", hvor uskyldsrene beatmelodier fusioneres med amerikansk vestkystrock og powerpoppens fjedrende energi. Ovenpå er drysset et tykt lag euforiserende stjernestøv, der rystes løs af Velvet Underground'sk dunder-tam-tam og trommehvirvler, der bringer mindelser om Michael Clarke fra The Byrds' autodidakte og elskværdigt uortodokse trommespil. Imens spilles der frisbee med klirrende tamburiner, som baldrer, idet de rammer gulvet. Musikken gennemsyres af et diskret støjende drone, som stammer mindre fra brusende fuzzguitarer, end fra de evigt summende forstærkere i baggrunden og fra flerstemmige vokalharmonier, som sukker mod himlen. Den analoge blikdåselyd på Getting up, Going Down har samme effekt, som når man rejser sig for hurtigt og det svimler for øjnene.
I "Free & Easy" hugges riffet fra The Byrds' "Feel A Whole Lot Better", som Byrds i øvrigt huggede fra The Searchers' "Needles & Pins" i første omgang, og soloen vinker til McCartneys bøjede guitaroutro fra "Ticket To Ride" (for det var nemlig ham). De forstemte guitarer i "Song for Laïka" er lige for snuden af én, men fungerer samtidig som sideindgang til et introvert drømmestadie. Åbningsnummeret "Supernovae" vågner ligefrem op midt i klimakset fra en sitarjammende demooptagelse med Spacemen 3.
Deres debut Getting up, Going Down kan findes som vinyl på Close Up Records, samt i en digital version fine pladeselskab Ample Play, der drives af ingen andre end Cornershop. Sidstnævnte label var i øvrigt var så forhippet på at skrive med Sudden Death Of Stars, at de rejste fra England til en plademesse i Frankrig for at træffe dem.
previous post: Femten nuancer af grå og myrekrig på LAK festival 2013