Cheval Sombre –
"Imagining some sort of graceful, gentle force" (interview)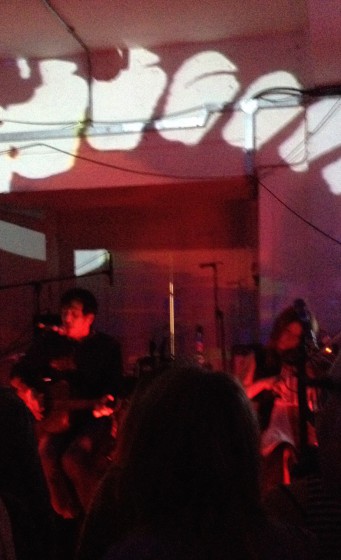 Tekst og foto: Andreas Melchior
I efteråret 2012 udgav Cheval Sombre, hvis eneste faste medlem er den New York-baserede sangskriver Christopher Porpora, det formidable album "Mad Love", som også blev omtalt her på bloggen. Porporas tyste og bevægende sange er bygget op omkring en akustisk grundstamme med spor fra åndrig folk, blues og gospel, som kamufleres af en synæstetisk wall of sound. Til dette års Pop Revo kan man opleve en af de forholdsvis sjældne Cheval Sombre-koncerter, når Christopher Porpora spiller et solo-set på Radar. Dette interview er foretaget, inden Cheval Sombre blev booket til Pop Revo.
P/A: I watched your performance at Liverpool Psych Fest 2014. It seemed to be a very emotional experience for you. What do you experience when you play in front of an audience?
Christopher Porpora: "It was — it always is. I find playing music a highly charged moment, whenever and wherever I play. The trick is always how to hold it together. And the tricky thing is that the trick always changes, as all things must and do. Sometimes it's focusing on one spot in the room, or closing the eyes, imagining some sort of graceful, gentle force which holds me as I play, which gets me through. Other times it's other things — unprintable here — other ways of being.
The show in Liverpool was particularly overwhelming as a result of many things. A dear friend of mine had recently passed away — and that was very much with me — it still is. Also, Pete Kember and Alison Cotton were on stage with me, both playing devastatingly gorgeous swells of music, which could have easily swallowed me into some luxurious death. Under such circumstances, I do hang on best I can, trying to play the songs all the while."
P/A: Pete Kember (Sonic Boom) plays a significant part in Cheval Sombre. He has produced both of your albums and also joined some of your live performances. How did that collaboration come about and what does he bring to Cheval Sombre?
CP: "Indeed, he has. What does he bring? An exquisite beauty — depth of colour, shades. He brings distraction — and he has told me so — but let me explain. I have encountered much generosity in this world I should say, and just recently was asked which musician I would like to see most give a performance. The price of the ticket not a worry, the venue, the country, the time, the place — all mine to decide. I thought about it seriously for a few minutes, considering this rare offer.
I had always wanted to see Leonard Cohen, and I did, luckily, a few years ago. Who else, I wondered. And I said it — it would be Pete. His music struck me when I was very young. And it helped to redeem a life which I suspected might be drab, empty, lifeless. So playing beside him has always been a deliverance. When the beauty of our worlds come together something extraordinary comes forth. If I can't catch him on his own I suppose I do so when we play together. I must do. The sounds he produces make the moment better for me, as they always have. But he is the one who reminds me not to get distracted when we play. He doesn't like my songs to suffer while I am getting lost in his parts. Læs resten