Excepter –
How not to obsess over every little thing, an interview with John Fell Ryan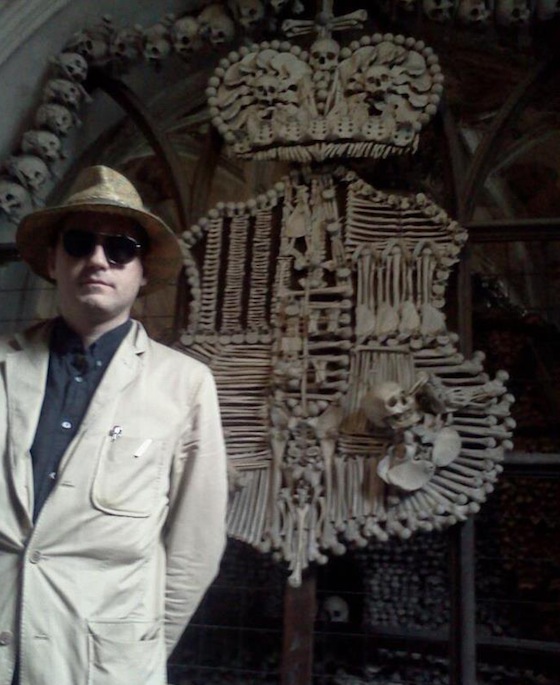 Af Emil Thorenfeldt
New Yorks fremmeste eksperimenterende orkester, Excepter, udsender i dag Christisland, der er deres første reelle udgivelse efter et par års pause for improvisationsgruppen, som ellers har udgivet i adstadigt tempo siden 2002. Pladen bliver til gengæld den første i en række af udgivelser fra John Fell Ryan & co. i løbet af det næste års tid, og den har i særdeleshed et dansk aftryk i form af label, line-up, titel og coverbilleder. Excepter kan bedst beskrives som et improband med rockinstrumenter og trommemaskiner, der ser som sit eget formål at skabe en parallelvirkelighed til den gængse musikverdens måde at være sig selv bevidst, at være hip og at være konsumerbar – og derfor i spøg reduceres med FACT's lakoniske beskrivelse: "Excepter is a freaky art/dance ensemble."
Christisland-projektet har sit udspring omkring af erklærede Excepter-fans i form af folkene bag Sejerø Festival og Escho, som inviterede John Fell Ryan (ex-No Neck Blues Band) til Danmark sidste år og indspillede pladen i København med et flot og åbensindet line-up med amerikanske Robert Girardin (fra Jaws), Lala Ryan og Jon Nicholson, samt Malthe Fischer, Rune Kielsgaard, Nis Bysted og Niels Kristian Eriksen. Dermed er det nye label Cejero også kommet glimrende fra land med den første af fire planlagte udgivelser med hhv. de sidste to års mest prominente Sejerø Festival-navne, Excepter og noisemusiker Robert Turman, samt to andre Sejerø-affiliates i form af Menthol (Kim Las og Niels Kristian Eriksen) og toto (Tobias Kirstein og Toke Tietze Mortensen).
Passive/Aggressive: How did the record come about?
John Fell Ryan: – It started just getting us to Sejerø. That sort of brought us to make a whole tour, and in the making that tour we didn't realise that Europe kinda shuts down around that time and that it would be difficult for us to find any shows in late July/early August. Paul Smith, who runs Blast First Records, said that we should make an album which we did; in order for us to make our way to Denmark I had to get a grant from the DIVA foundation and part of that was that I was to make a recording and involve local musicians and run a workshop. The record came about just of necessity before finding a way to get us to the magical island of Sejerø. It went really well, we all got along and had a great time. So I was ultimately left alone in Copenhagen for three weeks after the band left and after the tour and after the fest and everything. The mixing and overdubbing of the record was done during that period.
How does it differ from other Excepter releases and how was it recorded?
The core rhythms were programmed in collaboration but mostly Jon Nicholson doing drum machine programming and then everyone else sort of improvised on top of that. And it's mostly instrumental which we do do but it's distinct from our LP work which is focused around vocal songs. But we've always done these experimental EPs where we try on new hats.
Why instrumental? Was it just something that happened along the way?
It was originally planned to have vocals on it but it was recorded all instrumental, I just didn't have any vocals ready when we hit the studio. I figured I would have time to add the vocals later during my solo stay in town but the more that I worked on it, the more it seemed to be unnecessary. I mean, I have lyrics and everything written out [laughs]. I recorded some vocals but it was so dense already it didn't seem to need them other than the backing vocals.
With the type of recording process you have, a lot of the decisions are made pretty late in the process.
Oh for sure, especially with the last batch. We would tend to over-record and then reduce. Over-record multi-tracking and then cut away. There may be 20 minutes improvisation for each side and then ultimately it ended up being 16 minutes on one side and 11 minutes on the other. so there wasn't that much editing for a record. It was more of just removing tracks. The funny thing is, we spent almost an entire day doing guitar overdubs on guitar overdubs on the tracks and then when it came down to it I just jettisoned all of them. The sort of heavy metal guitar sound you'll hear on the EP is actually a synthesizer. Lala [Ryan] played that on her white plastic Roland synthesizer.
It's difficult to define the Excepter sound. How would one even go about putting a genre on it?
I'm loath to do it [laughs]! We have our influences but they don't tend to be our contemporaries. It's influenced by record collecting. Improv for sure, but also tools and techniques of electronic dance music. Drum machines and synthesizers, etc. But we don't make dance singles.
Yeah, you can definitely track a lot of different influences from reggae to early German electronic music.
Yeah, we love all that stuff. Læs resten