ToTo –
Tungt manuelt arbejde og en trance til at jage dæmoner bort (interview)
Tweet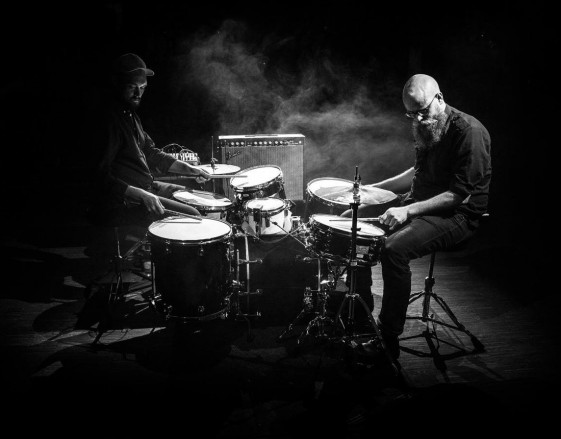 Af Simon Christensen. Foto Rudi Thomas (rudithomas.com).
"Jeg elsker din tekniske Grænseløshed. Jeg elsker Maskinernes endnu ukortlagte Land, Propellernes Tidsalder, hvor Menneskeheden for første gang i Historien løfter sig fra Jorden, hvem ved, for engang helt at forlade den… erobre en anden Klode … gøre den til sin … Jeg elsker alt det, som sker og som skal ske."
Jeg har altid opfattet den radikale trommeduo ToTos musik ud fra to kontekster: a) en gammel-futurisme, hvor man lader sig begejstre af det matematiske, cirkler, symmetri og det tunge industrielle anslag, at musikken buldrer derudaf af nødvendighed, som et lokomotiv i høj hastighed på løse sveller, kun afbrudt af en sporadisk tuden, og b) en fluktuerende trancetilstand, hvor musikken lever som en hypnotiserende organisme og fortryller i særdeleshed det berusede publikum til ekstrem dans i eksotiske mønstre.
ToTo, som består af Tobias Kirstein og Toke Tietze Mortensen, udgiver sit første album efter to års eksistens som buldrende polyrytmisk lydkontinuum på en række alternative scener og små musikfestivaler i Danmark. Læs: alle de små alternative musik- og kunstfestivaler relateret til denne del af scenen, så selv i den henseende har ToTo været konsistente.
Duoen optræder næsten altid på gulvet med publikum rundt om sig i en cirkel og konsekvent med ét sæt af ca. 20-40 minutters varighed, der former sig som en intensiverende spændingsbue af kollektiv lyd, energi og trance. Dét sæt er blevet optaget ved en session i Radiohusets Koncertsal og udgør den første halvdel af debutpladen "Pois Demonit Pois", produceret af Martin Vognsen (fra Jvtlandt), mens anden halvdel af pladen er indspillet med Oliver Hoiness og kraftigt efterbehandlet/produceret af Andreas Pallisgaard (Pinkunoizu). Master af Rashad Becker.
Passive/Aggressive streamer B-siden af albummet i en begrænset periode, og herunder finder du også et ekstensivt chat-/mail-interview med ToTo, der går bag om det ostensive, det åbenlyse.
Info: "Pois Demonit Pois" udkommer den 4. april på Cejero, releasefest samme dag (RSVP). ToTo tager i øvrigt på Japan-tour den 13.-20. april via Jvtlandt.