Watermark –
Studier i udflytning og blackmetal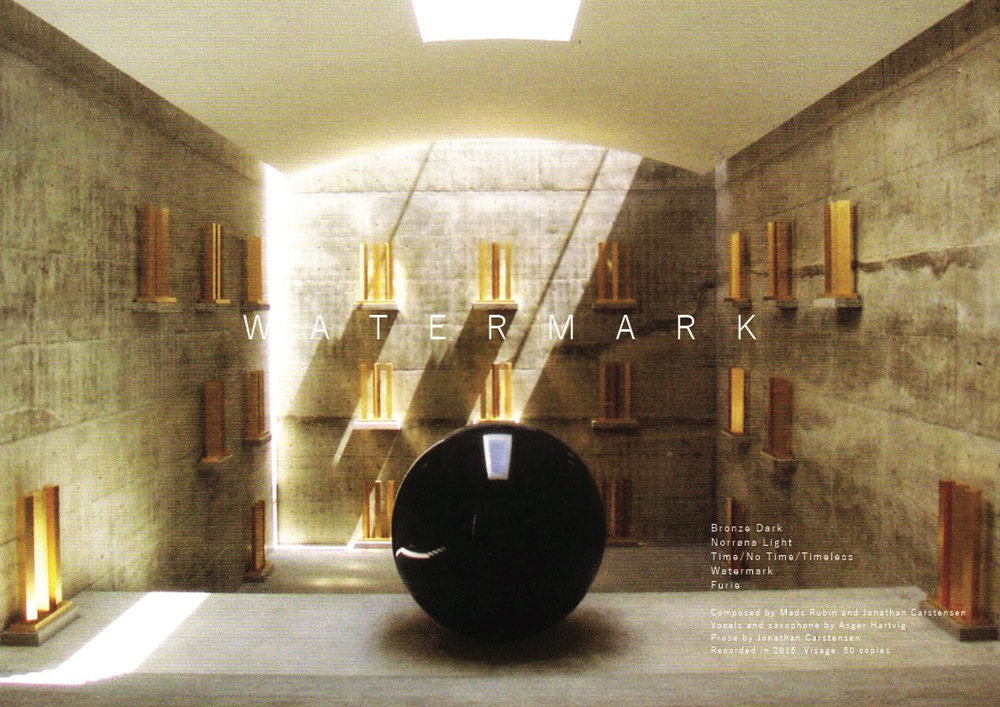 Af Simon Christensen
"Watermark" er en ny udgivelse af Mads Rubin Mauritzen (Venus, Bror m. Brødre, First Flush) & Jonathan Carstensen (First Flush, Forgiver Forever), der arbejder i et rum mellem new age, spoken word og blackmetal-æstetik på det fortsat overraskende label Visage, der forlænger First Flushs og Af Med Hovedets rejse mod strømmen. I en tid, hvor alt er malet i en lo-fi-monokrom stil, er Visage et tilsyneladende dyrt udseende alternativ (anti-lo-fi) med caps til 200 kroner og fascistisk marmor-beklædt arkitektur på coveret. Under overfladen er der dog stadig tale om hjemmeproducerede CD-r i mikrooplag, hvilket selvfølgelig også er eksklusivt på sin vis.
Det bemærkelsesværdige ved "Watermark" er albummets (som mange andre udgivelser fra Carstensens hånd) konsekvente stil, hvor den støjende blackmetal produktion virker som et krystallisk bagtæppe for et ellers vanligt loose trommespil, guitarer (af Mads Rubin & Jonathan Carstensen) og saxofon & recitation ved Asger Hartvig. Ét nummer på udgivelsen "Time-No Time-Timeless" stikker ud som et roligt neofolket loop med tekst. Samlet set er den musikalske henvendelse både rimeligt gruopvækkende og rituel.
The color that is white and fills these – no longer work in thoughts – it was just soft lies – I spread out to land more comfortably – after I saw the evening water lilies – it really follows me the chain you had – that silver on your damp neck – reminds me of.
In the evening light (fade) – if I could tell you about all these – almost like an image of Monet in water framework – all these streams of thought – the material the white is made of it – may well be the marble of our time – the material you feel omg – to think of now – you know the feeling of just having – the kind of whiteness in your body – introduced by Apple – such one I have now.
Den dyre overflade og det arkitektoniske verdensbillede er på én gang både omslaget og kernen i Visages udtryk; "present yourself carefully to this chamber", "the material you feel omg", "notice the darkness, the mark on the evening lit walls, a watermark, which stands out the longer you stay, but once left might not seem anything but a simple vision" er blandt de eksplicit rumlige betragtninger. Øvrige temaer er internettet og hukommelsen.
Det er, som navnet Visage lover, en ny vision – i hvert fald i dansk kontekst – og derfor har selskabet lidt den samme tiltrækningskraft af at bringe noget nyt til bordet, som også Af Med Hovedet havde for nu fem år siden. Man kunne argumentere for, at det har været nødvendigt med et hamskifte, eftersom både Synd & Skam og First Flush har aflivet sin egen 'naive' første inkarnation og i stedet arbejder med en meget større palette af værktøjer og strukturer.
Foruden "Watermark" er også First Flush, Synd & Skam og G-Djeep aktuelle med udgivelser på Visage, som startede i foråret 2015. Og de har fortsat rødder i en kollektiv struktur, idet medlemmerne hjælper og optræder på tværs af projekterne. Hvis Af Med Hovedet var en økologisk feberdrøm fra Fynsland, så er Visage uundgåeligt et stykke af faret vild på internettet og fremmedgjort i København. Men det bliver musikken ikke mindre interessant af, tværtimod!
Info: Mads Rubin & Jonathan Carstensen "Watermark" udkom i oktober 2015 på CD-r på First Flush's nystartede pladeselskab Visage.
previous post: Grand Prix –

At blive sit eget livs imperator