ZONE Collective — Getting into the ZONE with Compilation Vol. 2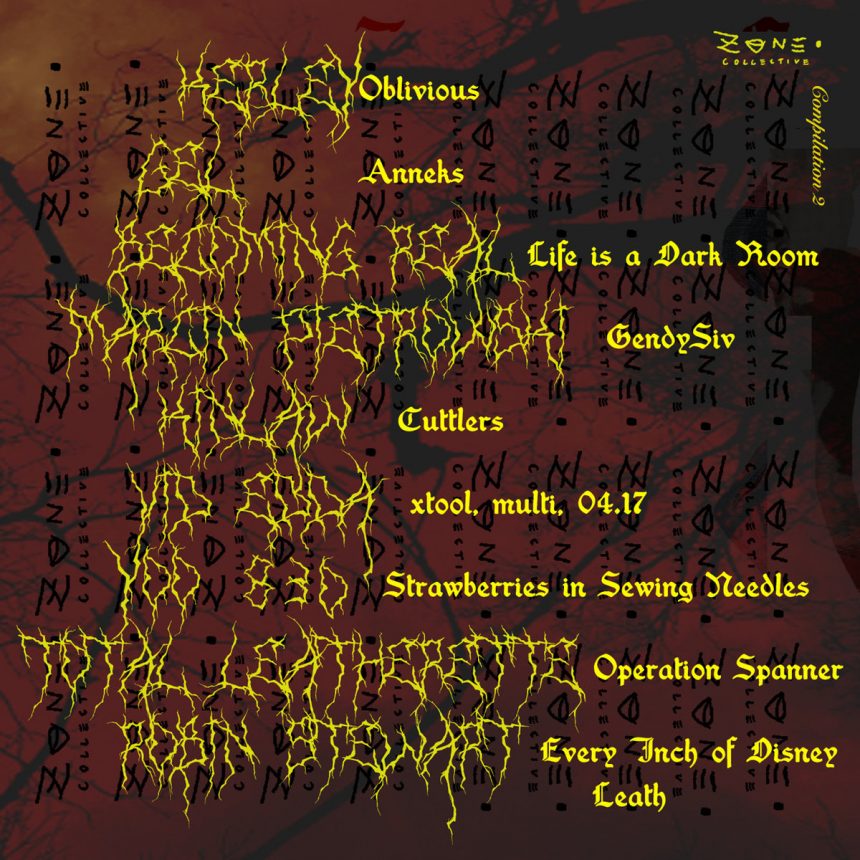 V/A: ZONE Compilation Vol.2 (ZONE Collective). Review by Ivna Franić.

The Copenhagen-based ZONE Collective is back with their second compilation, featuring another refreshing collection of tracks by underground acts mostly hailing from Denmark and the UK. Although the majority of the acts here expectedly operates between different styles of electronic and noise music—while also sharing an affinity for intriguing sound design—the new compilation shifts away from the explicit club leanings of the first one, putting an emphasis on more abrasive sounds.

The somewhat typical introductory drone of Kerley's "Oblivious" and the curious bubbly sounds of "Anneks" by GEL (Karis Zidore's project behind last year's solid tape "Drama Tools") establish a relatively gentle mood early on, but it doesn't take too long for things to go into a more caustic direction. Becoming Real introduces propulsive beats coated in noise on "Life is a Dark Room", which are then logically followed by Marcin Pietrowski's glitchy noise and the warped grime experiments of Bristol's Kinlaw.

After six screechy, raucous minutes of Vid Edda's "xtool,multi, 04.17", YOO 830—the new project of Blackest Ever Black's Tarquin Manek—provides us with a welcome break in the form of ambient electronics with an underlying groove. It is only then, however, that things get pretty wild with the industrial stomp of Glasgow's Total Leatherette and the noisy industrial techno courtesy of Robin Stewart of Giant Swan fame. Stewart's track "Every Inch of Disney Leath" is a clear compilation highlight—funnily enough, the similar could have been said about his bandmate Harry Wright's contribution to the first ZONE comp under his Mun Sing alias.

Overall a solid effort with several strong performances, ZONE Compilation Vol.2 not only sheds light on some interesting acts that might have passed under the radar, but also creates an interesting dialogue by finding common ground between several different music scenes.

Info: ZONE Collective celebrates the release this Friday, March 22nd at Mayhem with performances by Becoming Real, Vid Edda, LAF Tebano, Orchid Domain and Prince Loris (RSVP ).

previous post: Extremely Rotten –

Copenhagen is an all year round death metal-fest (interview)