Antipyrine & Passive/Aggressive –
Mark Fishers hovedværk udkommer på dansk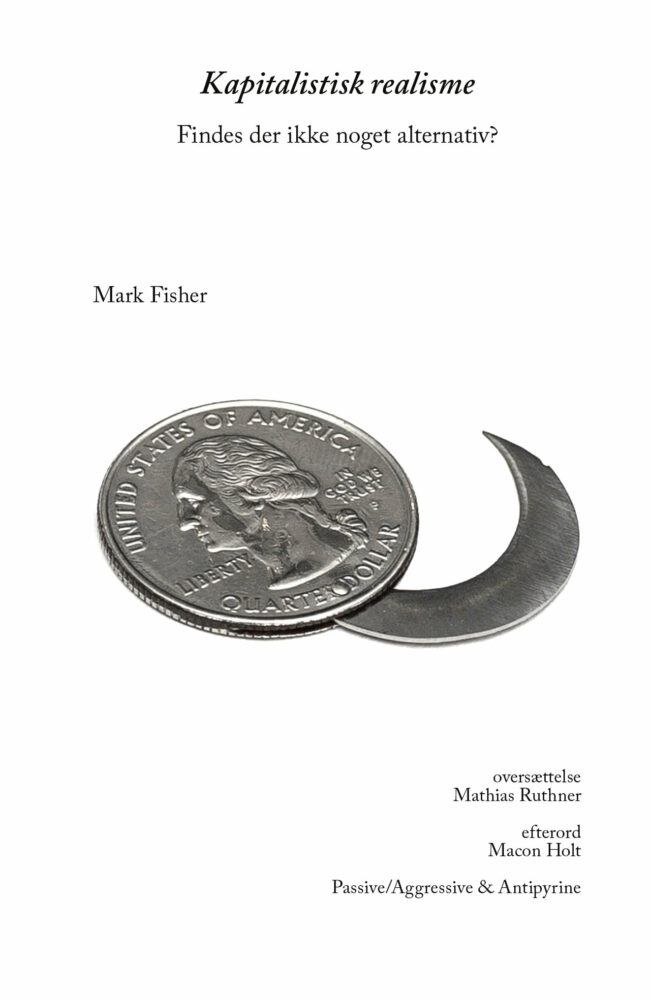 Antipyrine og Passive/Aggressive udgiver Mark Fisher "Kapitalistisk realisme" for første gang på dansk. Oversættelse af Mathias Ruthner med efterord af Macon Holt.
Mark Fisher (1968-2017), også kendt som "k-punk", var en engelsk kulturteoretiker, kritiker, forfatter og underviser. Hans bidrag til tidsskrifter kunne regelmæssigt læses i bl.a. Sight & Sound, frieze, New Statesman og The Wire, hvor han bl.a. var redaktør. Han underviste på Goldsmiths, University of London og skrev bøgerne "Capitalist Realism" (Zero Books, 2009), "Ghosts of My Life" (Zero Books, 2014) og "The Weird and The Eerie" (Repeater Books, 2016). Hans blog k-punk.org var aktiv fra 2003 til 2015, hvor han skrev om politik, aktivisme, musik, mentalt helbred og filosofi. Hans tekster er posthumt samlet i "K-punk: The Collected and Unpublished Writings of Mark Fisher" (2018).
Den lange mørke nat ved historiens afslutning er nødt til at blive forstået som en enorm mulighed. Den kapitalistiske realismes omsiggribende undertrykkelse betyder, at selv små glimt af politiske og økonomiske muligheder kan få en uproportionelt stor effekt. Den mindste begivenhed kan rive et hul i det grå forhæng, som har markeret handlingsmulighedernes horisont under den kapitalistiske realisme. Fra en situation, hvor intet nogensinde kunne ske, er alting pludselig muligt igen.

– Mark Fisher
"Kapitalistisk realisme" kan forudbestilles via antipyrine.dk til 100 kr. [normalpris 160 kr] og sendes derudover til alle nye og nuværende Patreon-abonnenter via www.patreon.com/pasaggressive pr. den 31. maj 2021.
160 sider.
Tilrettelæggelse: Mathias Kokholm
Tryk: Strandbygaard Grafisk, Skjern
ISBN: 978-87-93694-79-8

previous post: Rhizome –

Gatherers, Not Hunters