Chris Corsano & Bill Orcutt –
en power-dissonantisk dinosaur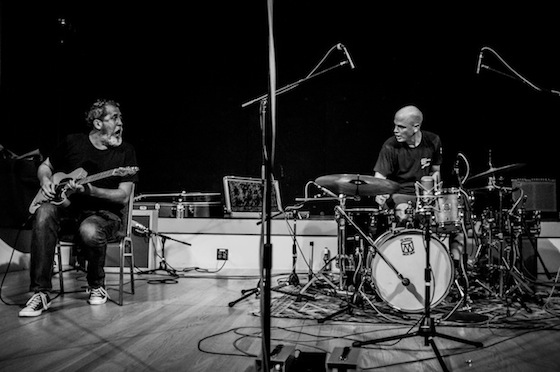 Af Frederik Denning. Foto Peter Gannushkin.

Albummet "The Raw And The Cooked" præsenterer en række liveoptagelser fra Chris Corsano og Bill Orcutts turnésamarbejde i 2012. Bill Orcutt er bedst kendt som guitarist i Miami noise-rock bandet Harry Pussy, og er efterhånden en grand old man i amerikansk eksperimentalmusik, mens Chris Corsano er en relativt ung, men meget prominent jazztrommeslager med et absurd bagkatalog, der har rummer samarbejder med alt fra Björk over Thurston Moore til undergrundsjazznavne som Virginia Genta og Paul Flaherty. Bill Orcutt har en rimelig distinkt stil, mens Corsanos output ekstremt varieret; han kan det ene øjeblik lave forfærdeligt gøgler-avantgardisme (inklusive on-stage tøjdyrs-jonglering) og det næste fuldstændig hjernenedsmeltende noise.
Heldigvis er vi tættest på sidste kategori på "The Raw And The Cooked", der udkom på Orcutts label Palilalia i foråret. Orcutt, der er vendt tilbage til den elektriske guitar på denne plade, spiller fuldstændig frenetisk, spastisk eksplosionsguitar, mens Corsano ubesværet veksler mellem punk, jazz og alt imellem. Orcutts guitarspil på pladen kan vel bedst beskrives som en slags Derek Bailey på speed, og mens den ikke nødvendigvis er synderligt unik er den rimeligt fucking real og spot on. Jeg ved ikke, hvem der er den rå, men de er begge to kogte og fra første sekund eksploderer pladen i et lightning bolt lignende inferno, hvorfra den sjældent bevæger sig ned i lavere gear. Når det hænder bevarer duoen dog intensiteten og kraften, og man keder sig ikke når der blot gnides lidt på strenge og bækkener.
Der er udkommet en lang række stærke duoudgivelser de seneste år, herunder flere med Corsano, men kun få med guitar. Og derfor er det befriende at "The Raw And The Cooked" så ubesværet viser at guitaren stadig har masser at byde på som leadinstrument i free-jazz/power-dissonans.
previous post: Første årgang af Flux Festival –

på skuldrene af et blomstrende slagsmaal