Damien Dubrovnik –
En forfinelse af redskaberne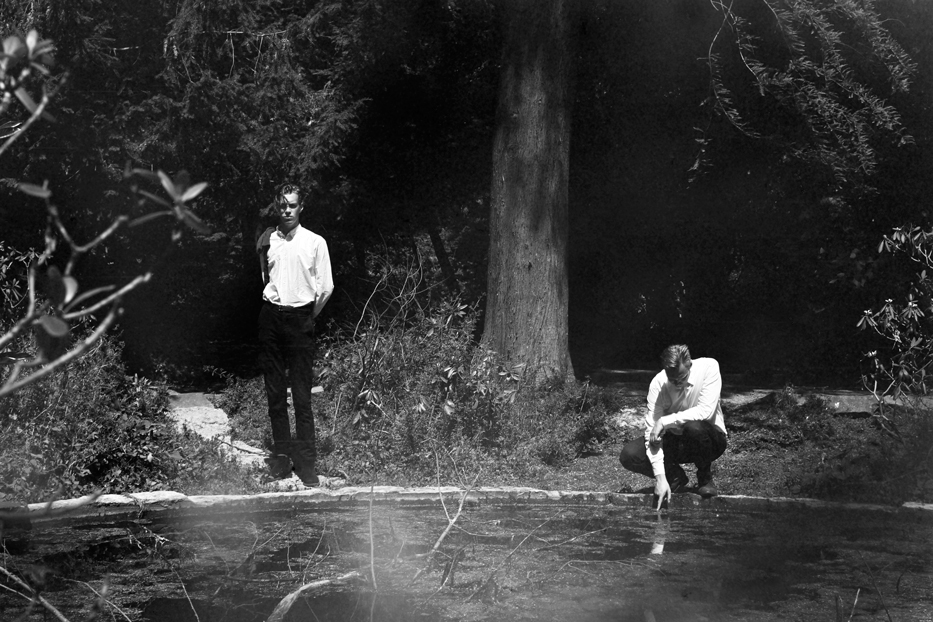 Af Simon Christensen – foto: Jonas Bang
For det utrænede øre er Damien Dubrovniks musik vanskelig at lytte til, men den er fuldstændig umulig at komme udenom, når man snakker om ny europæisk, elektronisk musik, specielt i form af noise og power electronics.
Duoen med Christian Stadsgaard og Loke Rahbek, der også er de to grundlæggere af Posh Isolation, har eksisteret lige så længe som labelet og udgivet en del bånd inden for genren både som Damien Dubrovnik og diverse sideprojekter. Når "Vegas Fountain" er interessant, skyldes det, at det er den første rigtige fuldlængde-vinyludgivelse på eget label (alle andre har, så vidt jeg ved, været andre formater, genudgivelser eller andre labels) siden deres gruopvækkende hovedværk, "Europa Dagbog", der blandede musique concrète med mere eller mindre militante/fascistiske/magtbegærlige udtryksformer.
I mellemtiden har Posh Isolation fået et næsten ubegribeligt omdømme, og Damien Dubrovnik har spillet en del – i øvrigt glimrende – koncerter i årenes løb med vægt på en øredøvende fysisk performance med Loke Rahbek som en form for prædikant og med kontaktmikrofoner halvvejs nede i halsen.
Derfor er det bemærkelsesværdige ved "Vegas Fountain" den skærende kontrast fra førnævnte ekstremt larmende og punkede udtryk til den her serie af indspilninger, som er langt mere clean, klanglige og fyldt med overtoner og nuancer, der godt nok stadig er fysisk ubehagelige, men nu også er det på lav volumen. Samtidig er det den første Damien Dubrovnik-udgivelse, hvor jeg er begyndt at overveje, hvad der sker uden for det hørbare frekvensområde? Man kunne se det som et lille kvantespring, en forfinelse af torturredskaberne.
Det meste af tiden balanceres lyden mellem singulære sinustoner, ekstrem hvid støj og den dystopiske synthesizer-æstetik, som man måske forbinder med ambient industrial-musik i stil med bl.a. Prurient. Hvor Damien Dubrovnik tidligere har beskæftiget sig med fysik, seksualitet og performance, virker "Vegas Fountain" langt mere kunstnerisk og næsten arkitektonisk i den måde, man placerer lytteren. Mere rum, mere marmor, mere åben, mindre Mayhem.
I et interview har Rahbek udtalt, at "The aim with Vegas Fountain was to make a piece of work that addresses the nature of seduction and performance as a seductive performance in itself. A theatrical play about the nature of a theatrical play. […] Vegas Fountain is a theatre about seduction, and the theatre that takes place on, as well as off stage." Men hvis man isolerer albummet fra artwork, koncerter og forhåndskendskab til Damien Dubrovnik, kunne det lige så godt handle om så meget andet.
Til Stalker forklarer Stadsgaard endvidere: "It has always been very easy for us to work with Damien Dubrovnik, but in fact the new record has taken us a very long time to finish. This also means that we have worked more thoroughly on this record than any of the ones before it. A number of huge things happened in our private lives, which is why this record took so long and was so hard for us to do. It was definitely not boring, but it was very exhausting work. Therefore, this record also represents great emotional ups and downs for us, as it has been so long on its way. The music also reflects those feelings. As a matter of fact, we were afraid that we had lost our ability to easily make music, but then we were asked to make a 12" on Jealous God, which we finished in no time. It turned out that we hadn't lost our musical abilities, it was apparently just a phase with this record that we had to go through."
Omkring årsskiftet udgav Damien Dubrovnik endnu en LP i form af "The Light of God Shines Eternal" på det britiske techno-label Jealous God.
Info: "Vegas Fountain" udkom sidste år på Posh Isolation/Alter – LP'en er stadig tilgængelig på poshisolation.net. "The Light of God Shines Eternal" er ude nu på Jealous God.
previous post: Art's Birthday –

International kunstudveksling i radioformat