Nyt fra Dirty Beaches –
synthmoduleret sørgmodighed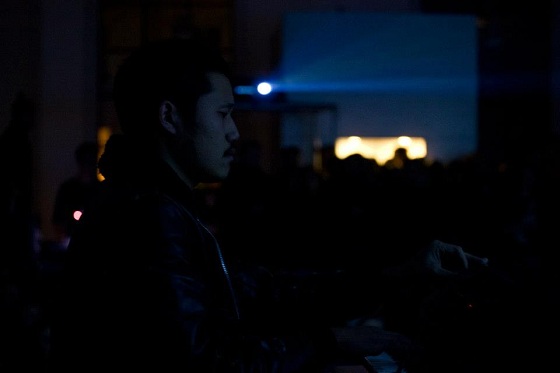 Foto: Vlad Dudu.
"Falling Into the Abyss. I'm leaking 1 track from love is the devil. I've never been good at business. But this is my heart &soul. I need to get this off my chest. This title track has blood&tears all over it and is the sound of my empty self. I need to share this before it becomes something else."
I forbindelse med Dirty Beaches' liveperformance til "Waterpark"-premerien i november fortalte Alex "Dirty Beaches" Hungtai mig i en ærlig stund, at livet pt. var lidt af en rodebutik. Han og kæresten var gået fra hinanden, og han levede en tilværelse uden fast bopæl. Planen var derfor at flytte et par måneder til Østeuropa og lave albummet færdig. Nu er første lyd fra det kommende (dobbelt!)album så sluppet, og både i stemning og lancering (ovenstående tweet), vidner titelmelodien om en Dirty Beaches i eksistentielt limbo.
Alex masserer sin Korg MS-10 vintage analog-synth med skrøbelige kærtegn og kanaliserer dermed sine indre dæmoner og tristesse ud gennem de stryger-imiterende tangenter og synthmodulationer. Ordet cinematisk er en underdrivelse. Ligesom i det meditative og tranceinducerende soundtrack til Waterpark, de første (også instrumentelle) ep'er og seneste single "Elizabeth's Theme",  er der langt fra den distancerede coolness på "Badlands"-debuten. Det her er lyden af vinter, melankoli, sorg og håbløshed. Tabt kærlighed, men også en nyfunden sårbarhed. Og dermed skønhed i sin reneste form.
"Love is a fog that burns with the first daylight of reality." – Charles Bukowski
Info: Dobbeltalbummet "Drifters/Love Is The Devil" udkommer den 20. maj på Zoo Music.
previous post: Father Murphy –

rungende, katolske horror-improvisationer