Forest Swords –
Musik fra i går eller for 100 år siden (interview)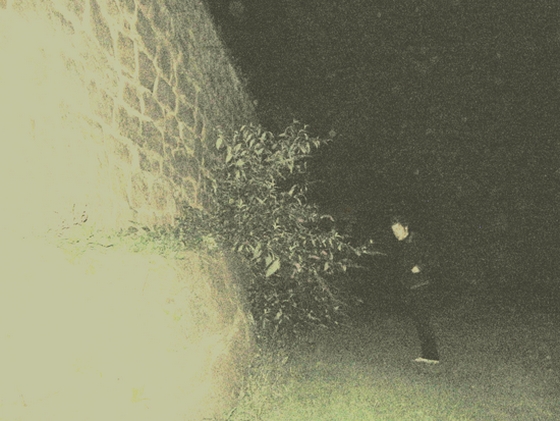 Af Alexander Julin og Mikkel Arre
Matthew Barnes stod bag en af 2013's mest helstøbte plader, da han udgav sit første fuldlængdealbum under navnet Forest Swords. På "Engravings", som albummet hedder, krydser Barnes ubesværet diverse genregrænser og blander dub-bas, Morricone-twangede guitarmelodier, dekonstrueret r'n'b og androgyne vokalfragmenter.
Hvad enten han arbejder med ubestemmelige blæseinstrumenter, uldne synthlinjer eller krystalklart klaver, samler det hele sig i et udtryk, der ikke rigtig minder om nogen andres. Det skyldes især, at Barnes – på trods at han ikke har noget studie, men blot arbejder på sin laptop – formår at skabe en eminent fornemmelse af rumlighed i musikken.
Den 21. og 22. februar spiller Forest Swords i hhv. Aarhus og København, og i den anledning har Passive/Aggressive interviewet Barnes om tidløshed, Mary J. Blige og hvad man kan forvente sig af koncerterne.
P/A: Some people find that your name as an artist, Forest Swords, matches your sound perfectly in one way or the other. Do you have any literal or visual idea of what picture you want to paint with your music? Or do you think about your music differently from this?
Matthew Barnes: Yes, I always use visuals as a tool for musical ideas. For "Engravings" I pasted up images and photos that I'd found on my wall. I used those as inspiration for sounds and textures, try to reflect visual things into beats or melodies or sounds. It's just all about trying to spark an idea off and seeing where it takes you. It's very open.
P/A: You've attended Liverpool School of Art and Design. Has your time spent there had any effect on "Engravings" or your general approach to making music in any way?
MB: It's very similar. The way I build music is very visual, on a computer, so I'm used to seeing the tracks build up in layers and colours. It's not so different from making something in Photoshop, or making a collage. You build things up, see what works, take things away, add more elements. It's about finding the final end product that just feels 'right' to me. Going to the Liverpool School of Art helped me understand that it's OK to not follow something 'cool', and to forge your own way with the art that you make. Just do your own thing, and make work that is honest, and people will respond to that.
P/A: The sound of "Engravings" seems very style-conscious though deeply original. Did you have any specific idea of where you wanted to go with "Engravings" to start with, or did you find out about this during the recording process?
MB: Not really – it was a very natural and slow process for me. It felt a bit like a glacier – it would slowly move along and things would get caught up in it, or things would melt away, over time. It took about 18 months overall to make, spending a few hours on it every week. I'm not really the type of person who sits down for 24 hours to make a song, I prefer doing it in pieces.
P/A: (How) do you find "Engravings" different to your previous releases? Do you by now have any specific ideas of anything you'd like to do differently on forthcoming material?
MB: I definitely want to experiment with new sounds and production techniques on any new material I make. I've made two records at home in my bedroom, with just me and a laptop ("Dagger Paths" and "Engravings"), so it might be fun to try recording in a different space. For me "Engravings" is a lot more focused than anything I've ever done, a lot less psychedelic in places. My early EPs felt like me finding my own path and trying out different stuff, whereas "Engravings" was me finally realising all the ideas and executing them in the way I wanted. It was quite intense to make. I guess it's a lot more streamlined in that way. Maybe a bit more accessible.
P/A: On "Engravings", you seem to use more vocal samples – or at least, they are more prominent here. What characterizes a good vocal sample for you? And how do you work with the samples in order to blend them into your music?
MB: For the samples on "Engravings" I wanted to find vocals that would be balanced between very sad and very euphoric. It was up to the listener to decide which is which. Maybe it depends on their mood, in a way. I'm attracted to vocals that don't necessarily have any words attached to them too – they're just like their own instrument. It means it's a lot more open-ended for the listener. I like that they can translate it how they want to.
P/A: In an interview with The Fader, you said that you find "nostalgia very uncomfortable" and want to avoid being associated to a specific period of time in practice. What do you do to sever these ties between music and time?
MB: I just try and pick sounds and visuals that don't feel too 'trendy'. I'm very specific with the types of textures and melodies that I use. Trends die out quickly and are replaced regularly. Especially with electronic music, as soon as a new piece of software or a new synth is released, you can hear it filter into people's music. It becomes really boring, very obvious. It dates it instantly: 'this song is from 2014'. And as soon as that trend is over, you're dismissed. I like my music to be a bit more ambiguous – it could be made yesterday, or thirty years ago, or a hundred years ago. I hope it gives my music a bit more longevity. People can feel emotionally attached to it a little bit longer, hopefully. All of my favourite albums were made years ago and still sound fresh today – that's the dream, to make an album like that.
P/A: On "Dagger Paths", you covered Aaliyah. You are fond of Missy Elliott, and in an interview with Dummy Magazine, you praised an absolutely extraordinary Mary J. Blige live performance of "No More Drama". What is it that you like about 90s R'n'B? Were there certain qualities in the genre back then, which you miss in R'n'B today?
MB: It was just honest, I guess. Very pure. Nowadays it's a lot more about clubs, champagne, escapism. There's nothing wrong with that necessarily – it's what sells singles. But back then it was about how a man had treated you badly, or whatever. A lot more personal. Also, from a musical point of view, the production – especially 90s, early 2000s – was interesting and boundary-pushing in terms of pop music. People like The Neptunes or Timbaland completely changed the game. They were complete visionaries.
P/A: There is a lot of space in your compositions. How do you work with them to keep these open spaces? Is it important for you that your tracks evoke this spacious feeling?
MB: It's mainly about giving all the instrumentation space to breathe. A lot of electronic music nowadays is very packed together, compressed, which can be very cool when it's used sparingly. But I think it's easier to highlight melodies, or beats, and so on, when you put space around all those elements. It's fun to play around with. It's a learning process.
P/A: Even though your music sounds organic, there are quite a few intricate layers in it, which appear to be difficult to recreate in a live setting. What is important for you when you play live? What do you want people to take with them after having been at one of your shows?
MB: Yes, it's very layered in places. I tend not to worry about recreating it too much live – the good thing about using laptops and electronics is that you can have as many things going on as you want. It also means you can play around with loops, change things around, change beats if you want. I have a bass player who plays live with me that gives a very human element to it, a different kind of weight to the live sound. Some tracks I change up completely live and some I stay quite faithful to. I suppose one of the most important things for me, though, is the visual element: having good projections, lights, and so on. I've just commissioned some film and moving image from a filmmaker here in Liverpool that I'll be taking out on tour with me.
Info: Forest Swords spiller på Radar i Aarhus d. 21. februar (RSVP) og på Jazzhouse i København d. 22. februar (RSVP).
previous post: En introduktion til Raw Birth Records