Mac DeMarco –
Urørlig no-gooder med et kronisk glimt i øjet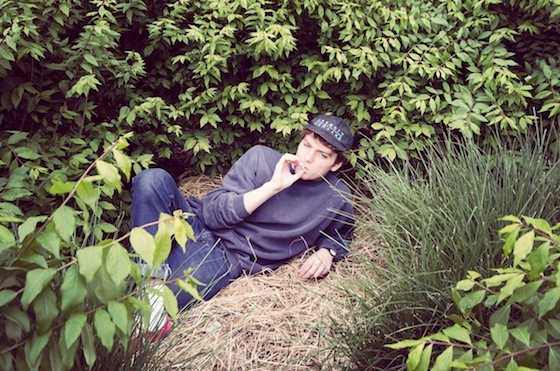 af Niklas (fra Teen Beams)
Der er et kraftigt ironisk skær over alt, hvad den 22-årige canadier Mac DeMarco foretager sig. I sine musikvideoer smider han tøjet, laver bum-mung og cock-pot i et latrinært, udsyret madlavningsprogram og, nåja, snaver lidt med sine venner. På Facebook leverer han mere eller mindre oplysende statusopdateringer til sine fans såsom: It's hard to give a fuck about shit when you're a fucking pimp og ironiserer over sin første Pitchfork-anmeldelse med et: Hey y'all, I'm a real indie rocker now. Man kan i det hele taget hurtigt blive i tvivl om, det overhovedet er meningen, man skal nyde musikken, eller om man bare ikke helt har fanget joken endnu.
Hans debut-ep på Captured Tracks, "Rock and Roll Night Club", udkom i marts 2012 og var en lettere skizofren omgang, der blandede lumre sengekantsvittigheder med troværdig romantik, på numre der sagtens kunne komme ud af den samme imaginære og hashtågede, californiske 70'er-bilradio som Ariel Pink. På trods af det, så er det i selve musikken Mac DeMarco virker mindst ironisk. På de to singleudspil for DeMarcos kommende plade, der ganske enkelt kommer til at bære titlen "2", virker fokusset tilpas skærpet, og talentet for særegne popkompositioner med solide hooks hæves over den lille tvivl.
"My Kind of Woman" er en bittersød kærlighedserklæring, det er svært at grine af og på den spritnye "Freaking Out the Neighbourhood" går talent og glimt i øjet op i en højere enhed. Det er endog meget svært at sidde stille når Mac DeMarco fletter en uimodståelig guitarfigur ind i en ordentlig funket basgang og undskyldende henvendt til sin mor synger: I know it's no fun/when your first son/get's up to no good/starts freaking out the neighbourhood. Her hentydes måske til den video, der florerer på youtube, hvor han fuld og nøgen på scenen leverer et ultimativt hånende cover af U2's "Beautiful Day"
Info: "2" udkommer 16. oktober, Mac DeMarco giver koncert på Stengade i København den 29. november (RSVP).
previous post: Phono Festival 2012 genoplevet