Parquet Courts –
detaljedjævelske postpunk-riddere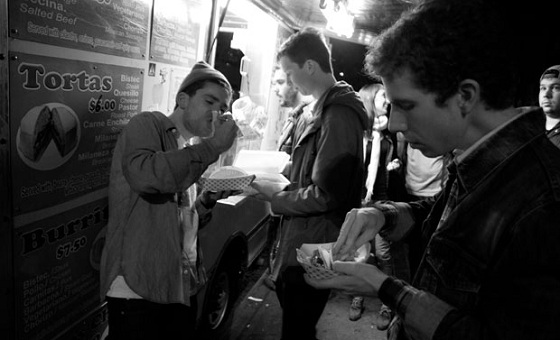 "Forget about it".
Parquet Courts vifter allerede flabet og afvæbnende med hånden på albumåbneren "Master of My Craft". Men det har været svært at glemme albummet "Light Up Gold", som har været på repeat lige siden vi drog på juleferie. Men nu er vi tilbage. Og albummet holder stadig her et par uger inde i 2013, hvor det også netop er blevet genudgivet. Og med god grund. Texanernes 2cool4school garagepunk boltrer sig lystigt et sted mellem post-punk-helte som Television, Wire og The Fall, 90'er-slacker-rock som Pavement og 00'er-garagerockerne The Soft Packs forrige album. Og alligevel føles det helt frisk. Utroligt hvad lidt fantasi kan gøre ved en traditionel guitar-bas-tromme-vokal-sammensætning.
Som det så tit gælder med god musik, så ligger djævlen i detaljen: De kæphøje kunstpauser i "Borrowed Time". Eller den perfekt uduelige guitarsolo, gentagelserne af "I was so…so stoned and starving" og den laissez-faire tamburintilføjelse, alt sammen i perlen "Stoned & Starving". Det er intelligent og fordummende. Rigtig og forkert på samme tid. Og dermed bare helt rigtigt.
"Light Up Gold" udkom i efteråret på bandets eget pladeselskab Dull Tools og er netop blevet genudgivet på What's Your Rupture.
Lyt til hele albummet her
previous post: Anton Rothstein –

Guest Mix 2013