Pop Revolutionen 2012 –
festival i øjenhøjde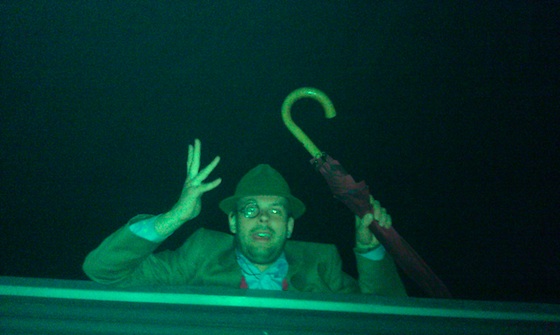 Den niende udgave af aarhusfestivalen Pop Revo finder sted i den kommende weekend. En musikalsk begivenhed, der har All Tomorrow's Parties som sit forbilllede, og foran et relativt beskedent publikum kan man således se tilbage på besøg af musikpersonligheder, som ingen andre ville røre ved; Television Personlities, Clientele, Goodiepal, The Embassy og Bear Quartet; uforglemmelige koncerter med navne som Caribou, Xiu Xiu, Frightened Rabbit, Gang Gang Dance m.fl.; og også danske bands som 18th Dye, Cola Freaks og Kirsten Ketsjer. Der er vægt på smadder, melodi og øjenhøjde til publikum, ikke eksperimental og noise.
I år er der 17 bands på programmet. Vi har samlet noget af det bedste i mixtapet herunder, men læg især mærke til den amerikanske lo-fi-duo, der har perfektioneret guitar- og trommer-udtrykket, Swearing At Motorist (Dave bor ganske vist i Hamburg for tiden). Dylan Baldis grunge/slackerdrøm Cloud Nothings, der lige har udgivet sit andet album "Attack On Memory". Den insisterende San Fransisco-trio The Soft Moon med et mørkt synthpostpunk lydbillede, som er meget fedt om natten. Det svenske kollektiv Samling, der udspringer af arty 60'er og 70'er psykedelisk musik. Og Pop Revo-favoritten Spencer Krug med Moonface. Osv.
Pop Revo finder sted i Århus den 17.-19. maj. Passive Aggressive har kurateret bands til gratis dayparty lørdag den 19. maj feat. Fossils, Lower, Girlseeker og Snaredrum. RSVP.
Trackliste
Soft Moon – Breathe The Fire
Fossils – Hamreader
Lower – Escape
Errors – Pleasure Palaces
Snaredrum – Dan Treacy's Beanie (Pop Revo-version)
Cloud Nothings – Wasted Days
Swearing At Motorists – Flying Pizza
Samling – Anna
Hayvanlar Alemi – Karpuzkafa 777
Lower Dens – Brains
Moonface – Faraway Lightning
Girlseeker – Love Fuel
The Clientele – Here Comes The Phantom
previous post: Papir fotoreportage