R. Stevie Moore –
en indgangsvinkel til The Godfather Of Home Recordings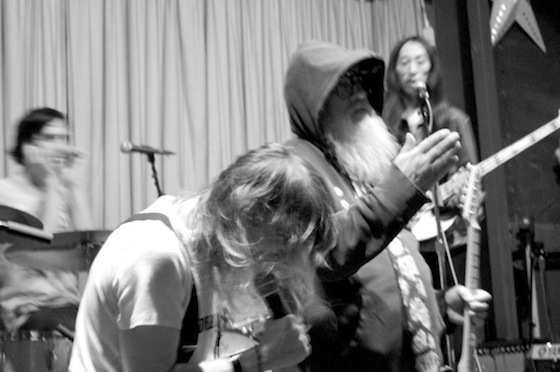 Det 60-årige Nashville-fænomen, R. Stevie Moore, skal give koncert på årets Roskilde Festival, og det er ikke helt tilfældigt, at det er netop nu. Jeg så ham på SXSW tidligere i år (billede), hvor han var i forrygende form med et godt og relativt ungt band, hvor Moore i en nærmest barnlig rallen spyttede og improviserede rim, som "I am playing SXSW like 1000 other bands and nobody gives a shit" oven på en forunderlig blanding af weird psych. Vi var 50 mennesker til showet. Det var pissehøjt. Dagen efter så jeg manden igen i et lyskryds i udkanten af Austins centrum bag rattet på en bil, der var lige ved at køre mig ned.
Evigt albumaktuelle R. Stevie Moore har udgivet ca. 400 cd-r/bånd/lp'er (!) og har længe været et symbol på DYI-ånden i USA siden 70'erne. Men det særligt hans samarbejde med Ariel Pink's Haunted Graffiti (billedet), der har været en adgangsbillet til offentlighedens søgelys. Senest med duoprojektet Ku Klux Glam. R. Stevie Moore har naturligvis bevæget sig relativt bredt stilistisk med 400 udgivelser, men har altid været en slags kommentar til popmusikken og fastholdt sit credo; at skrive gode sange.
Wire Magazine har lavet et stort R. Stevie Moore-podcast med 17 sange og analyse af hans karriere og musik.
Trackliste:
"Watch Me On The News"
"Big Mistake"
"Father Goes"
"Part Of The Problem"
"I'm Not Listening"
"Horizontal Hideaway"
"The River"
"Theme From Hurricane David"
"Eff-urt"
"Vivaldi Strut"
"Ist Or Mas"
"For Vini"
"Norway"
"I Got The Facts"
R Stevie Moore with Ariel Pink – "Dutch Me"
"Don't Let Me Go To The Dogs"
"Safe, Reliable, And Courteous"
Edit: Se R. Stevie Moore-portrættet "I Am A Genius (And There Is Nothing I Can Do About It)" online herunder /september 2012.
previous post: Acid King –

tonstung hypnose i 90'er indpakning