Steve Gunn & Mike Gangloff –
Telepatiske improvisationer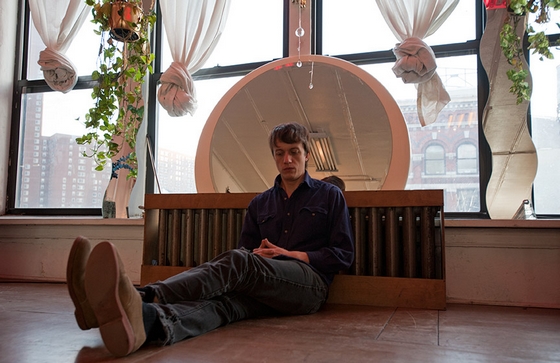 Af Andreas Melchior. Foto: Constance Mensh
Da guitarvirtuosen Steve Gunn optrådte til CPH:DOX "Audio:Visuals" i 2012, nærmede orkanen Sandy sig hans hjemby, New York City. Den bekymrede Gunns hvirvlende fingerspil blæste hjerner omkuld, og han vandt for alvor københavnerhjerter, da han stoppede med at spille og bad nogle publikummer om at holde kaje, fordi de snakkede under et nummer. Derefter tog han ufortrødent tråden op og spillede nummeret færdigt. Nuff said.
Gunn, som oprindeligt stammer fra Philadelphia, er blandt andet kendt for at have været opvarmning for og, førhen, en del af bysbarnet Kurt Viles backingband. Sidste år udkom albummet "Time Off", og på den baggrund gæster Gunn med band snart København. I december 2013 udkom imidlertid også "Melodies For A Savage Fix", hvor Gunn har rottet sig sammen med Mike Gangloff (blandt kendt fra noise/drone-bandet Pelt, der havde Jack Rose som medlem).
Albummet er indspillet under en enkelt natlig session en februarnat i 2013 på en øde landejendom i Topeka, Virginia. Duoen benytter sig af 6- og 12-strengede stålguitarer, banjoer og alskens klokkeværk og gongonger til at skabe akustisk impasto-effekt. De fem nærmest telepatiske improvisationer spænder over blandt andet avant-folk, delta blues og indiske mønstre. Det er traditionsbårent uden at fremstå traditionelt. Disharmoniske melodistumper fra Gunns guitar og Gangloffs klagende violin, som han normalt bruger til at spille op til square dance i det lokale forsamlingshus, flyder ind og ud mellem hinanden.
"Worry Past Worry" er en indforstået, trancelignende jam, som kunne have haft en svag erindring om Nick Drakes "Three Hours" som skitse. De autodidakte guitar-ragaer får rygdækning af en diskant tambura. En natteblind øjenlukker.
Info: Melodies For A Savage Fix er ude på Important Records. Time Off kan fås hos Paradise of Bachelors. Steve Gunn giver koncert på Ideal Bar den 30. januar (RSVP).
previous post: PROTON –

At finde improvisation og virtuositet i elektronisk musik (mixtape)