Vår –
Brødrene Løvehjerte og eurodance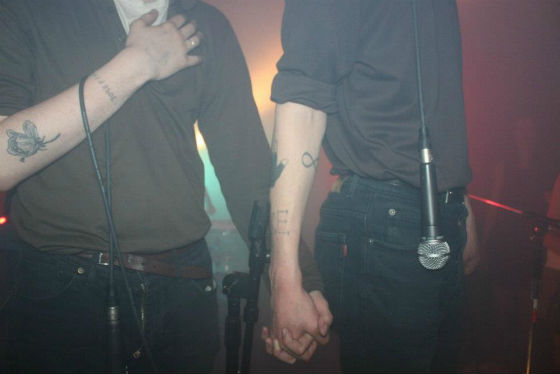 Først var de to og hed War. Siden har Elias Bender Rønnenfeldt (Iceage, Marching Church) og Loke Rahbek (Sexdrome, Lust For Youth, Posh Isolation) skiftet til det mere norrønt klingende Vår og udvidet projektet med Lower-bassisten Kristian Emdahl og Lukas Højlund.
Sammen udsender de i dag debutalbummet 'No One Dances Quite Like My Brothers', skrevet og indspillet af Elias og Loke på blot to uger sidste sommer i Bushwick, New York i baglokalet til pladebutikken Heaven Street, der også fungerer som ejeren Sean Ragons (Cult of Youth) interimistiske studie. Som titlen afslører, er broderskab og -kærlighed fortsat et tema (dog ikke med samme fatale slagside som på genistregen 'Brodermordet', der dog ikke er inkluderet), og ifølge et interview til Interview Magazine har 'Brødrene Løvehjerte' været en central, fælles reference. Men albummet viser faktisk (også) Vår som et ret alsidigt foretagende rent musikalsk.
Den rungende blanding af industriel susen, dårlige mikrofoner og aflagte, plastiske eurodance-beats er til stede, ikke mindst på singleforløberen 'The World Fell', men den udvidede besætning viser andre steder deres styrke, når bas, guitar og klaver for eksempel på 'Hair Like Feathers' trækker stemningen i en lidt mere organist, men ikke mindre dyster retning. Eller når der næsten går rock-singalong i den på den catchy 'Into Distance', hvor et par blæsere også bidrager til løjerne. Sagt på en anden måde:
'No One Dances Quite Like My Brothers' er et flerhovedet monster fremavlet i grænselandet mellem prætentiøs synthpop, discount-dance, murrende droner og dystopiske soundscapes. Og apropos eurodance, så har Loke denne interessante betragtning om hvilken betydning, denne ildesete genre spiller i Vårs lydunivers:
"We grew up in the '90s, meaning that the first time I ever kissed anybody it wasn't to a Joy Division song or something. It was to Euro dance music. For me, the sound of cheap electronic dance music is very much the sound of being young. Music and tools from this cheap dance music makes sense to me." (Interview Magazine)
 'No One Dances Quite Like My Brothers' er ude nu via Sacred Bones.
previous post: Cejero – May Ramblings