Back to Passive/Aggressive
NOISE FEST – EXTREMELY LOCAL SOUNDS SINCE 2009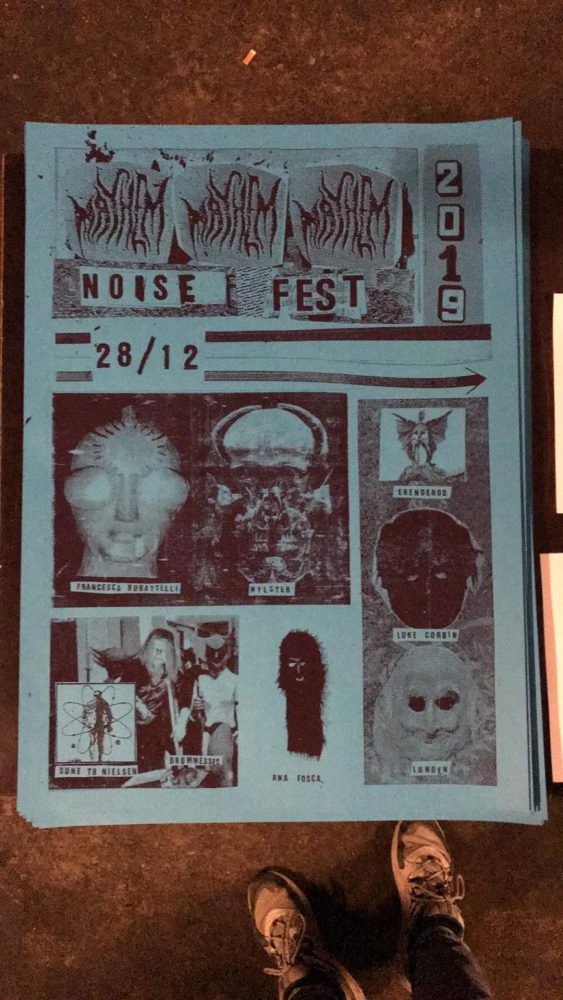 d. 28. dec.
Mayhem Noise Fest 2019
Francesca Burattelli
Hylster
Sune TB Nielsen
Drummesses
Ana Fosca
Erenderod
Luke Corbin
Lunden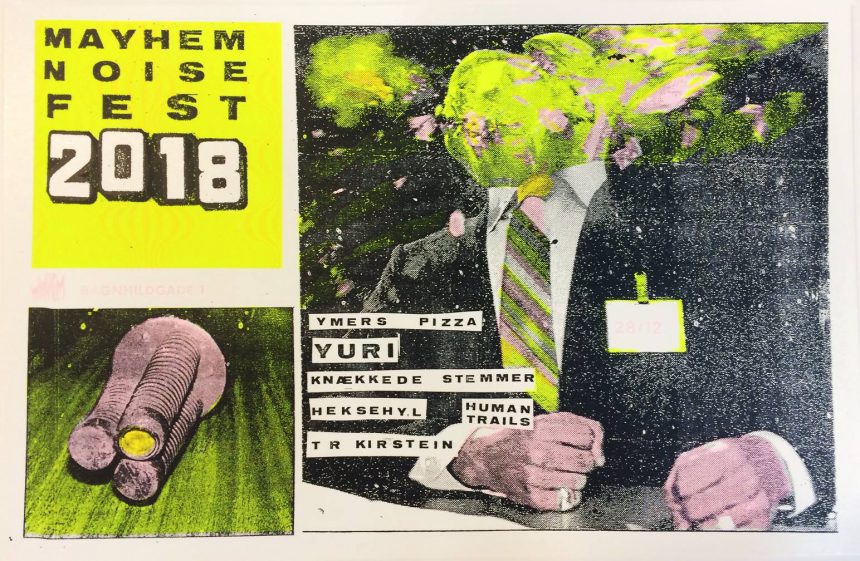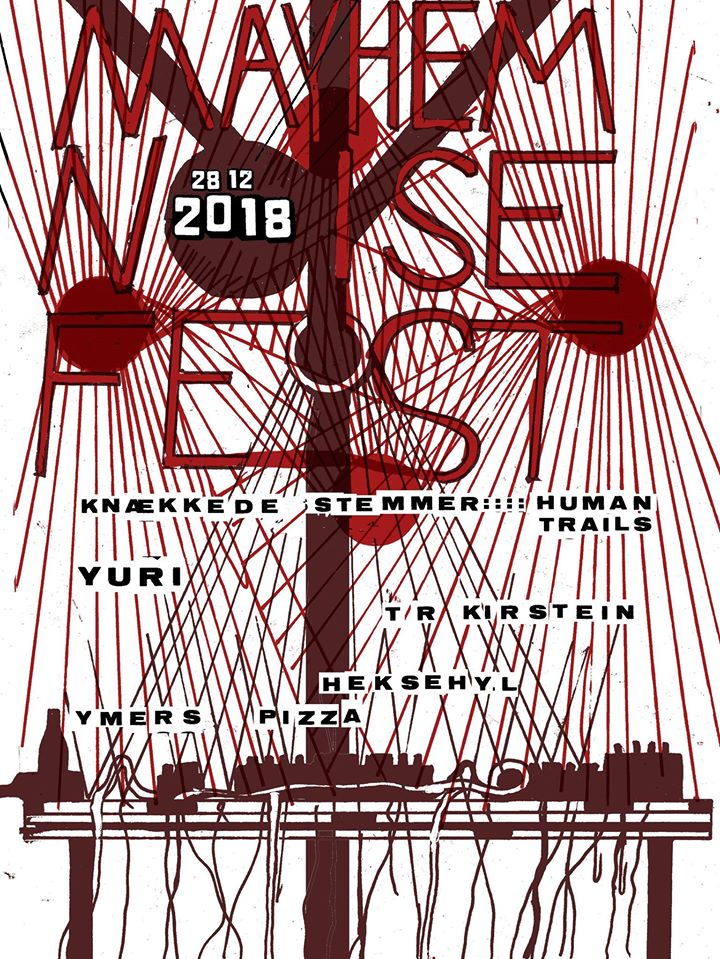 d. 28. dec.
Mayhem præsenterer
Noise Fest 2018
Ymers Pizza
Yuri
Knækkede Stemmer
Heksehyl
Human Trails
T R Kirstein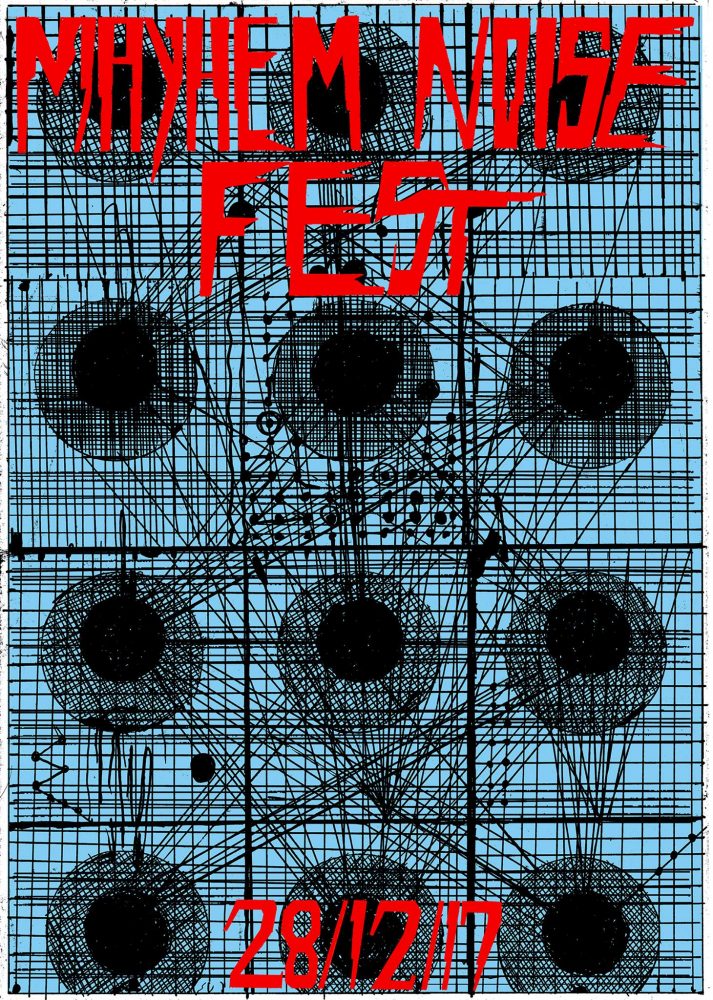 d. 28. dec.
Mayhem præsenterer
Noise Fest 2017
Puce Mary/Ashley C/Liebestod (US)
Lights People
Vanity Productions/Body Stress
G.E.K
Cold Choice
Clinical Trails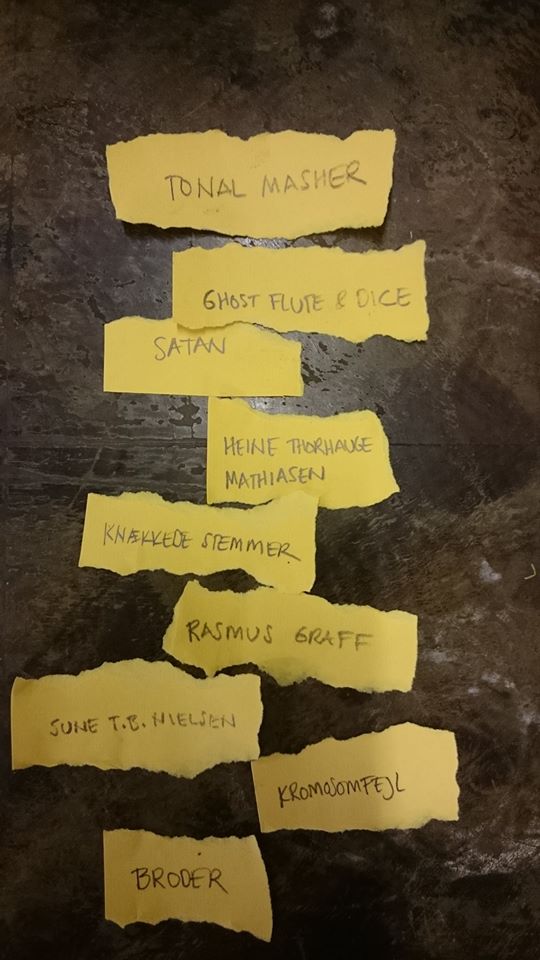 d. 28. dec.
MAYHEM NOISEFEST 2016
Tonal Masher
Ghost Flute & Dice
Satan
Heine Thorhauge Mathiasen
Knækkede Stemmer
Rasmus Graff
Sune T.B. Nielsen
Kromosomfejl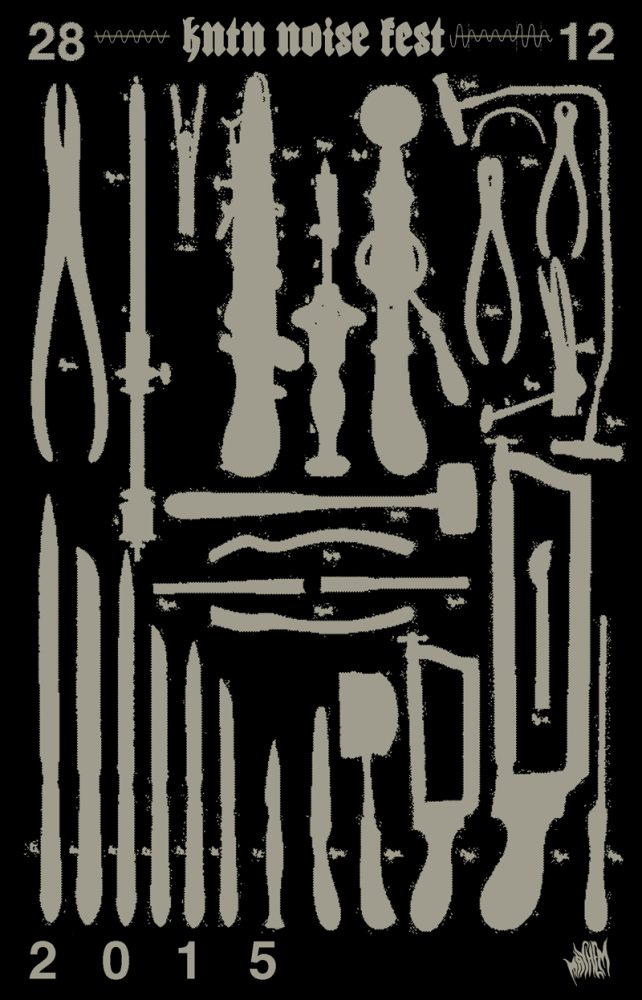 d. 28. dec.
MAYHEM NOISE FEST 2015
Kristoffer Raasted
The lake radio sound system
xct
Tribunal occulte
Mayhem kommune band
G.E.K.
Human Trails
Prognostic circle
d. 28. dec.
KNTN noise fest 2014
Earl grey
Daniel & Birk
Johns Lunds
Chr. Stadsgaard
Toked
Pär Thörn & TR Kirstein
Maria Bertel & Jaleh Negari
F.E. Denning
Assembler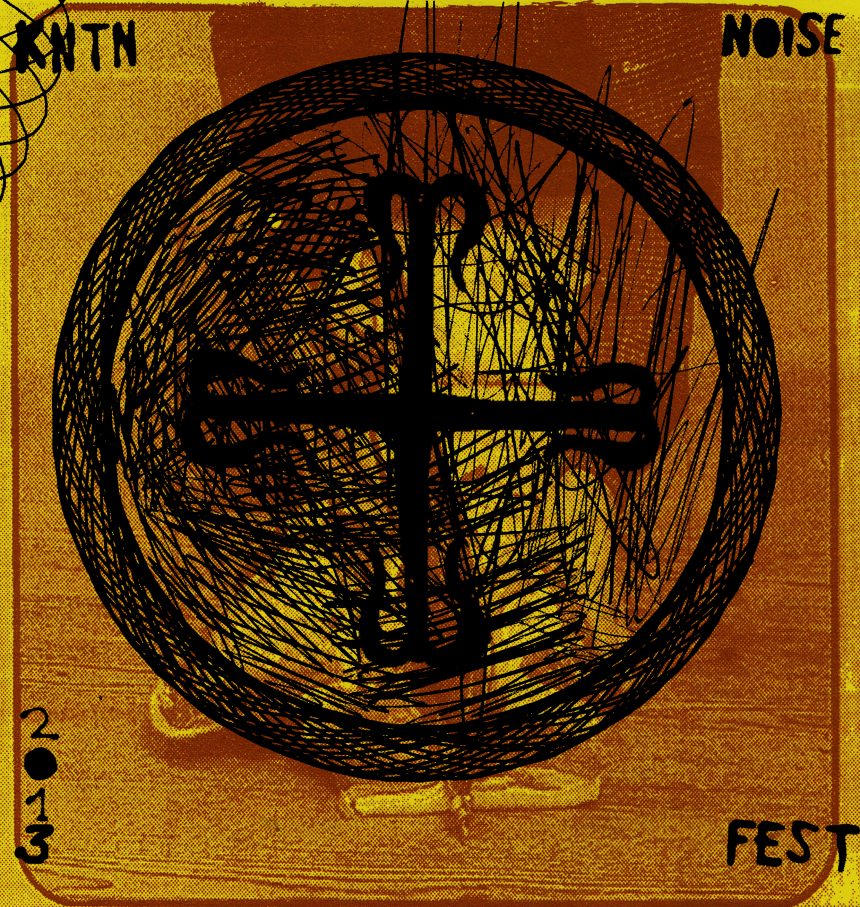 d. 28. dec.
KNTN præsenterer
NOISE FEST 2013
Niggers of Tomorrow
Puce Mary
Lars L. Hansen
Daniel S. Bøtcher
Mayhem Kommune Band
Heksehyl
TR Kirstein
Loke Rahbek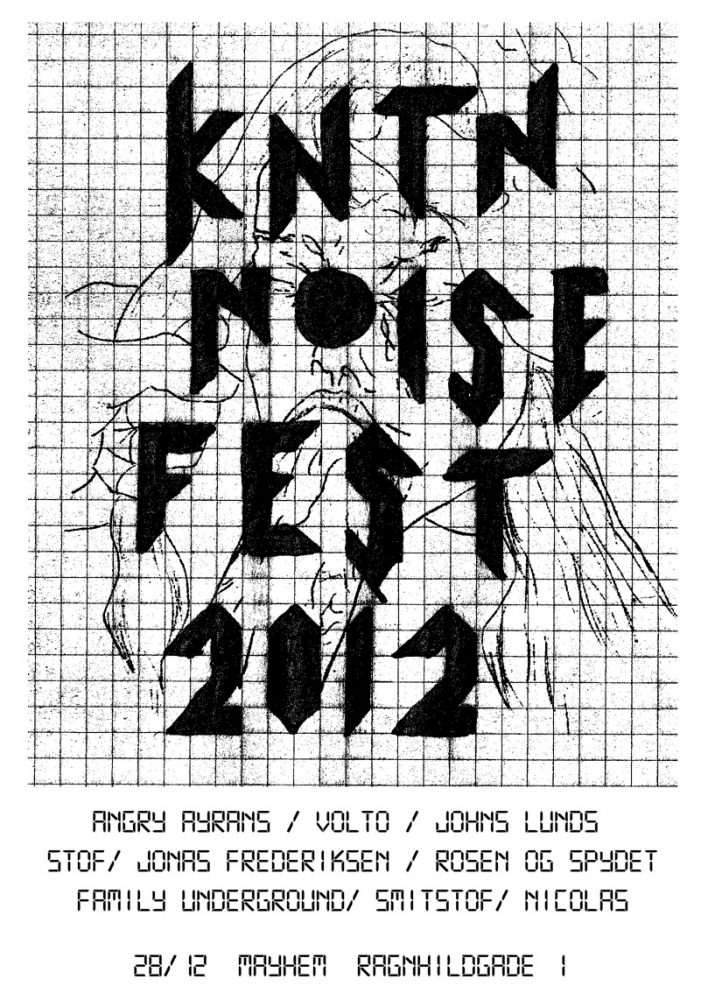 d. 28. dec.
KNTN NOISE FEST 2012
Nicolas (escho)
Angry Ayrans (acid techno)
Volto (elektronisk puls)
Johns Lunds (powerhouse sax)
Stof (Stadsgaard, Führer, Lund, Nielsen, Kirstein, Czerny, Kauffmann) (kosmisk dronefeed)
Jonas Frederiksen (synth)
Rosen og Spydet (synth pop m vokal)
Family Underground (…)
Smitstof (hypnonoise m vokal)
Synd & Skam (power show)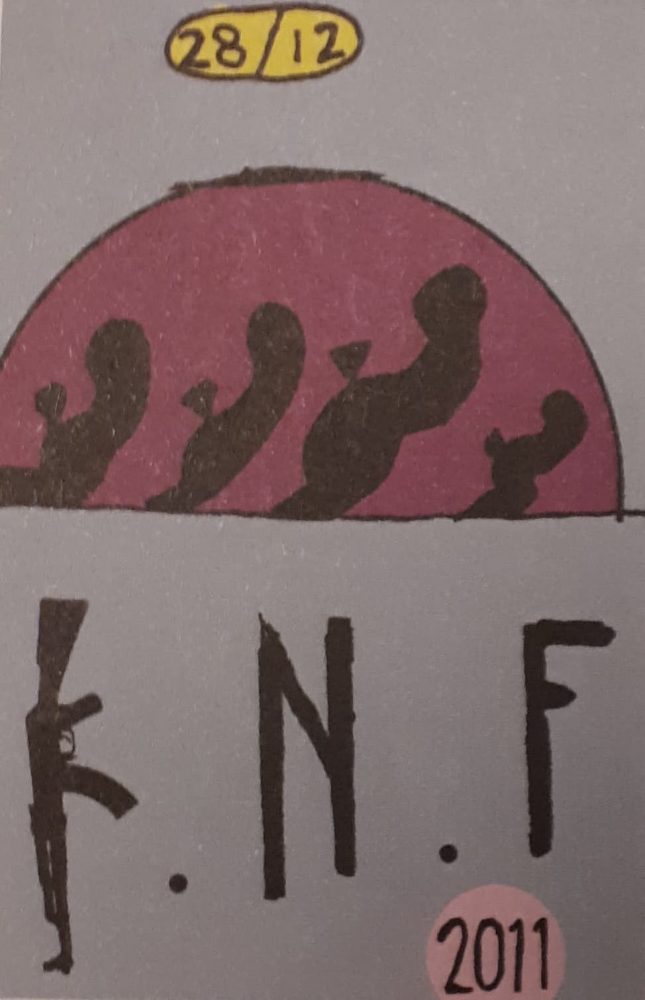 28. dec.
KNTN NOISE FEST 2011
Assault Guard
Pussyfooter
Puce Mary
Arkhe (s)
COAL
NXFXTX (jylland)
Konditoque
Concussionists
Vanity Produktion
Girlseeker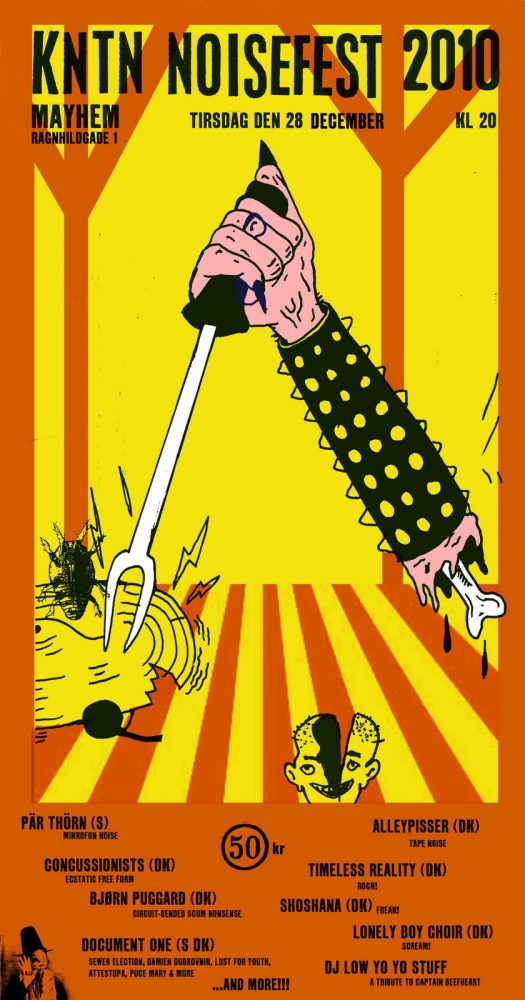 28. dec.
KNTN NOISEFEST 2010
Lonely Boy Choir
Alleypisser
Pär Thôrn
Concussionists
Bjørn Puggaard
Timeless Reality
Shoshanna
Document One (Sewer Election, Damien Dubrovnik, Lust For Youth, Attesrupa, Puce Mary Mm.)
Jakob Riis
Klaus H. Hansen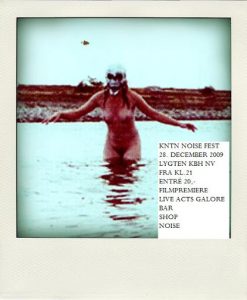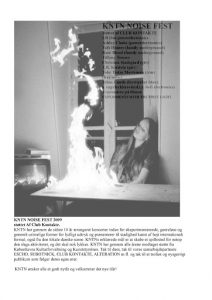 KNTN NOISEFEST
28.12.2009
LYGTEN KBH NV
LR (bm powerelectronics)
Ashley Choke (powerelectronics)
Tuft Hunter (family underground ½del)
Rare Blood (family underground ½del)
Tiffany Towers
Christian Stadsgård (gtr) / T.R. Kirstein (gtr) / Toke Tietze Mortensen (trm)(free noise)
Johns Lunds (forstærket blæs)
S. Rags/Hyklersvin (d.i.y. lo-fi rendestens electronics)
(Posters by T R Kirstein)
The annual Mayhem Noise Fest was founded by the not-for-profit promoters KNTN in december 2009. In 2010 it moved from Lygten to Mayhem, where it has been held every year since on December 28, relying heavily on local acts that in retrospect has played a defining part in the profile of the venue. In the beginning the noise fest was known as KNTN Noise Fest but over the years changed its name to Mayhem Noise Fest.
Despite the name of the event Mayhem Noise Fest is not exclusive to a certain sound or tradition as such but rather a broad definition of noise music including freejazz, drones, punk music, conceptual sound art and sometimes even far beyond the noise idiom – a feat shared by the annual Mayhem Jazz Fest in the summer. Visual artist Zven Balslev, a regular noise fest-musician himself, has made the festival posters for 10 years, and per usual the poster and the line-up is announced on the night.
A Decade of Mayhem is open 28.12.2019-27.12.2020.
Back to Passive/Aggressive