Angeles & Internazionale –
Desolate electronics and echoes of abandoned spaces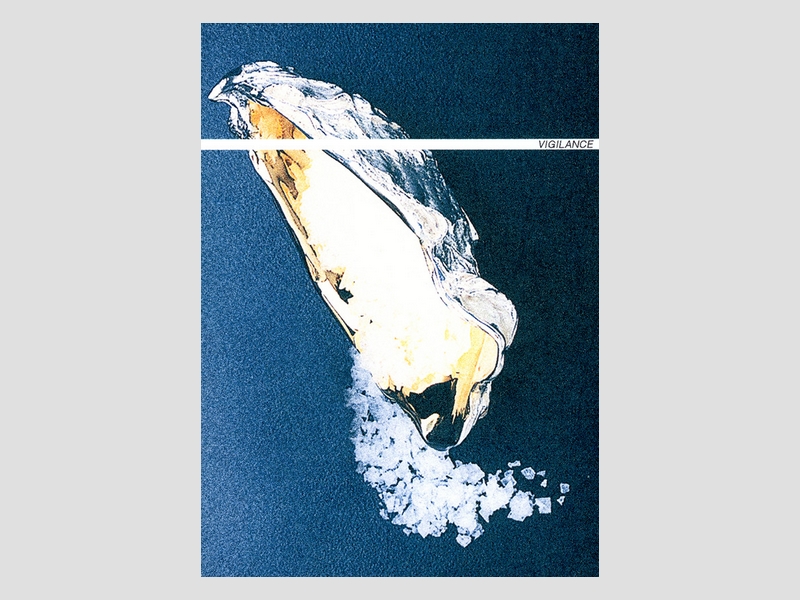 Angeles & Internazionale "Vigilance" (Janushoved, 2017) – Review by Ivna Franić
Copenhagen tape label Janushoved kicked the year off with several new cassette releases of recordings by Liberty Uganda, Mercury Ribbon, Tevere, and one intriguing duo. Angeles & Internazionale is a collaboration between Soho Rezanejad – whom you might have heard on Croatian Amor's latest record, if nowhere else, and Mikkel Valentin Dunkerley – the head of Janushoved, member of Rosen & Spyddet and man of many other monikers. Although Internazionale has a new solo album coming out on Posh Isolation these days, which might hopefully bring him some well-deserved exposure, the beautiful "Vigilance" tape with Angeles should not go unnoticed.
For anyone remotely familiar with the Janushoved output, there are probably no expectations of anything radical or game-changing to happen on Vigilance, and one would be forgiven to wonder if the trademark glimmering synths of the prolific Valentin might have worn themselves out by now. Fortunately, this is not the case, as the Angeles & Internazionale collaboration turns out to be far from a hastily predictable sum of sugary synths and ethereal vocals. Rezanejad brings to the table the subdued techno beats and echoes of abandoned spaces displayed on her releases under the Angeles moniker, such as the "Anahita Albacore" tape, and Valentin seems to happily turn to his dronier side as well. Ultimately, Vigilance feels more at home in a rough, industrial environment than on sunny meadows, and its washes of nostalgia often feel more melancholic than comforting.
Providing a hint of all that is to come, opener "Bioluminescence" begins with a detached ambient part before briefly revealing its techno potential that will eventually be given up for some more ambiance. The following "Closed Water I" seems to bring things back to the beginning, crackling the gentle ambient surface with an occasional pierce of industrial clicks and clanks that also end up dissolved in the atmosphere. It's not until "Vigilant Hearts" that a track is allowed to fully flourish, with an epic melody breaking through the rich texture inhabited by various other elements flowing in and out of the soundscape – such as whispers, washes of synth and the beat that is introduced over halfway into the track and repeatedly interrupted. Similarly gorgeous "Feral Hearts" gives a glimpse of Valentin's usual ambient tenderness, suppressing its Sigur Rós (sans the obnoxious vocals, of course) potential with rips of harsh sounds. Another highlight is the climactic "Last Breath/Fire of the Sea" which drags "Vigilance" towards its inevitable end, surrendering after an intense experience.
Despite the fact that there's a lot going on in most of the tracks on the album, it never overwhelms the listener, allowing them to uncover previously hinted details with each new listen. A collaboration that weaves together individual affinities in a smooth and thoughtful way, "Vigilance" makes for yet another bright moment not only in Valentin and Rezanejad's discographies but also in Janushoved's growing catalogue of top class desolate electronics.
Info: "Vigilance" was released in the end of January on Janushoved. Internazionale's latest solo effort is the album "The Pale and the Colourful" released on Posh Isolation on March 24.
previous post: Billow Observatory –

Brydningsflader og langsomme forskydninger