The P/A Review #3 –
Ydegirl, Rådne Lunger, Astrid Sonne, Demersal, Pamela Angela m.fl.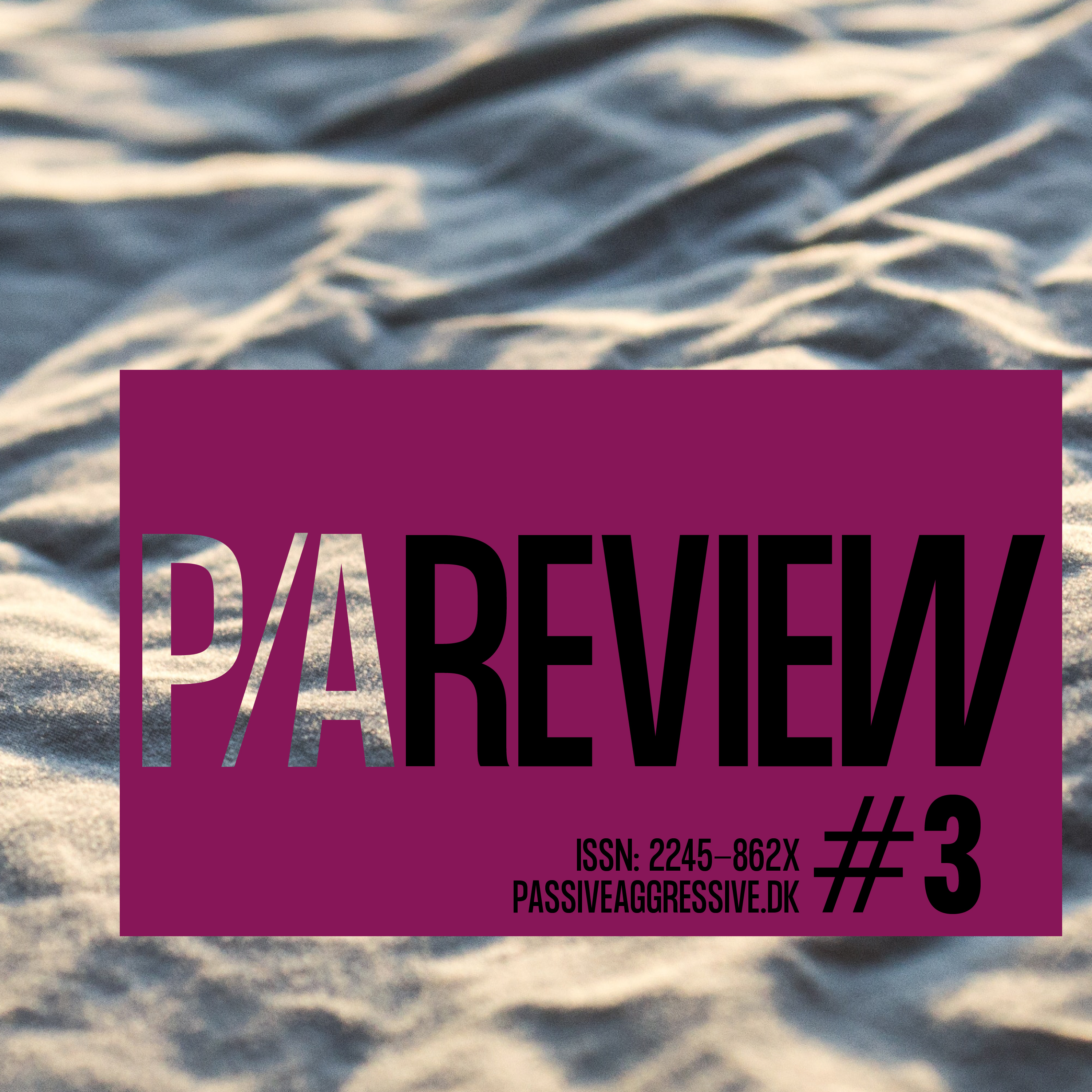 Velkommen til tredje udgave af P/A Review, en kollektiv kritikserie prioriteret og skrevet af Foreningen Passive/Aggressive. P/A Review udkommer tre-fire gange årligt og fokuserer på de forskellige input, som hvert af redaktionsmedlemmerne bringer med sig til dette medierede fluks af et interessefællesskab for det opløftende, outrerede og oversete, som Passive/Aggressive har udviklet sig til gennem et årti.
The P/A Review #3
ISSN: 2245-862X
Oktober 2021
I denne udgave:
Ydegirl "Ydegirl" (Escho)
Demersal "Death Routines" (Over the Under)
Gusse B "Margara" (Tutti Bluff)
Broder "Det højes smed" (Selvudgivet)
Båd "Oktober Vipper Bladene Af Træerne" (Forlaget Kornmod)
Zoe Efstathiou & Oda Dyrnes "Kyaness" (Alkekung Records)
Vilde Tuv/DJ Ibon "Closer" (Kengu/Poesy)
Guldsjakal "Guldsjakal" (Mastermind Records)
Astrid Sonne "Outside of Your Lifetime" (Escho)
Rådne Lunger "Rådne Lunger" (Mastermind Records)
Pamela Angela "august 2021 mixxxtape" (selvudgivet)
Messell "Disjecta Membra" (Texture)
Eyes "Reperformer" (Indisciplinarian)
Vincent Yuen Ruiz "Le seul salut que je connaisse" (Sensorisk Verden)
Vivian Koch "Beyond Contact" (AD93)
Loren Rush "Dans le Sable" (Recital)
Lingua Ignota "Sinner Get Ready" (Sargent House)
RP Boo "Established! (Planet Mu)
Nice at Home "Motherial" (Lab Personnel)
EVOL "Speed Snake" (Cejero)
Jefre Cantu-Ledesma/Ilyas Ahmed "You Can See Your Own Way Out" (Devotion)
Hiro Kone "Silvercoat the Throng" (Dais Records)
Tekster af Alexander Julin Mortensen, Claus Haxholm, Ivna Franić, Jon Albjerg Ravnholt, Macon Holt, Markus Tange, Rasmus Søndergård Madsen og Simon Christensen. Redigeret af Mikkel Arre. Grafisk design: Kasper Vang.