Dracula Lewis –
Top Dog i den post-industrielle italienske revolution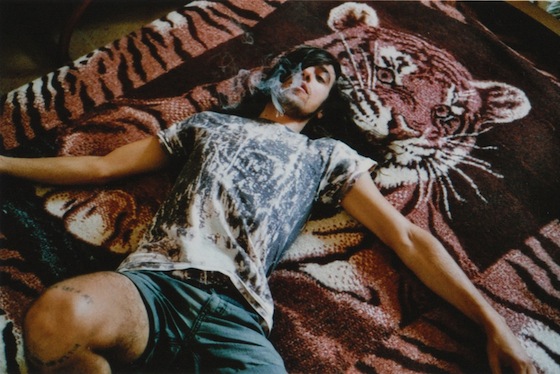 Nyt aktuelt album fra grundlæggeren af det milanesiske Hundebiss Records, Simone Trabucchi under aliaset Dracula Lewis. Albummet "U$e Your Illu$ion$" er egentligt hans første fuldlængde lp, men han har udgivet halve plader både på Souterrain Transmission med hjælp fra Stargate og en split-lp med Matt Mondaniles band Ducktails.
Det fortræffelige pladeselskab Hundebiss har sit musikalske udgangspunkt i de sci-fi og futuriske elektroniske afarter af noise og punk. Lidt i stil med en skikkelse som James Ferraro, der har afsæt i noget af det mest harske musik men som har fundet glæde i at jonglere med pop-, synth- og hiphoppens formater med et intelligent og kritisk twist. Det samme gælder for Hundebiss' artister Simone Trabucchi (Dracula Lewis) og Lorenzo Senni (Stargate) samt andre af labelets egenrådige projekter som Hype Williams, Jaws, Aaron Dilloway og Sewn Leather. Idéerne er smarte, men musikken ikke nødvendigvis klog. Det er en fejring af og pastiche over dumhed, kropslighed og det elektroniske udtryk – herligt frigjort som et fremtidsbesat bong-teater i forhold til noisemusikkens indestængte alvor.
Dracula Lewis delivers his long-awaited debut full length "U$e Your Illu$ion$"; a title which evokes an imaginary deviant glamour which is synonymous with the teasing nature and sense of mystery which is a part of Dracula Lewis' world. Working with an abundance of pop based ideas with an abstract mentality, the record brings to mind, in manner and tone, hallucinatory avant strategies that were typical of the second wave of industrial.
Info: "U$e Your Illu$ion$" er ude nu på Hundebiss. Både Dracula Lewis, Primitive Art og Sewn Leather kan opleves i København den 31. maj eller 1. juni til Distortion.
previous post: The Pastels –

pins på fløjlsjakken og franske nybølgefilm