Festival of Endless Gratitude –
Reconfigured and re-enchanted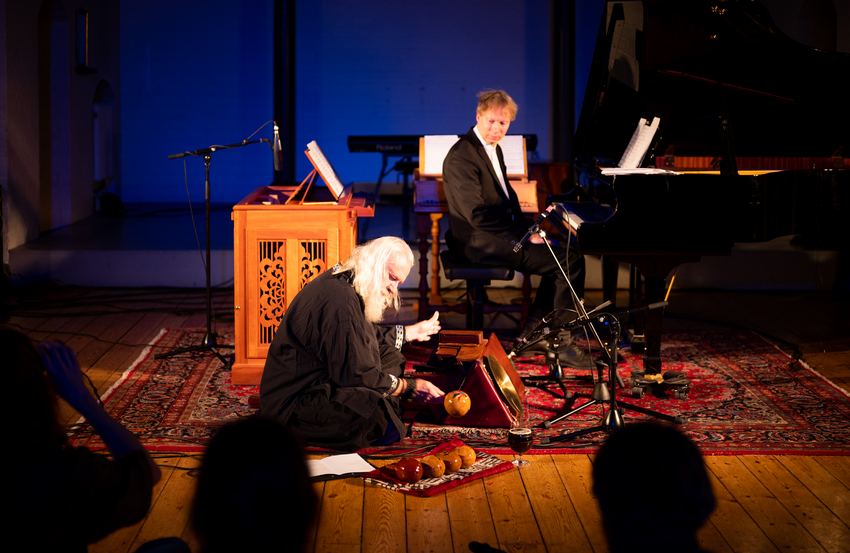 Festival of Endless Gratitude, October 22, Koncertkirken, Copenhagen – live report by Ivna Franic, photos: Keith Canisius
After years of mostly taking place at KPH Volume, the 2020 edition of Festival of Endless Gratitude was held at Nørrebro's Koncertkirken. This year, the awesomely titled festival took on a whole new shape, spanning several separate dates and three different venues. The journey started two Fridays ago at Koncertkirken, with the remaining events scheduled for November 5th at Musikhuset, and December 3rd and 4th at Mayhem.
English guitarist C Joynes kicked off the first festival evening with a concise set, with the composer and percussionist Jaleh Negari taking over as the second act on the bill. A fixture in the local experimental scene, the Iranian/Danish artist performed a curious set of intricate compositions ranging from subdued electronic and percussive experiments to startling, beat-driven tracks. By the end of Negari's performance, the seating setup of the show almost started to seem ill-advised. However, the combination of tables, chairs, and benches, with the addition of pillows scattered around the floor, made for an absolutely perfect setup for the following performance.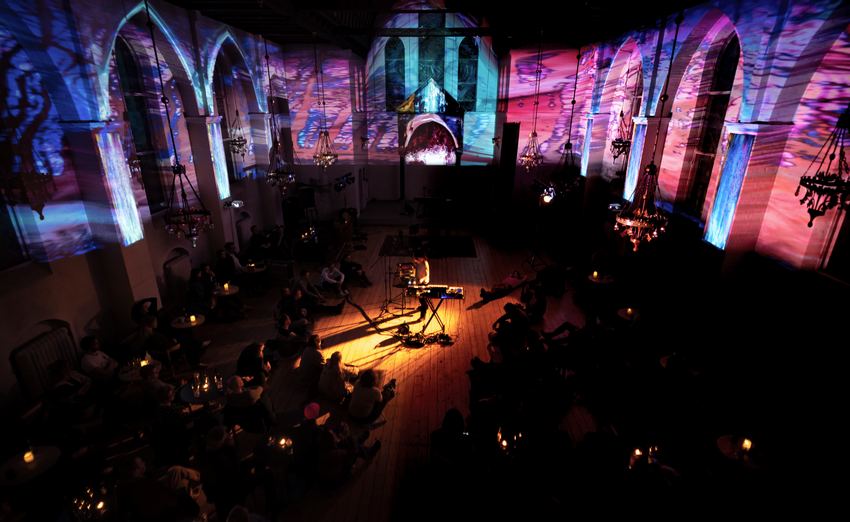 What was supposed to be a set by Elik, a duo of Ukrainian composer Svitlana Nianio and Polish composer Raphael Roginski, ended up being a rare solo appearance by Nianio, due to Roginski's cancellation. And while I can't tell what a show by Elik would have sounded like, I also can't say that I particularly regretted Roginski's absence, as Svitlana Nianio graced the Festival of Endless Gratitude with an absolutely stunning performance.
Building off of a relatively simple setup made up of keyboard and vocals, as well as a laptop on the side, Nianio appeared as if she pretty much immediately left the realm of us mortals attending a festival here in a church in Copenhagen. Closed off in her own world, she seemed to have performed her set on a whole different plain. Simultaneously detached and painfully intimate, the live renditions of Nianio's songs come off as pretty straight-forward takes on her seemingly simple songs that fuse a minimalist, avant-garde approach with folk, and even traditional elements. With her gorgeous soprano hovering above the compositions, Nianio's music softly wrapped itself around the entire space of the dimly lit Koncertkirken.
Reading about Nianio's music, one is likely to come across many descriptions centered around adjectives such as "mystical", "magical" and "ethereal". On the one hand, this may seem like a cliché – yet another example of a lazy approach to portraying a recently "rediscovered" artist who is: a) a woman, and b) from Eastern Europe. On the other hand, though, once you've actually listened to her music (especially live), it's easy to find yourself wondering: well, how else is one supposed to describe this? I mean, if it's really just a person playing a keyboard and singing, then how… How does she make it sound so fucking beautiful, and so unlike anything you've ever heard before?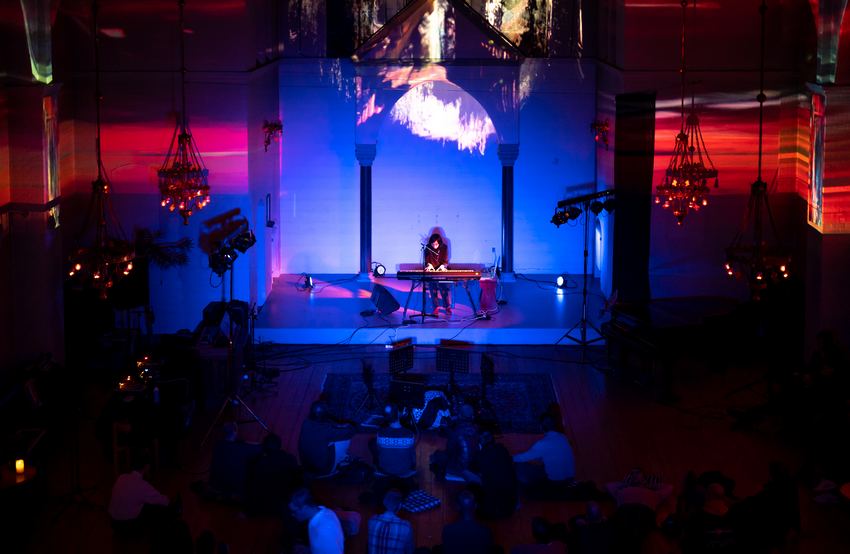 During the cigarette break after the show, some of the audience complained that the set was too long, apparently clocking in at around an hour and fifteen minutes. Unfortunately, it wasn't particularly surprising to hear such thoughts, as there were more than a few people who had walked out during the show, talked loudly, and even laughed hysterically (?!) in a rare instance of a Copenhagen audience behaving so impatiently. To some of us, though, the show felt like it lasted for barely forty-five minutes and – honestly – it could have just gone on forever.
Regardless of whether you were too exhausted from a long performance, or you'd just seen one of the most beautiful sets in your life, Svitlana Nianio was a tough act to follow. Slated to close the evening were Stefan Lakatos, a friend of the late Moondog and heir to his unique self-designed percussion instrument trimba, and Bengt Tribukait, an acclaimed organist and chamber musician. The pair performed a set of selected compositions for piano and percussion by the late Louis Hardin aka Moondog, the peculiar self-taught composer and poet who was sort of a cult figure in the New York scene since the late '40s.
With Tribukait on grand piano and Lakatos on various percussion, the duo performed a smooth, somewhat bland set, mostly veering on the moderate side of Moondog's so-called "snaketime" rhythms. Although the suit-and-tie audience seemed content, the show could have, perhaps, used a touch of quirkiness as well as of the meditative quality characteristic to Moondog's original output.
All in all, the opening of Festival of Endless Gratitude definitely felt like a positively overwhelming experience. An evening packed with captivating content, the event at Koncertkirken seemed like a fitting introduction to the rest of this year's festival program.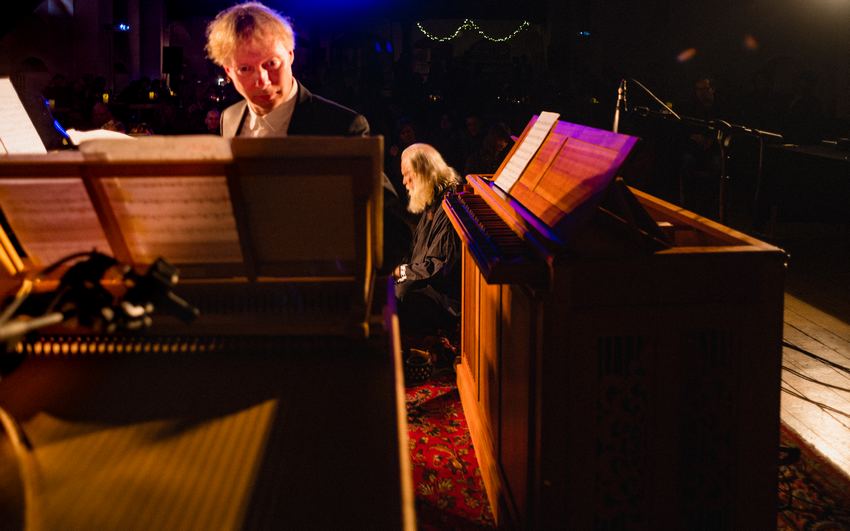 Info: Festival of Endless Gratitude 2021 continues on November 5 at Musikhuset with Lino Capra Vaccina (IT), Šimanský – Niesner (CZ), Kapela Maliszów (PL) and Blue Lake (US/PL/SE/DK). Still tickets available via foeg.dk
previous post: Main Phase –

At finde hjem i den engelske klubkultur (interview + mixtape)