Jerusalem In My Heart –
libanesiske droner og bryllupssang i et arabisk forår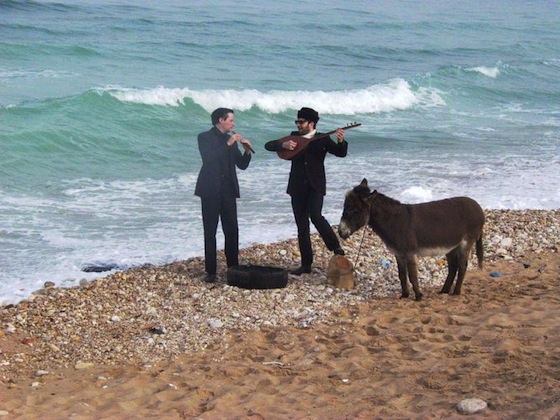 Her kommer det første album fra Jesusalem In My Heart, som blev dannet i 2005 af den libanesiske musiker Radwan Ghazi Moumneh, som er bosat i Canada og bliver udgivet på Constellation Records (Godspeed You Black Emporer, Eric Chenaux, Colin Stetson m.fl.).
Udtrykket her er placeret ned i en farlig suppedas af politisk orienteret musik, idet Jerusalem In My Heart dedikerer albummet til Mouhamed Bouazizi (den tunesiske grønthandler, som startede det arabiske forår), men står i kontrapunkt til mere militante mellemøstlige musikprojekter som udmærkede Vatican Shadow og Muslimgauze. Musikken er en blanding af arabiske klanguniverser og bryllupssange med den elektroniske musiks altomfattende produktion, simple droner og trommemaskiner, og klassiske instrumenter som bouzouki (strengeinstrument), bayat (harpe) og zurna (blæseinstrument) – der er dog stor variation nummer for nummer. Projektet har eksisteret i otte år, og har de seneste to år været bygget op om et meget levende live-setup med musikere fra Frankrig, Chile, Canada og Libanon – og den fulde visualspakke og op til 35 musikere.
Radwan Ghazi Moumneh har boet hele sit voksne liv i Quebec eller Montreal og været en del af punkscenen dér i 90'erne. Men samtidig er han aktiv på den eksperimenterende musikscene i Beirut, hvor han bor et par måneder om året.
1. Koll lil-mali7ati fi al-khimar al-aswadi (Speak of the Woman in the Black Robe)
2. 3andalib al-furat (Nightingale of the Euphrates)
3. Yudaghdegh al-ra3ey wala al-ghanam (He titillates the shepherd, but not the sheep…)
4. 3anzah jarbanah (Sick, Diseased Goat)
5. Ya dam3et el-ein 3 (Oh Tear of the Eye 3)
6. Ko7l el-ein, 3oumian el-ein (Eyeliner of the Eye, Blindness of the Eye)
7. Amanem (Amanem)
Info: "Mo7it Al-Mo7it" (som betyder "ocean of the ocean") udkom 14. marts på Constellation Records.
previous post: Ice Cream Cathedral –

Otherworldly Mixtape