Lyra –
Embracing the computer as an actual instrument (premiere & interview)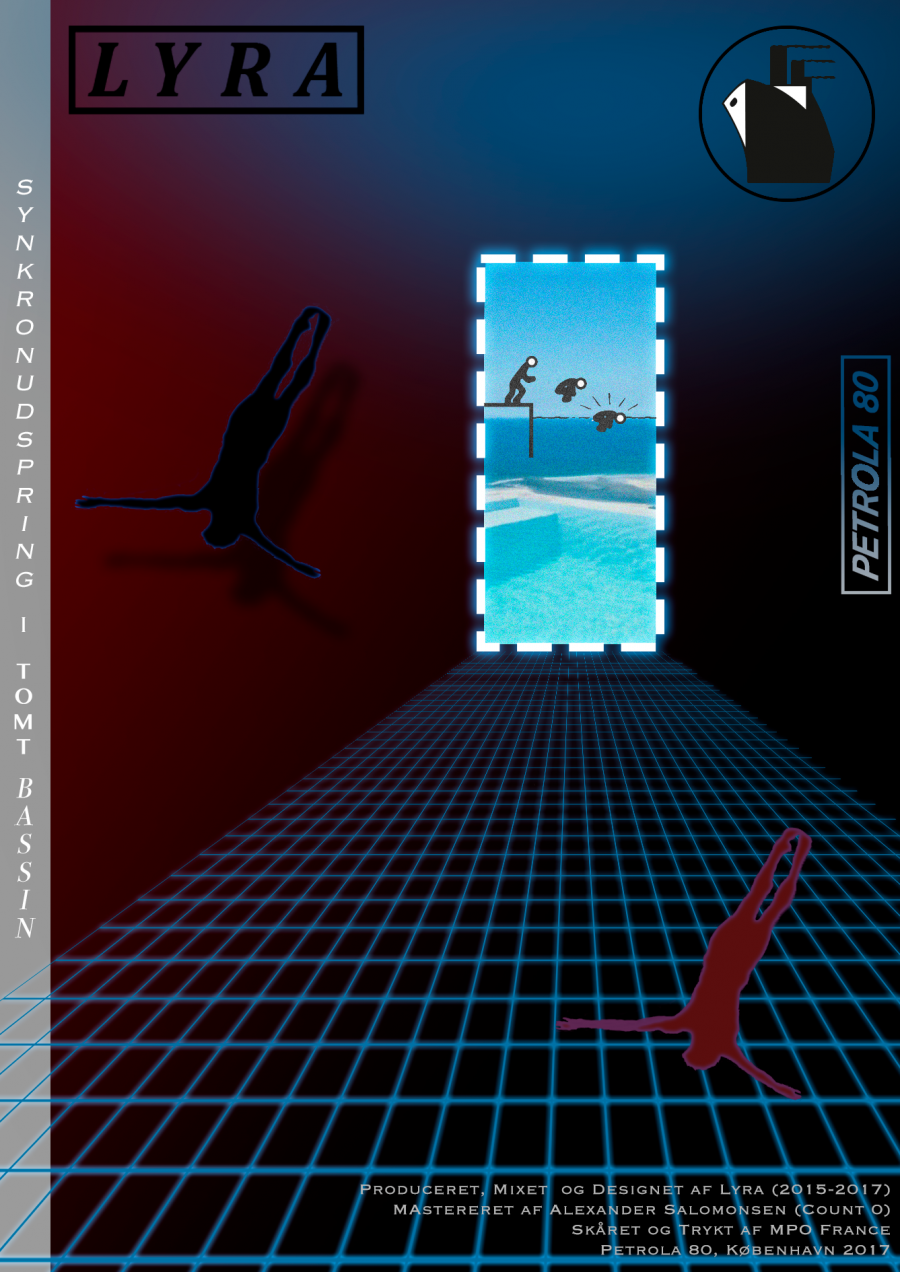 By Alexander Julin
Lyra consists of Jens Konrad and Hjalte. Knowing each other since childhood, the two have spent a large part of their upbringing listening to and examining music together. While Hjalte hasn't played in what he himself considers to be any serious project before Lyra, Jens Konrad has contributed to the musical landscape in Denmark as part of the label Blodrøde Floder, which used to put out Danish noise and ambient affiliated acts – including his own projects Sansernes Rus and Hvide Nætter.
In the meantime, while Blodrøde Floder has been put on standby for the time being, Hjalte and Jens Konrad started the label Petrola 80, on which they now will release their debut as Lyra, "Synkronudspring I Tomt Bassin" [Synchronized Dive Into an Empty Pool]. The first sketches for the tracks were made in October 2015 and finished half a year later. Now the tracks finally get a proper physical release.
Lyra differs from Jens Konrad's former projects on Blodrøde Floder, being more of an artistic examination on how to approach techno, rather than exploring the potentials of noise and ambient music.
In their own words Petrola 80 is "a collective platform for showcasing the work of ourselves and our friends" with the intentions of releasing "many different kinds and genres of electronic music in a highly coherent way."
We've asked the duo about the working process behind their new EP, their intentions with Lyra and Petrola 80, and how they relate to what one might call Copenhagen's musical "scene". In addition to that, you can listen to the premiere of "Synkronudspring I Tomt Bassin" via Passive/Aggressive for a limited amount of time.
Passive/Aggressive: How and why did you begin to work together?
Hjalte: "We've known each other since childhood. Back then we could spend hours in Jens Konrad's basement playing covers of classic rock tunes, so both of us probably always knew it was just a matter of time until we started making music together. Somehow it ended up being electronic."
Jens Konrad: "We've always followed each other musically and listened to many of the same things. I used to have an ambient/noise project called Sansernes Rus, and while I was preparing a live set for a show in Aarhus, I realized that I couldn't really handle all the instruments and machines I was using by myself. So I asked Hjalte to help me out, and our collaboration worked out quite well, so we just went on from there."
P/A: What was the process of writing the EP like?
Hjalte: "Lots of rosé, ocean view and an MPC 1000 in various vacation houses."
Jens Konrad: "Countless days and hours of sampling "Anja & Viktor 1" and "Taxa" [the former a Danish rom-com, the latter a melodramatic Danish TV-series]."
P/A: How would you describe the sound of Lyra?
Hjalte: "It is difficult to describe our current sound as we constantly continue developing and trying out new ways of composing and producing music."
Jens Konrad: "Energetic, dynamic and with a lot of samples."
P/A: Have you been striving to achieve a specific sound or mood in the three tracks?
Jens Konrad: "Not really, but we were listening to a lot of techno when we produced them. I remember that our original idea with "PPP!" was to make a techno track primarily based on sample collages. So we spend several hours cutting and processing all these samples to see how long we could get the track going without getting bored of it. Every time we needed a break from the computer and the MPC, we checked the duration and went like "Whoa, now it's 40 seconds long!" or "now it's 1.20!" etc. It was a fun challenge, and it ended up being my favorite track of the EP."
P/A: How has your musical background influenced what you wanted to accomplish with your EP?
Jens Konrad: "I don't really know in terms of what we wanted to accomplish, but when I listen to it now I see a coherence to my earlier projects in the way that we've used analogue synthesizers like the Juno-60 and the Jupiter-6 to create atmospheric chord pads and melodies."
P/A: What has inspired you in the making of the EP?
Hjalte: "Exploring new techniques of making music, especially the link between analogue synth programming and digital sample processing has made the process quite interesting and educating. Neither of us had much experience using Ableton Live before, and both of us have learned a lot since we started making this record."
P/A: How does the project relate to what you find appealing in Copenhagen's music scene at the moment? Would you say that Lyra represents or breaks with tendencies of the electronic music in Copenhagen at the moment?
Hjalte: "We want to contribute to and be a part of the development of the electronic music scene in Copenhagen. There is no doubt that techno has become very trendy in Copenhagen lately, but that doesn't necessarily mean that the music itself has progressed much. We used to listen to a lot of ambient and industrial techno and participated in various parties throughout the past couple of years, but I guess when we produced this record, we got a bit tired of making these long and linear structures and wanted to try out something else."
Jens Konrad: "Yeah, at some point I feel like there's a uniformity thing going on, especially in the DJ and clubbing scene. For instance we recently played this house music party, and we thought it would be nice to mix it up a little with different styles like juke, reggaeton and afro-house, but either people didn't get it or they just didn't like it. Sometimes I'd wish people would be more open towards new things, so that could be a tendency we'd like to break with somehow.
But having said that, there are plenty of interesting projects and initiatives in Copenhagen that we feel a musical connection to. For instance I really like some of the stuff that Infinite Waves put out, like Equis, Metalized Man and Zanzi.
Aske, who is one half of Zanzi, has a new solo project called An Gella, and he is soon to establish a new digital music platform called Anyines along with our close friend and collaborator Villads, who does Minais B. Their projects are some of the things we are most excited about at the moment. Luckily they are also playing at our release party on May 5th, and I think we are going to collaborate further with them one way or another. Besides our own Petrola 80 and Klub Ana events, we have a musical relation to the Knife Magazine and Untitled Tricks events. So to some extent I feel that we're part of a scene right now, which of course is most clearly expressed at the events where some of the aforementioned projects are booked."
P/A: You've told me that you've been struggling with getting a proper testpress for some time. Does the EP still represent the sound of Lyra as it is by now, or have you been moving in another musical direction, one way or the other?
Hjalte: "When we made "Synkronudspring I Tomt Bassin", we were mainly listening to techno and other related genres. Back then, our sound was more defined by the massive amount of analogue hardware we were using both live and in studio. We didn't use the computer as an instrument, more as a tool for recording and arranging our tracks.
In the last period of time we've begun exploring the endless possibilities of Ableton Live and started embracing the computer as an actual instrument, which has a clear influence on our current sound."
Jens Konrad: "You can still find many of the same elements in our sound, but I'd say our stuff is more diverse and varied now. I've been very interested in Japanese digital sound collages, and we've both listened to a lot of juke and footwork lately, which I think has had a clear influence on our sound. Furthermore we also do more tracks without any beats now."
P/A: You've released the EP as the first release on your own label, Petrola 80. What is idea behind the label?
Jens Konrad: "Our intention is first and foremost to create a collective platform for showcasing the work of ourselves and our friends. We are a relatively small crew of producers without any closer connection to any specific label. So as a starting point we'd like to gather some of the interesting things happening around us at the moment, but having said that, we have no intentions of creating a closed circle or 'friends-only' label. We are generally open to new music and people, as long as we find the music interesting and it fits with the sound and aesthetics of our label. Regarding the artistic profile of Petrola 80, one of our main goals is to present many different kinds and genres of electronic music in a highly coherent way. For instance we have a huge interest in both dance music and club culture as well as uncompromising, abstract and experimental stuff. Time will show if we can succeed in presenting both in a meaningful and refined way."
P/A: What – if anything specific or general – can one expect from Petrola 80 in the (near) future?
Jens Konrad: "At some point we'd like to publish our solo projects, including the music I make under my Severin moniker, and we're also talking with our friend and favorite local producer Minais B about a possible release from him. Furthermore we asked Frederik Heidemann about some tracks after an impressive live set in Mayhem recently. But nothing is determined yet, so you will have to wait and see!"
Info: "Synkronudspring I Tomt Bassin" is out on Petrola 80 on May 5. On the same day Lyra perform live at Refshaleøen in Copenhagen (with Astrid Sonne and An Gella & Minais B) (RVSP: https://www.facebook.com/events/356935874703576/ )
previous post: Musik Til Mor –

Subversiv stilstand