Tongues –
En altopslugende feberdrøm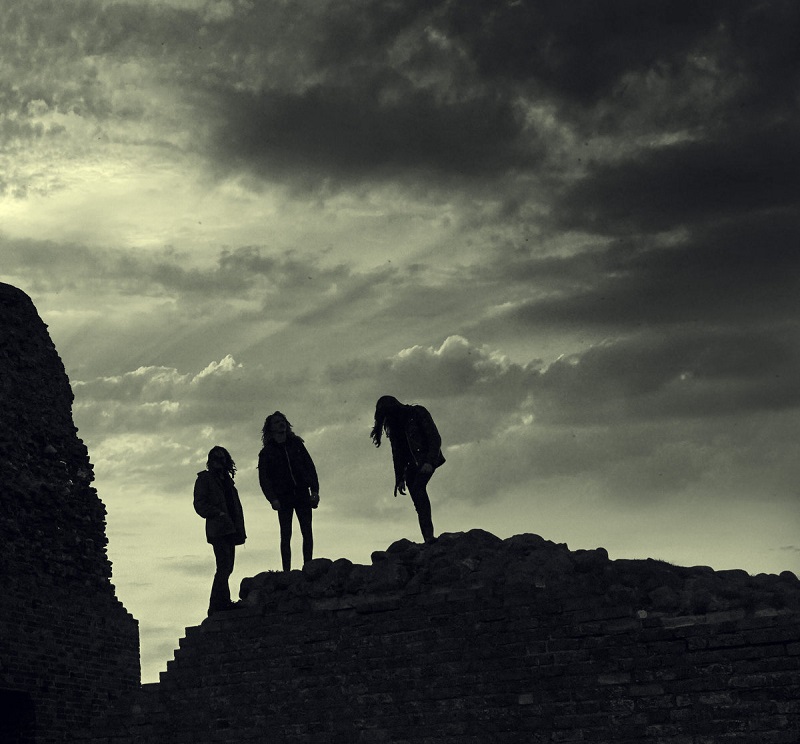 Tongues "Hreilia" (I Voidhanger Records, 2017) – anmeldelse af Kim Elgaard Andersen
Nøgne mennesker nedtrykte og forpinte. De er tydeligt tyngede og kan allerhøjst sidde på knæ og kigge op mod den kraft, der trykker dem. Og den kraft er ikke synlig. Kun naturen, der tårner sig over dem, mens månen anes i det fjerne.
Pladecoveret rammer tonen og temaerne på "Hreilia" ganske godt. Her optræder en ondsindet kraft i forskellige former lånt fra græsk mytologi og kristendommen og slavebinder fortabte sjæle. "Let me see the sacred soil rise in the horizon / And bathe me in the light of blinding flames / … the hearts of men shall howl in the ocean of all souls!".
Det er forsanger Antonius Lovmand, der har malet coverbilledet. Sammen med Thorbjørn Lovmand og Christian Qvortrup udgør han Tongues, og de tre formår at skabe en helvedes larm. Antonius Lovmand og Christian Qvortrup stod tidligere bag slum-døds-/black metal-bandet Hahn Kult og har med Tongues bevæget sig mod en mere teknisk, kompliceret og klarere lyd. Men den stemningsfulde blanding af dødsmetal og blackmetal udgør stadig søjlen i deres musik.
"Hreilia" er bandets anden udgivelse, og titel-ordet kom til Qvortrup i en drøm, hvor det stod for en spirituel skuffelse og et mareridt. Og albummets tekster, som Qvortrup har skrevet, fremmaner rigtig nok mareridtsscenarier, feberdrømme, som en moderne version af Johannes' Åbenbaring. Men truslen kommer indefra:
"Mirrors from within the self / Revel in mysteries / Reflecting the gulf between flesh and spirit /
Descend into the blackened depths / Into the inner caves of self-illumination / Pulsating through the locus of the soul".
Sådan lyder det i "Perennial Waves", der starter med rolige bølger, som skyller mod strandkanten, stemningsfulde guitartoner, prøvende trommer, en mumlende, growlende stemme, det hele har et lidt jazzet feel, inden det hele bryder løs i et forpint black-skrig, blastbeats og skærende, tunge riffs.
Hele pladen veksler i tempo mellem black og dødsmetal med indskudte doom-passager, men det er et dynamisk, sammensat lydbillede, Tongues skaber. I "…And the Ever Watchful Clouds" bruger trioen desorienterende, psykedeliske riffs, og nummeret ender med meditative toner fra en saranji – et strygerinstrument anvendt i hinduismen, især Nepal. Det psykedeliske dukker op flere steder på albummet og viser et slægtskab med finske Oranssi Pazuzu, mens "Acumen Numinous" har munkevokal og et storladent schwung, der minder mere om Enslaveds vikingemetal fra 1990'erne.
I det afsluttende titelnummer bølger smukke, engle-agtige guitartoner hen over en nærmest druknet, growlende vokal, der udtrykker fortabelsen. Mareridtet vinder, mennesket slavebundet.
Tongues kan bære de store genre-udsving. Der er hele tiden en grundlæggende tone, der er umiskendeligt Tongues. Den er depressiv, javel, men den er også energisk, episk og svimlende. Tongues har trukket sig op af det jydske mudder.
Info: "Hreilia" udkommer 8. december på vinyl og cd på I, Voidhanger Records
previous post: DJ Lycox –

Potente kuduro-eksperimenter