Intonal Festival 2019 –
Snapshots from the peripheries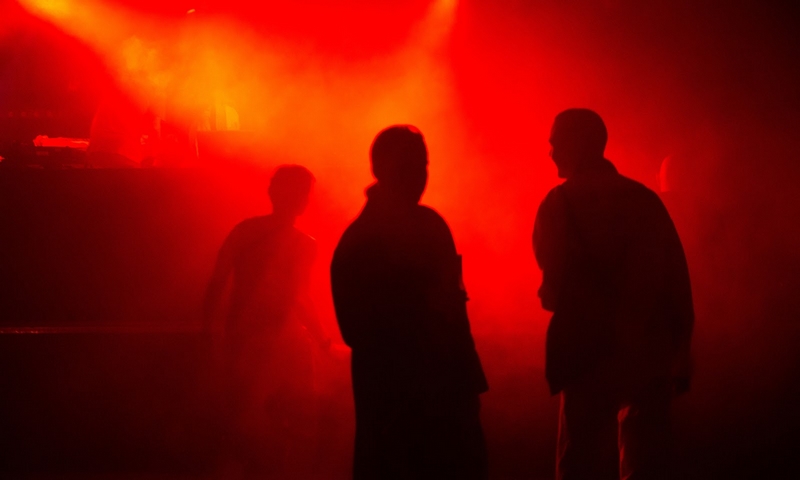 Intonal Festival, Malmö, April 24-28 – live report by Astrid Hald & Laura Juncker
Malmö's annual Intonal Festival for experimental and electronic music celebrated its 5th edition by presenting a packed programme of acclaimed experimental artists and immersive sound experiences. For five days Inkonst – the city's independent venue for experimental music and performance – was transformed into a lively red-and-black hub, where the friendly crowd could lounge in Red Light Radio's sofa corner, party in the Club, mingle in the bar, or lie down on pillows and soak in music in the Black Box concert room downstairs.

Intonal pulled off a stunning festival. Through bold curating, which repeatedly sought to dissolve the barriers between art forms, and the unconventional use of venues, the festival initiated ongoing conversations on the way we engage in music and art, collectively, regardless of genre and formalities.
It is a refreshing injection of something unapologetically uncommercial in the festival scene, and indeed, just for a fleeting moment, it allowed you to forget that music and art were ever an industry and simply indulge in a pure universe of experimentation.
Well-fed with talks, performances and parties, here we provide you with a couple of snapshots and highlights from Intonal Festival 2019.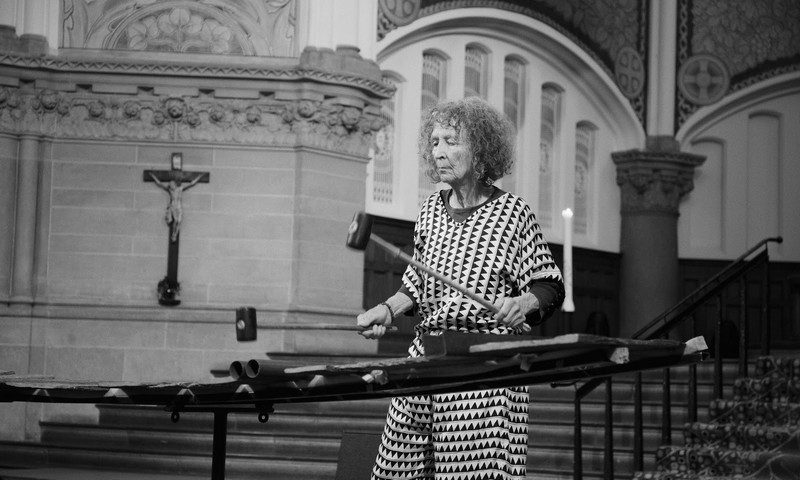 Limpe Fuchs and In Praise of Profanation at St. Johannes Church
With a yearly free church concert, Intonal sympathetically invites its home city to kick off the festival. By the altar, German experimental percussionist and legend Limpe Fuchs had mounted her home-built instruments of xylophone-like rows of cut stone and a giant bronze pendulum in an intricate construction that made for a sight in itself. In between playing them and singing, she even turned the church itself into her instrument as she kicked a stone ball down the aisle letting the rumbling of the ball be the bass to her high-pitched violin.
Having set the tone for just how far we are allowed to go with music when we relieve it of conventions, the concert proceeded to the next act, the premiere of the collaboration In Praise of Profanation – an adaption of former solo works by Swedish (film)composer Erik Enocksson and American Stockholm-based artist Kali Malone together with the St. Johannes Choir and Vega Choirs. In a long, slowly progressing, and deeply absorbing drone symphony, Enocksson set off with piercing metallic synth shooting through the silence, was then joined by Malone's harmonic synth and church pipe organ, and from the very start, they filled every inch of the tremendous room with melancholy and beauty. The 60-something person choir merged in elegantly with a long sequence of calm expansions and retractions of what felt like one big lung, and the hour-long profanation mass was nothing short of breathtaking.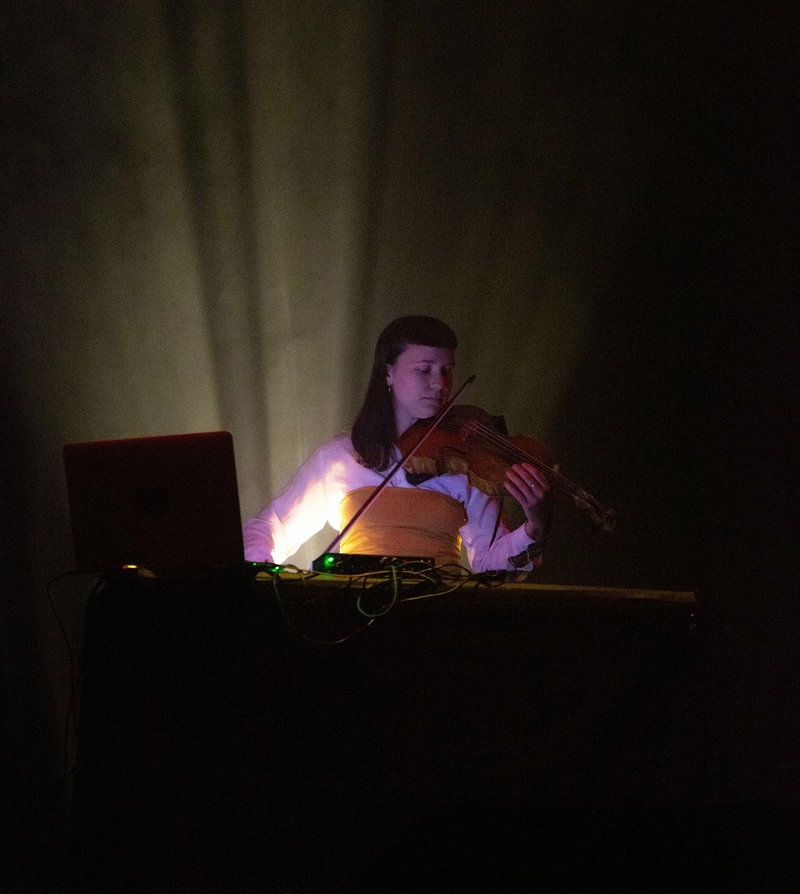 Astrid Sonne at Black Box
Copenhagen-based composer and viola player Astrid Sonne opened the Saturday programme with her piece "Ephemeral" performed live in three parts: Her alone with her sample box and synth, her playing viola over her live composition, and her ending the show by singing in a four-person choir ensemble. An interplay between the organic and mechanical, equally vulnerable and forceful, and a glorious twilight between classical and experimentation.
Sansibar + AUX88 at The Club and BlackBoxDiscoClub
DJ Sansibar – Finnish electro prodigy and resident at the club and epicenter of electronic nightlife Kaiku – played a pounding live set of electro-minimalism with influences of Detroit electro and quickly turned day into night as party people joined the dancefloor and a long line started queuing up outside Inkonst. After him, legendary 90's Detroit duo and techno pioneers AUX 88 took over with old school robotic rhymes and pumping breakbeat electro-funk, in a time machine of a DJ-set, landing audience right back in the freshness of techno's earliest days.
A couple of dance moves later and the Black Box downstairs had been transformed into a steamy punky techno rave under the guidance of Swedish producer, EBM/wave label owner, and frequent Berghain appearance DJRivet. Following him was Spanish Berlin-based producer and sound artist JASSS's hard-hitting industrial brilliance keeping the room sweaty until early morning. Across from the decks, in a visualised commentary on the sexualized body obsessions in rave culture, the naked London-based performance art duo Antonio Branco & Riccardo T. were staged above the pumping crowds, in a 5-hour performance of them licking and bathing each other in sheets of gold in contrasting slow motion.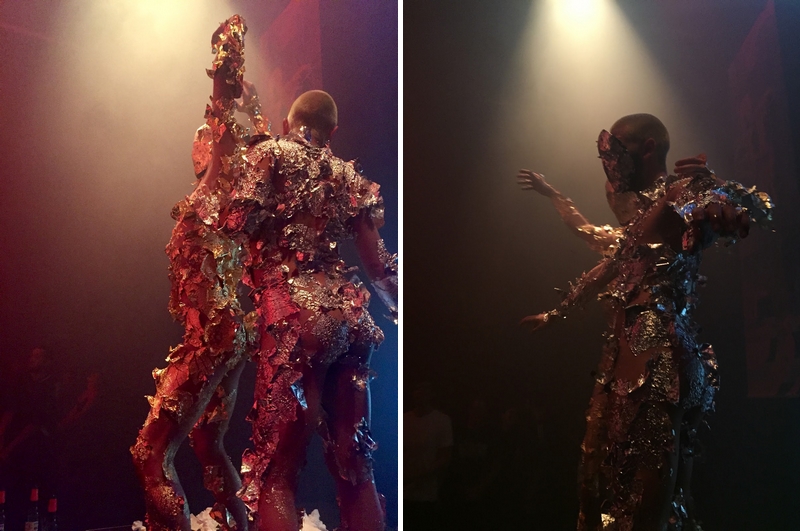 Julius Eastman/Apartment House and Oliver Coates at Black Box
On the next day, a slight general hangover and looming festival blues made the setting for Sunday night's candy bag of artists. Entering the calmness of Black Box to see British contemporary music ensemble Apartment House perform "Femenine" (the 1970's masterpiece by late and criminally unsung American composer Julius Eastman), we were welcomed by massing sleigh bells playing in loop on the speakers, as the ensemble was getting ready on stage. A vibraphone loop set into motion in a mechanically repetitive backdrop that persisted throughout the piece. Piano, keyboard, flutes, violin and cello subtly joined in, and for the next 72 minutes, we were taken through a musical tale of melancholy, vigour, tragedy, agitation and peace.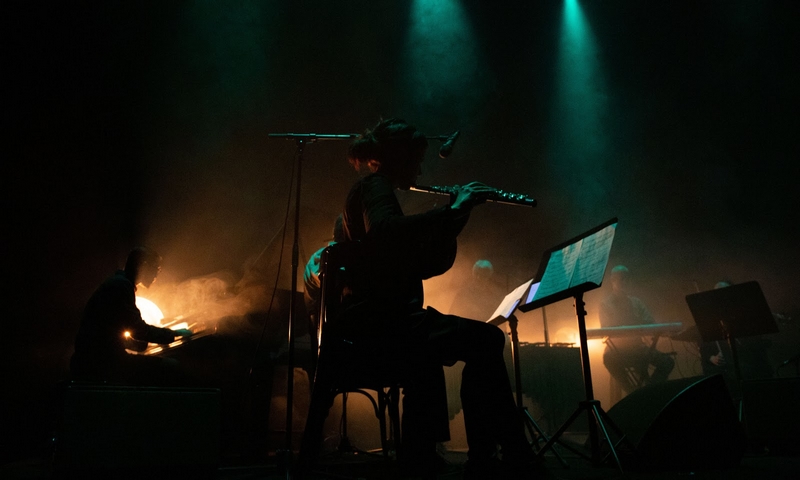 Rounding off the evening was the widely acclaimed British cellist virtuoso and producer Oliver Coates with his very first performance on Swedish ground. Known for having played the cello for major headliners like Radiohead and especially praised for his own solo explorations of cello and electronics, here, he presented new, unreleased compositions, demonstrating his playful and skilled experimentation with improvisation and sampling.
In an intimate and polite interaction with the audience, he entrusted us with voice recordings of his mother-in-law telling a story about meeting a poltergeist, which he accompanied with his drum machine and his wide-ranging artistic expressions on the cello. As Oliver Coates wished us farewell, and we packed to leave back for Copenhagen, volunteers started arranging for the very final event in the programme; a sleeping concert in J. Knutsson & S. Mullaert's "ambient rabbit hole" and a soft landing into Monday morning back in the real world.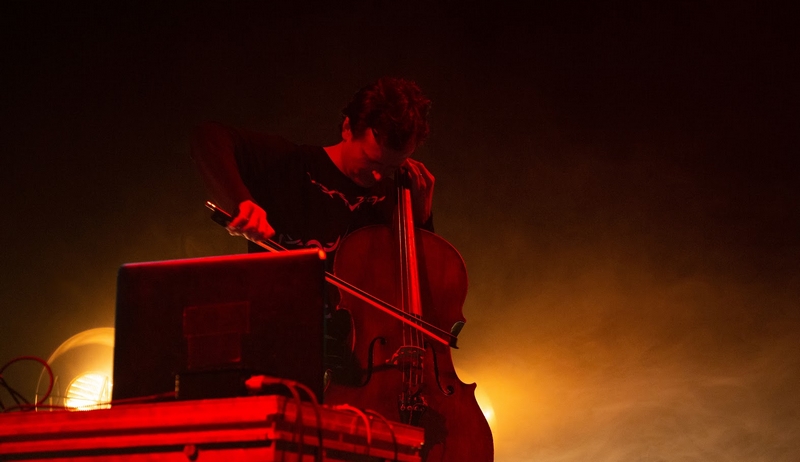 previous post: Mini Esco –

Øjeblikke af patosfyldt ekstase