Click Festival 2013 –
kurateret kulturværft på recept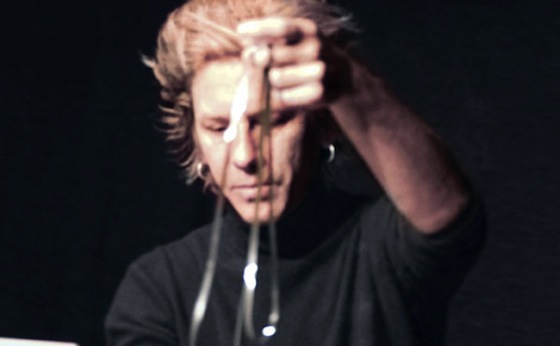 Af Mikkel Arre og Simon Christensen
Click Festival finder sted i Helsingør og byder på et ret utroligt koncertprogram med eksperimenterende musik, udstillinger og workshops. Man har valgt en løsning, hvor festivalen i samarbejde med toneangivende kuratorer som ArtFreq, Mayhem, Yoyooyoy, posh isolation, Strøm, Escho og Wundergrund har sammensat et vildt program med elektroniske sværvægtere fredag den 10. maj, alsidig eksperimental-dag for københavnere-med-venner den 11. maj (er det en lidt lukket klub?) og Laurie Andersson/Valby Vokalgruppe som særskilt arrangement den 16. maj.
Vi har gravet et par udvalgte ting frem, som vi uddyber herunder, men kig også igennem det samlede line-up her: Jonas Frederiksen, Gaslamp Killer (US), Fictional Boys/Muzz (US), Squarepusher (UK), Diamond Version aka Alva Noto & Beytone (DE), Demdike Stare (UK), William Basinski (US), Anstam (DE), Voices From The Lake (IT), Laurie Anderson (US), Valby Vokalgruppe, Global Guaranty Orchestra, R.Stevie Moore (US), Dean Blunt (UK), Mika Vainio (FIN), Thulebasen, Dror Feiler (SE), Lower, Puce Mary, Lust For Youth, AA, Hector Rottweiler, Johns Lunds, Lights People, Søren Kjærgaard Solo, Age Coin, Ea Borre & Voks, Synd & Skam og Frisk Frugt.
Click Festival finder sted i Kulturværftet, Helsingørs nye kulturhus. Billetterne er i øvrigt også ret billige.

William Basinski (US)
Et af de vilde scoops på Click-programmet er bookingen af ambient- og avantgarde-komponist William Basinski. Især hans hovedværk, det firdobbelte album "Disintegration Loops", har fremmanet en massiv fan-hengivenhed (og hos nogle et lige så voldsomt had), som meget sjældent tilfalder kunstnere, der som Basinski bevæger sig i grænselandet mellem ambient og moderne kompositionsmusik. Det er svært helt at vide, hvad man skal forvente sig af hans optræden i Helsingør – men ved tidligere optrædener i Europa har han haft en spolebåndoptager med og anvendt tape-loops på samme måde som i "Disintegration Loops" og en række andre værker på pladeselskaberne Raster-Noton og senere hans eget label, 2062 Records.
Hans 2013-koncerter er desværre Youtube-dokumenteret så dårligt, at det er svært at se, hvad der er på hans bord ud over en laptop og en mixer. Men i hvert fald har han ved flere lejligheder opført et værk præget af langsomme klaverdryp og overtoner, der – om end det er lidt mere bastant i lyden – vækker mindelser om et af bagkatalogets højdepunkter, "The Garden of Brokenness", der er en mesterlig udforskning af erindringens og nostalgiens uendelige dybder.
AA (DK)
AA (tidl. Angry Ayrans med ordspil på tyrkisk yoghurt og den ariske race) er en duo, som efterhånden har eksisteret en del år og mest har præsenteret harsh noise før og med grundlæggelsen af Posh Isolation, og som man blandt andet har kunnet opleve til noisefest i december. Bag det animerende pseudonym finder man Christian Stadsgaard (Damian Dubrovnik, Posh Isolation) og Klaus H. Hansen (Ashley C., Fuzzards, Forza Albino og Timeless Reality), som efter tre kassettebåndsudgivelser nu tilsyneladende praktiserer hård acid techno "more gruff and monochrome than the original rave culture."
De ældre Angry Ayrans udgivelser kan downloades her: Angry Ayrans, Brutal Ritual og total sanity implosion. Via det nu inaktive New Weird Denmark, som en overgang indspillede mindre udgivelser i små oplag og gjorde det tilgængeligt online.
Voices From The Lake aka Donato Dossy & Neel (IT)
Den italienske technoduo, som består af Donato Scaramuzzi og Giuseppe Tillieci alias Donato Dossy og Neel, har dedikeret et subtilt pulserende sort/hvidt projekt til et italiensk vandspejl og døbt det Voices From The Lake. De udkommer på det tyske label Prologue Music, hvor de har udgivet den ganske overraskende "Silent Drops"-EP, som man kan høre herunder, og i 2012 debuten "Voices From The Lake" LP.
Begge udgivelser driver af stillestående ambiens med en svag og flydende synthesizeroverflade og etno-frenetiske beats med lave frekvenser uden attack, så Voices From The Lake faktisk lyder som et lukket mikrokosmos med et ekko af dub og Drexciyas undersøiske fanfarer.
previous post: Asa Irons –

The window through which I view the world