Dariush Dolat-Shahi –
Persisk post-revolutionær musik i nye kredsløb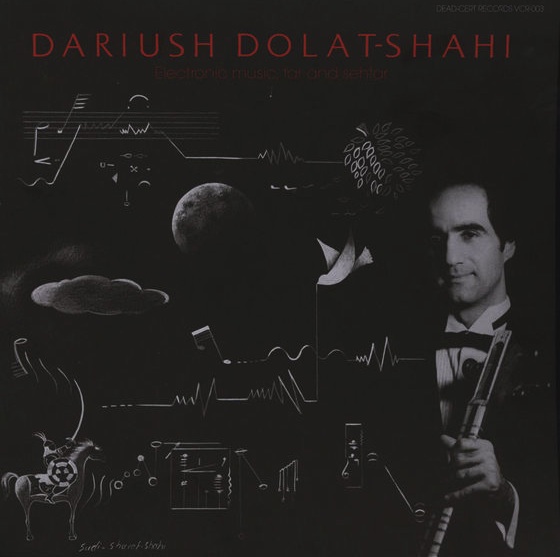 Den oprindelige indspilning af "Electronic Music, Tar and Sethar" (Folkways, 1985) med den iranske komponist og tar-mester Dariush Dolat-Shahi er blevet genudgivet her i 2012 af Dead Cert – og genaktualiseret for et nyt publikum på samme måde som Charanjit Singhs indiske "Ten Ragas with a Disco Beat", der ikke nød anerkendelse i sin samtid.
Musikken er skrevet for elektroniske apparater nok mest synthesizere og hhv. tar (klassisk persisk strengeinstrument i lutfamilien) og sethar (sitar/variation af samme), men der er smukke ornamenter af fløjter og feltoptagelser af fugle, regnvejr med mere. Kompositionerne tager med overvægt udgangspunkt i strengeinstrumenterne og udfoldes som skalaer med skiftende perkussiv fremdrift og et utight touch, og så bliver den "elektroniske musik" udfylder rollen som enten droner eller et krydderi, der tilføjer en tekstur af polyrytmik, arpeggio og uforudsigeligt futuristisk lyddesign. Med andre ord sker der er en udveksling, hvor det meget frie spil på tar og feltoptagelserne bliver det stabile, og den elektroniske musik bliver et ustabilt modspil, der giver dette 27 år gamle genopdagede album en stærk følelse af menneskelighed, lyst og spontanitet.
"Electronic Music, Tar and Sethar" er overraskende, selvom den er behagelig at lytte til. Det her må have været ret eksperimenterende i 1985, og det siger jeg uden præcist at kende betingelserne for iransk kultur på den tid. Dariush Dolat-Shahi studerede komposition i Iran, både klassisk persisk musik og vesterlandsk musik, fortsatte sine studier i Holland, og flyttede i 1975 til New York, mens politiske uroligheder lurede i Teheran. Efter den iranske revolution i 1979 mistede han sit scholarship men blev boende i USA, hvor han har boet og undervist siden. Selv i nutidens lys er denne kombinationen af traditionel musik, feltoptagelser og synthesizere – med et konstant øje for hele helhedens spændinger – ganske sjælden (Tak til Haile Lassie for tippet).
"My performances of music for tar and setar are a combination of traditional and contemporary. I wouldn't call it classical Persian music. Back in 1981, after I graduated from Columbia, I composed a series of works for tar, setar and electronics. While the instrumental pieces that I did at that point remained in line with the abstract, serial Columbia style, the electronic music equipment allowed me to express another part of myself. Working mostly on my own, I became involved in a more expressionist style. I let it out."
"Electronic Music, Tar and Sethar" er genudgivet i 2012. Musikken er bragt via Ubuweb, hvor man også kan læse en samtale med Dariush Dolat-Shahi.
previous post: Nikolas –

A bong-smoking, dancing human being (premiere)