Nikolas –
A bong-smoking, dancing human being (premiere)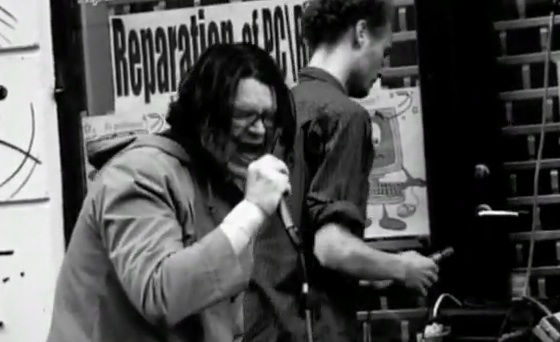 Den ustyrlige, analoge trio Nikolas udsender i denne måned sin debut i form af det machoide danseorgie "Kettleboy/He-Man", der på sine 2×30 minutter balancerer mellem det intelligente og det dumme, men altid ganske syrede og udforskende med mumle-eksorcisme og en pumpende maskinpark. Nikolas blev startet i asken af KLoAK af Anders Mogensen og Niels Kristian Jesus Eriksen (fra Thulebasen m.fl.) og tæller nu også Nis Bysted. Se fx. liveoptagelser med Nikolas fra Sejerø og Distortion. Musikalsk kunne man måske se det som en ekstrem reorganisering af elementerne fra cheesy house fra 90'er og nyere synthesizermusik, og bemærk især acid house-nummeret "He-Man" med omkvæd og det hele, der starter ca. 22.45 inde i A-siden på båndet, som du finder herunder (B-siden er samme musik i en anden rækkefølge). Det er Animal Collective på syre. En tautologi!
Hvis Nikolas ikke skulle fungere som musiker, så skulle han måske gøre sig karriere som tekstforfatter? "Nikolas is strangulating hands in another century, a bong smoking a dancing human being, a discarded eye, megarexsia with the taste of pre-cum, synthesizers grinding on an air balloon's broken teeth, a big hole in a cheek like wheat bran, dirt shovelled by orange inbred offspring, maybe a musical tongue set to spin so violently that time transforms into absolute zero's tinnitus the day the instruments throw up on the tone's inhuman soul. Nikolas is Narkolars."
Info: "Kettleboy/He-Man" udkommer i december måned hos Escho på kasette.
previous post: Robert Aubrey Aiki Lowe –

vuggende synthoscillationer og stammedans