Father Murphy –
rungende, katolske horror-improvisationer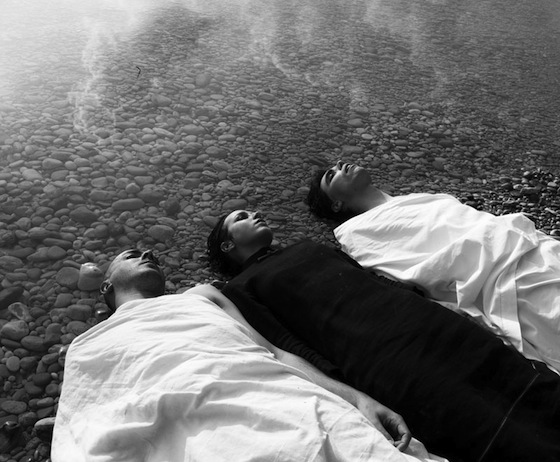 Den italienske trio Father Murphy mødtes i Brookyn, men er siden flyttet tilbage til Treviso i Norditalien. Gruppen har blandt andet spillet på Sejerø Festival og i Københan – og i det hele taget turneret med Thulebasen, som til gengæld har lavet et mix af "Diggin The Bottom Of The Hollow", der udkommer i næste uge på "Anyway, Your Children will Deny It" remixpladen.
Musikken bevæger sig i et grænseland mellem improvisation og drone med en stærk relation til blandt andet kirkemusik, freejazzen og no-wave/noise, som fremstår både religiøs og udslettende ekspressiv. Father Murphy består af Chiara Lee og Vittorio Demarin samt Federico, der er præst, og de har også indspillet noget af deres ret uoverskuelige diskografi af både singler, miniudgivelser og indtil videre tre rigtige album i kirker. Sidste år udkom deres seneste fuldlængdealbum, der strækker sig som et ligklæde langt ud over forudsigelige udtryksformer. Bækkenslag, klokker og droner har et langt sonisk efterliv, og på den anden side findes der både middelalderlig folklore, melodiske figurer og insisterende messer med Swans-lignende rungende grandiositet.
I italiensk musik i almindelighed og i eksperimenterende film- og instrumentalmusik i særdeleshed er komponisten Ennio Morricone en udbredt reference. For Father Murphy er det dog ikke Morricones så kendte filmmusik, men snarere hans fremragende improvisationsensemble Gruppo Di Improvvisazione Nuova Consonanza, der eksisterede fra 1964-1980, der er den mest nærliggende reference. Father Murphys store tilhængere tæller blandt andet Julian Cope, Deerhoof, Michael Gira – og Thulebasen.
Federico: "PS. Check Les Rhinoceros, the band we're touring now with, they are out for Tzadik and they are great! Love to all our beloved Danish friends!"
Info: "Anyway, Your Children will Deny It" udkom i 2012 på Aagoo. "Anyway, Your Children will Deny It" remixpladen udkommer 4. februar med mix af Black Dice, Happy New Year, EMA, Sic Alps, Thulebasen m.fl.
previous post: One to watch: Bradford Cox-dokumentaren 'Youth Museum'