Flawless Victory –
Sometimes & Always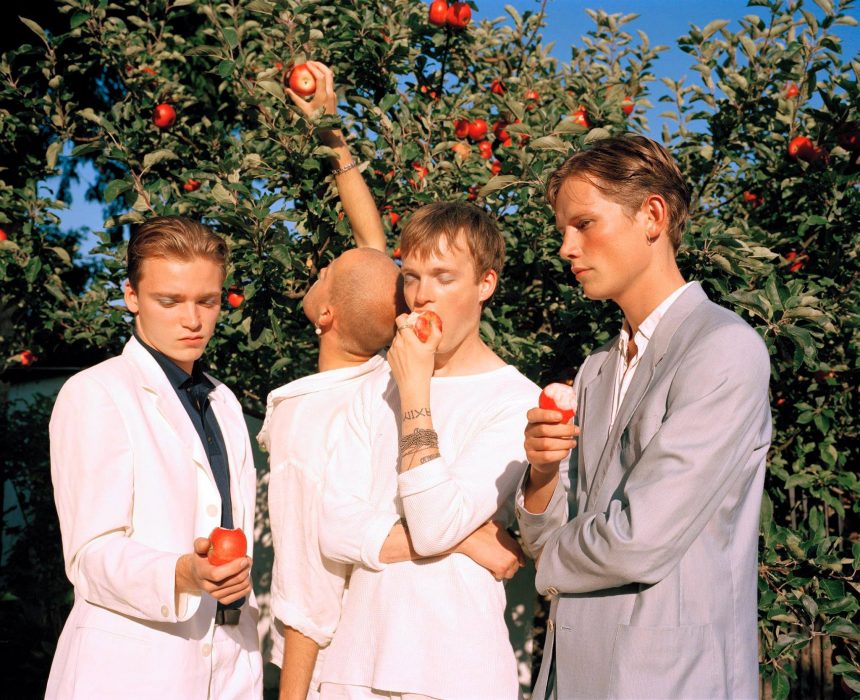 Flawless Victory "Sometimes" (self-released, 2019) – Interview by Cameron Pagett
It's been nearly three years since the Copenhagen-based band Flawless Victory took up instruments and started performing. In that time they have in many ways become everybody's favorite band that never made recordings or released anything. Consisting of lead singer Jonathan Holst Bruus, synth-master Christopher Jørgensen, bass guitarist Magnus Holger Hjortlund and electric guitar-wizard Gustav Frich they have played live – in some cases with more established names like Communions and First Hate. Their shows have caught a splinter of wanderlust and a spirit of warmth, humor and fun necessary in the current soundscape of the city.
With an entire history of performances behind them, it's been equally awaited and maybe also forgotten that they had yet to actually release anything they could all be proud of. "If you're gonna release something it's gonna stick to your name," relays guitarist Frich. "None of us are about to drop dead, so why not wait it out a year or two and make something we value rather than just put something out there."
Equally relaxed and critical of their output, the group has let things happen naturally amidst the pressure and expectation for a recording that people reference again and again.

The result of their first release is a five minute bite-sized sound climax of your favorite summer dreams encapsulating all the places you have been and want to be later. The new single "Sometimes" is in many ways a never ending shot glass containing the overarching spirit of possibility in the youthful heart. A super charged champagne glass full of endless cheer, campy nonsense and present nostalgia for the moment at hand turning to history in all its current splendor. Complete with a music video paying homage to the perks and simplistic pleasures of heightened bourgeoise bliss. The music and imagery take us into a mindset of extended childhood dreams, youthful trappings presented nearly like a moving greeting card to your future self and a set of accessible desires indulged in too little. "I think with the aesthetic it's a little camp and fun," remarks bass player Hjortlund, "that's just who we are, you know."
It's a mild atmosphere of self deprecating indulgence with a wink. It feels fast, yet floats along below the speed limit and has its sharp moments tempered by an overall pillowed feel of an incoming warm night with friends and a small fire. "We did destroy Jonathan's brother's car though." Frich intervenes, "so that was pretty rock and roll."

"I think I like fun music, or music with humor," remarks Jørgensen wistfully, when describing the charming and maximal wall of sounds creating the tracks atmosphere. "It can tend to be a bit boring if you take it too seriously." A quiet master of the synth he slumps back into a sofa while enjoying a beer when Frich intervenes, "There's a lot of minimal stuff out there in Copenhagen these days, right?" He pauses, and the point is made. Within the song is a large sampling of sound from drum samples to pinging noises akin to 90's gameboy ambiance with soaring harmonies and even a disco charm. What unites it all is a certain attitude of wanting to include all the things that make them happy. It's a feeling that within this increasingly demanding and at times ultra serious local and international music outlook there is still room for a group of people who want to smile, wink and sway a little. It's music that you can fall in love to, finish the bottle of wine with and leave behind a full picnic on an exotic blanket in the imaginary lawn of your summer house-heaven. It's cute, unbelievably catchy and colorful in the sense that it evokes a sensation of being caressed in your personal dance dreams by sound.

It might only be a single for now, but the band has plans from here to expand on their material and continue to create their universe for our enjoyment. With that expectation however comes a feeling of relaxation about when they will get to it and what form it will take. "When it comes to creating something super relevant or zeitgeist-y you are bound to lose, at least if you are us, so there's no reason to overstretch ourselves now if we have fun," Frich admits looking into the future.
With that expressed the group is both a familiar and new face in the local music scene making an impact and continuing to grow at their own pace. If opening single "Sometimes" is any indication of what we can look forward to, then the sonic future of Copenhagen just got a bit better. Stay tuned, warmth can exist outside of summer, if only in your headphones… sometimes.

Info: "Sometimes" was released on September 5.
previous post: Teguh Permana & Yngel –

Utilregnelige og længselsfulde kompositioner fra dansk-indonesisk impro-gruppe