Henning Christiansen hyldes med arkiv, musik og huller i jorden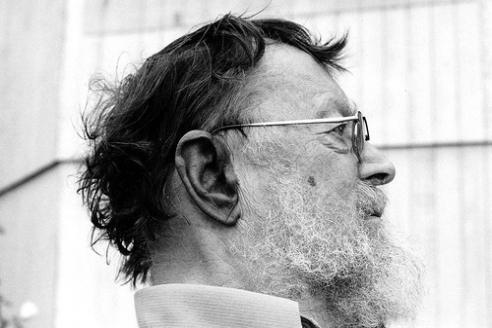 Kunsthal 44 Møn hylder i denne weekend fluxus-kunstner, musiker og komponisten med det grønne øre Henning Christiansen (1932-2008) med åbningen af nye bygninger, der skal rumme hans arkiv, samt en fejring med sankt hans bål, sommerudstilling og to dage med koncerter (eller noget, der minder om koncerter). Titlen er "The Hammer Without a Master". Henning Christiansen lavede musik til spillefilm og komponerede koncerter. Blandt hans mest markante musikalske nedslag er 'Perceptive Constructions' fra 1965 og hans medvirken i Bjørn Nørgaards 'Hesteofring' i 1970, samt flere politiske aktioner.
Musikdelen, som finder sted i denne weekend, varetages af lydkunstnere+avantgardister som Leif Elggren, Andreas Führer, Jacob Kirkegaard, TR Kirstein & Claus Haxholm, Johannes Lund, Gordon Monahan, Vagn E. Olsson, Marja-leena Sillanpää, Society for the Disorderly Speaker and Tori Wrånes.
Det hele åbner med TR Kirstein & Claus Haxholm, der præsenterer "Grundtoner" – et værk, der åbner klokken 10.00 lørdag formiddag med, at Kirstein og Haxholm graver store huller og sender lyd ned i jorden. Andreas Führer har skrevet nye ting, som han vil fremføre på orgelet i den nærliggende kirke søndag formiddag. Johns Lunds installation indeholder ikke-udgivne optagelser fra Henning Christiansens arkiv udvalgt af Ursula Reuter Christiansen og sådan fortsætter det med en række koncerter, hvoraf de fleste er skrevet til denne begivenhed.
Bjørn Nørgaard griller desuden to lam i løbet af lørdag.
"There has not as yet been serious art historical research made to fortify the rambling tie-lines between contemporary sound art and experimental music practices of noise, or even punk to Fluxus, still there is a spirit that reaches out of Fluxus into each of these areas –a play with the tension between structure and chaos, a strategic abandon that still feels vital. Hammer without a Master celebrates the active embrace of experimentation and the loss control that unfolds spontaneously in direct response to the moment," siger kurator Chiara Giovando i en mail til P/A.
Info: Musik/performance finder sted den 22.-23. juni på Kunsthal 44 Møn og i Fanefjord Kirke. Læs også hos SNYK.
previous post: Salvia Plath –

monokromt psychpop-skyggespil