Jørgen Teller –
Unattended Cooking på Sønder Boulevard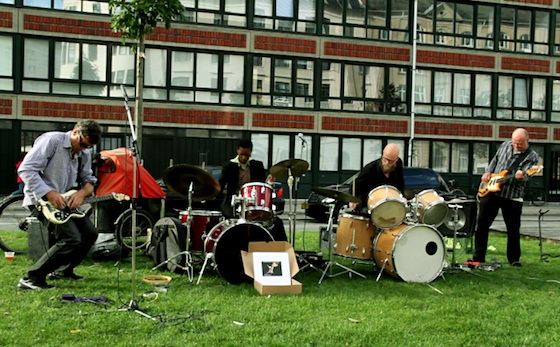 Den danske guitar-eminence par excellence og komponist Jørgen Teller udgiver ny plade med 74 minutters musik fordelt på to numre med The Empty Stairs (T.R. Kirstein og Søren Gorm) og den belgisk-cubanske musiker Lazara Rosell Albear på trommer, pockettrumpet og effektvokal.
Først og fremmest er albummet en lydlig og delvist lyrisk rejse med masser af dybde med guitarens foranderlige udtryk og dets forvrængede stemmer (i form af vokal og trompet), der trækker musikken ned i det abstrakte og underbevidste med for så vidt samtidigt både romantiske, minimalistiske, freejazzede og rockede elementer. Musikken er tydeligt fri form, men bærer ikke synderligt præg af hverken at være for live eller impro. Åh jo, trommerne er ikke særligt tydelige. De fremstår i momenter blot som lidt tekstur med masser af bækkener, mens jeg ikke kan afkode præcist, hvordan basspillet bidrager til de mange lag af støj. Af pladens sekvenser fremstår begyndelsen og midten af det 54 minutter lange "Ohne Topflappen" mest inddragende, mens "Slime Deis Vas" virker mere abrupt og legesyg – og derfor er det sjovt nok bedst, når Jørgen Teller & The Empty Stairs er i kontrol over kokkeriet.
Info: "Unattended Cooking" udkommer i april 2013 og er blandt andet baseret på materiale fra to koncerter foran Kihoskh i hhv. 2011 og 2012 med den belgisk-cubanske musiker Lazara Rosell Albear.
previous post: Jacco Gardner og kunstkammerets herligheder