Kassettebåndstidsskrift –
Passive/Aggressive udgiver nyt batch med Windows Gateways Bridges, 10 BPM Dance Club og The Hum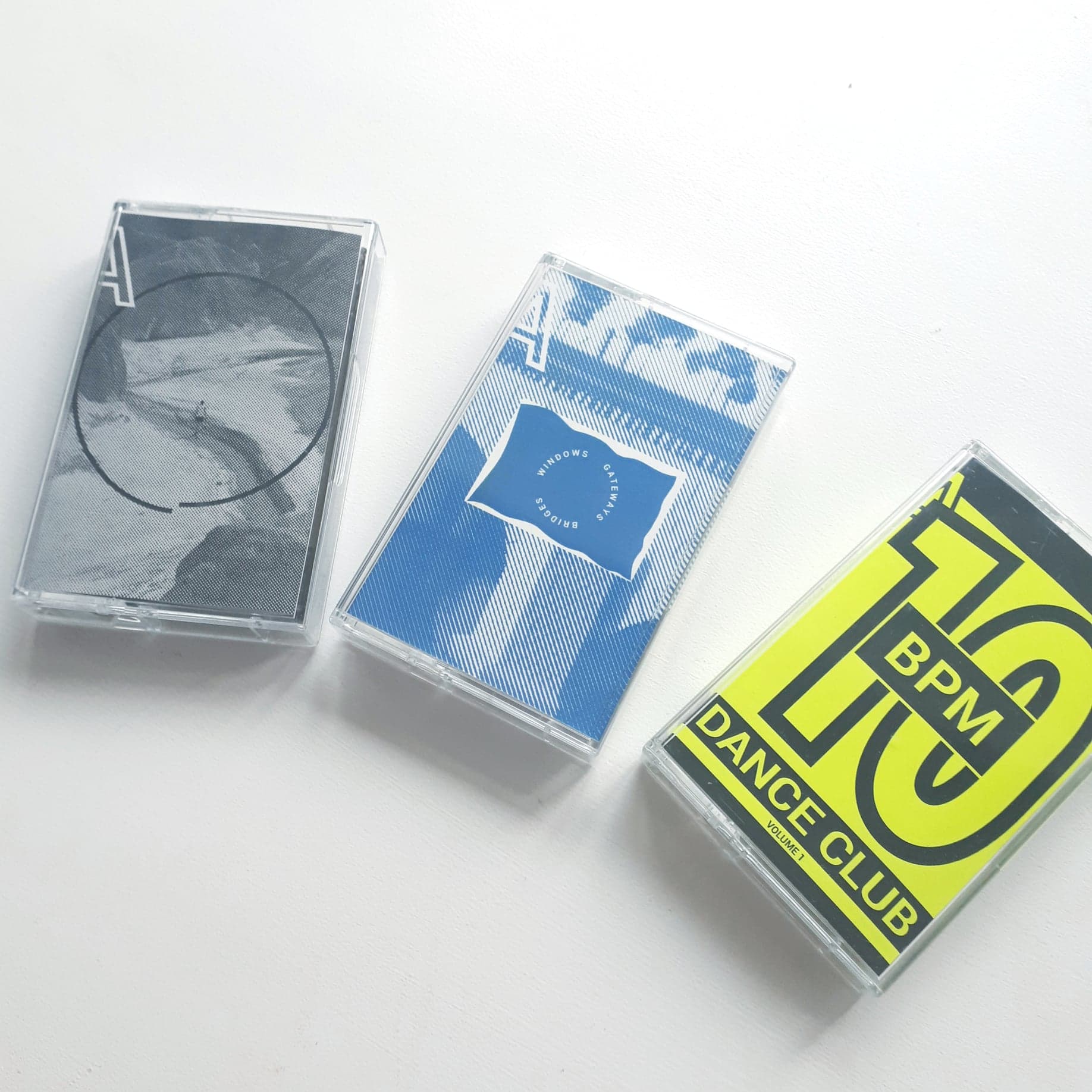 I denne måned udkommer det seneste batch i serien af kombinerede 'kassettebåndstidsskrifter', som produceres på nonprofit vilkår af KLD Repro og Passive/Aggressive. Det består af tre udgivelser med hhv. værket Windows Gateways Bridges, den verdensomspændende 10 BPM Dance Club og den The Wire-roste danske freejazz-kvartet The Hum. Alle udgivelser består af et kassettebånd med originalmusik og en perspektiverende tekst.

Windows Gateways Bridges er et værk af Andrea Novel (Ydegirl), Emil Elg (Synd & Skam) og Cæcilie Trier (CTM) med tekster af Søren Kierkegaard, Den Europæiske Centralbank og Andrea Novel. Det svært EU- og kapitalisme-kritiske værk blev opført en enkelt gang i 2016, men er fortsat aktuelt og er blevet mastereret af Peter Peter og bliver nu endelig udgivet på kassettebånd. I tidsskriftet skriver Nils Bloch, der også er medredaktør på ZINE 7 om musik og politik, bl.a. "Where were the bridges when refugees began washing up on the shores of Greece? Where were the windows and gateways during BREXIT? Over the sparse arrangement the signifiers of the lyrics twist and overlap, juxtaposing Novel's obscure references and Kierkegaard's allegorical descriptions of maternal sacrifice with the propagandist undertones in the words of the Central Bank, ultimately conjuring up a dystopian image of modern Europe."
10 BPM Club er startet af den københavnsk-bosatte engelske komponist og percussionist Greta Eacott. I 2017 lavede Greta Eacott med hjælp fra The Wire Magazine og Resident Advisor et open call henvendt til lydkunstnere såvel som dance music-producere om at indsende musik i hastigheden 10 BPM. "If I make a dance club with music at 10BPM will anybody come? What will it sound like? Can I dance 2 it? Will it be enjoyable?" Det gav flere end 200 tracks, som af de lokale dj's Puwabanne Femayal og Lukas Danys blev spillet til den første 10 BPM Dance Club på Christianshavn Beboerhus. Et håndplukket udvalg af de 200 numre bliver nu udgivet på båndet 10 BPM Dance Club Vol. 1, der dels udvider forståelsen af percussionmusik og dans, og dels indgår i et verdensomspændende netværk af nytænkende komponister. Musikken havde digital premiere i The Lake Radio i denne uge. Lyt til udsendelsen herunder.
Den danske freejazz-kvartet The Hum består af fire unge men velkendte navne på den danske musikscene. "The Hum" er indspillet i et fabrikslokale og består af en serie af 100 % improviserede værker, der er optaget med to mikrofoner samtidig til spolebånd og en computer, og derefter lagt sammen. Efter flere forgæves forsøg på udgivelse udkom den første version af dette kassettebåndstidsskrift til en forrygende anmeldelse af Byron Coley: "Excellent debut by a Danish quartet made up of players who are all active in the free jazz/free rock crossover scene up there. Saxophonist Henrik Pultz Melbye, guitarist Henrik Olsson, bassist Nicolai Kaas Claesson and drummer Rune Lohse offer a lot of different dynamic textures in their work. These range from free floating proggy slithers through murky twilight scenarios to blasted forays of pure destructo-improv of the Last Exit variety. Fine stuff," hvorefter første udgave af båndet blev udsolgt. I mellemtiden er deres optagestudie blevet gentrificeret af en kapitalfond, som på stedet reklamerer med sloganet: "We maximize profits through the elimination of human emotion from the decision making process."
Om udgivelserne:
Andrea Novel, Emil Elg & Cæcilie Trier "Windows Gateways Bridges"
Passive/Aggressive (ISSN 2245-862x) & KLD Repro (EB_06).
Cassette Tape & Print Publication. Edition of 100. Runtime 22 mins.
Text by Nils Bloch. Design by Wilfred Wagner. Master by Peter Peter.
10 BPM DANCE CLUB "Vol. 1."
Passive/Aggressive (ISSN 2245-862x) & KLD Repro (EB_07).
Cassette Tape & Print Publication. Edition of 60. Runtime 60 mins.
Text by Greta Eacott and Passive/Aggressive.
The Hum "The Hum"
Passive/Aggressive (ISSN 2245-862x) & KLD Repro (EB_08).
Cassette Tape & Print Publication. Edition of 100. Runtime 45 mins.
Text by Simon C. Design by Wilfred Wagner.
Info: Passive/Aggressives seneste tryksager er til salg hos udvalgte pladebutikker og private distributører som fx. Insula Records, Krabbesholm Højskole, Toftlund Højskole, Lydhør på en Søndag samt via mailoder. Det er desuden muligt at finde dem i boden under Festival of Endless Gratitude 20.-22. september.
previous post: Blonde Redhead –

More Than a Nostalgia Convention?