Knud Viktor –
Seeing music and hearing images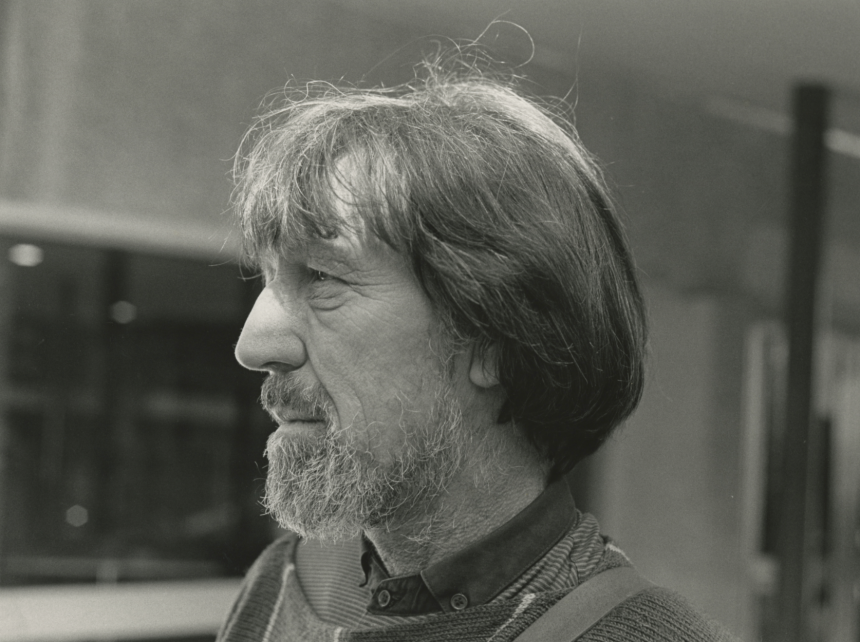 Exhibition "Bjerget Synger. Lydmaler Knud Viktor og hans verden" at The Museum for Contemporary Art in Roskilde (January 18-April 28 2019) and LP "Les Éphémères" and EP "Le petit Duc" by Knud Viktor (The Institute for Danish Sound Archaeology, 2019) – Review by Laura Juncker

In the wake of his passing in 2013, the life's work of the sound artist, Knud Viktor, has resurfaced in Denmark, where he had been something of a well-kept secret, despite having been regarded as a well-established artist in France. The exhibition and sound installation Bjerget Synger [The Mountain Sings] at The Museum for Contemporary Art in Roskilde is thus the first time Knud Viktor's iconic "sound images" have been presented to the public in the quadrophonic audio (4-channel surround sound) they were intended for when he created them more than 40 years ago.
Knud Viktor was born on the island of Samsø in 1924 and later trained at the Danish Academy of Fine Arts. In the early 1960s, he moved to the Luberon-mountain in Provence, famous for its unique light and colourful skies. Once he was there, however, he found something else that was just as, or even more, imposing on the senses than the light—the rich soundscapes of nature. He thus began to record them at their abundant sources—the hissing songs of the cricket, the drumming of raindrops, the fluttering of wine flies, the distant howls of the farmer, the long roars of a rockfall, the thudding of a bird's beak on a window—and so, in his studies, sound became his primary artistic medium as he himself became, of his own coinage, a sound painter.
Attendees of the exhibition, Bjerget Synger, can witness first hand Viktor's incessant occupation with the study of the nature that surrounded him both as isolated fragments, and in their harmonious interplay with each other. From the outset, the borders between sound, image and movement are dissolved as we are allowed into his synaestetic universe, where one human sense cannot be separated from another.

Upon entering Viktor's sound installation, one is met by a stylized sculpture of the Luberon-mountain placed at its centre, just as the mountain was the centerpiece of all of Viktor's art. With a number of his sound pieces playing in sequences lasting about 30 minutes each, the mountain invites guests to lie down and become immersed in soundscapes unfolding above and all around, while insects in close-up photographs along the walls stare back with their large, curious faces.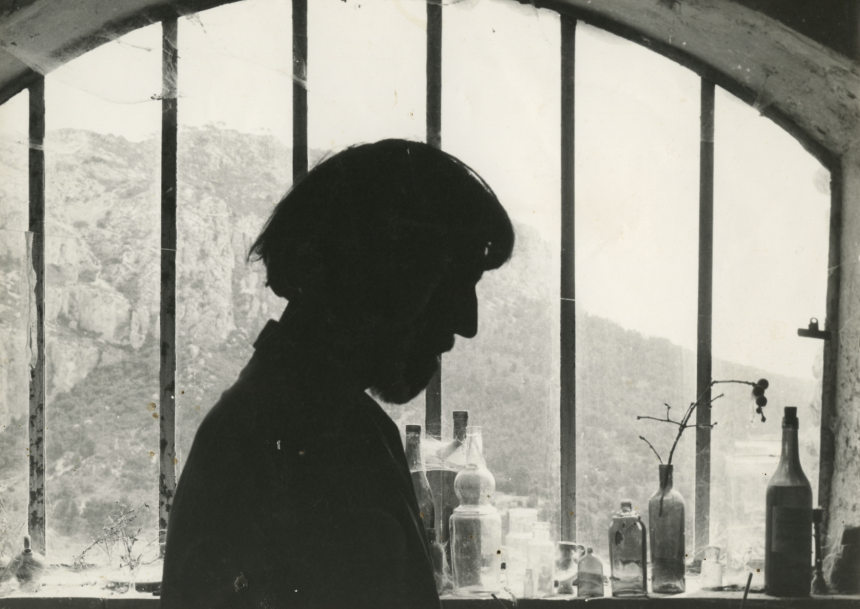 Sounds shift between almost entirely unprocessed recordings of pastoral landscapes, such as herds of sheep, to manipulated sound pieces—at times abstract and at others almost melodic—composed from unidentifiable sound sources. Further still, some pieces work from extremely specific figurative images such as the crunchy bites of a worm chewing away on an apple, or the slow, laborious movement of a snail dragging itself forward.
In the adjoining room, Viktor's large, four-walled video installation pulsate with calm images in long video sequences. These similarly focus attention on nature's rich details, such as the wind dancing in a spider's web, or the repetitive structure of a stone fence, or slimy bubbles dripping rhythmically in a foam formation. Although they have no soundtracks, they nonetheless evoke vibrant sonic experiences, leaving us with a clear impression of how light becomes sound and sound becomes light in the mind of Knud Viktor.
In the presence of the giant sonic and video sculptures, one can feel themselves become ever-smaller. Despite, or maybe even because, they reveal the banality of the lives of these tiny insects and animals, the installations make these creatures remarkably relatable. Spatiality and its meaning for the relationship of humans to nature forms a central question throughout the exhibition. Likewise, this particular subject is beautifully explored in the curator's essay in the exhibition catalogue.
Further closure is given to the narrative of Viktor's work with the releases of the EP Le Petit Duc and the LP Les Éphémères that accompany the exhibition. With these records, Viktor's sound images can be brought home to decorate our living rooms. But more than this, these records can allow us to become more familiar with the heartfelt respect that this self-taught field recording pioneer had for his fellow earthlings on the mountain. The records are released by The Institute for Danish Sound Archaeology, which previously released two other LPs of Viktor's, Ambiances and Images.
On Le Petit Duc [The Little Scops Owl], Viktor follows the scops owl, for which he had a special affinity, and spent so much time listening to that he was eventually able to distinguish between the particular meanings of their different sounds. When listening to an owl nest right on top of Viktor's installed microphone, we get a rare close-up of its everyday life. All the while, Viktor's poetic commentary translate the sounds into a short story of the mother and father owl raising a family.
The LP Les Éphémères [The Fleeting Ones] was recently found as a master tape in Viktor's archives along with a complete cover design. For reasons unknown, it was not released in Viktor's lifetime, and its publication is, therefore, an interesting archaeological restoration of a small piece of overlooked sound art history. In it, we hear 20 different soundtracks derived from various elements of life on the mountain. These include the stunning noise of crickets, birds' calling, the bubbling of fermenting wine in barrels, and again Viktor's occasional soft-spoken poetry makes an appearance without taking too much attention away from the real protagonists of these stories.
Knud Viktor reminds us to marvel at the things we take for granted on an everyday basis. And with the current exhibition and album releases, The Museum for Contemporary Art and The Institute for Danish Sound Archaeology have not only accomplished a fascinating retrospect of the human and artist Knud Viktor—which alone would be well worth a train trip to Roskilde—but also raised fundamental questions about the self-perceived superiority of humans over nature. The importance of this latter point cannot be overstated. Especially at a time when biodiversity is under more of a threat than ever and as we finally face the consequences of the damage we have wrought on a broad and daunting scale. Knud Viktor's sound art makes this reality undeniably apparent by amplifying the resonances of nature's quotidian majesty.
Info: "Les Éphémères" and "Le petit Duc" were released by Insitut for Dansk Lydarkæologi January 17 and April 3 respectively. The exhibition "Knud Viktor. Bjerget Synger" runs until April 28.

previous post: Victor Espasandín –

Det ekstraterrestiale som æstetisk knudepunkt