Opaque –
Dedicated listening at a proper club night? (live review)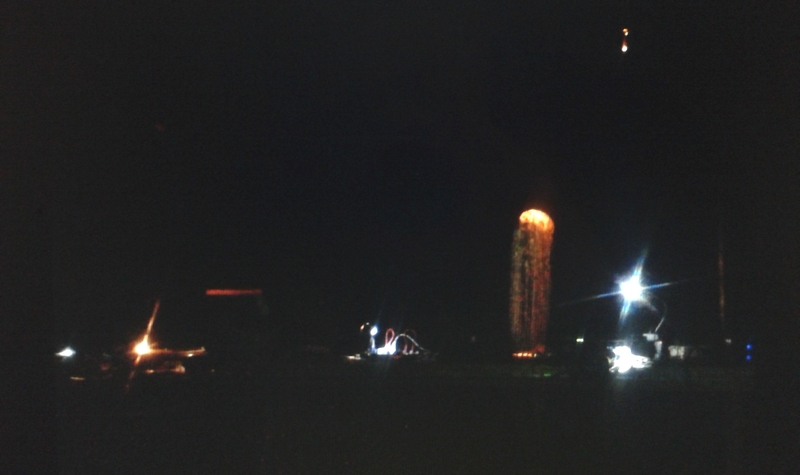 Review of Opaque electronic journey w/ Peder Mannerfelt, Yen Towers etc. at Ideal Bar, February 3 2017 – by Ivna Franić / photo: Lea Anić
Friday saw the first installment of Opaque electronic journey, a new series of events in Copenhagen dedicated to techno, ambient and noise, aiming to "create a space for the dedicated listener". The idea of bringing together experimental/noise electronic acts and techno DJs seems like a simple but effective way to challenge the conservative club culture, often averse to overly adventurous and/or unpleasant sounds. Putting this idea to practice, however, might not always turn out entirely as planned.
One of the first obstacles comes with choosing between a club space and a concert space, or deciding on seizing an opportunity to explore new venue possibilities. Doing this type of event at Vega's Ideal Bar probably falls into the latter category, considering that it's a place where you'd hardly expect to hear cutting edge music. Whether it was the intention or a mere set of circumstances that lead Opaque to Vega, is less relevant – there we were, standing in a not too dark bar-like hall, awaiting for an evening of fucked-up electronics.
DJ Neri J didn't pay much mind to the circumstances such as the venue, the crowd or the unpopular early slot. Refusing to settle for a light opening set one might have expected, she kicked the evening off with a deep, heavy blend of dark and almost trance-like ambient techno, leaving little room for the usual crowd chatter during the opening set. Interesting as this approach may be, it seemed to have left most of the audience cold or wishing they were at an early-morning afterparty, where Neri J would have probably crushed it.
Hot on the heels of two very good Yen Towers EPs from 2016 ("Bidders Must Justify Their Price", "One Look from the Boss") and the also intriguing LP "Performance" he recently released as one half of Age Coin, Simon Formann seemed like an excellent match for Opaque. Infused with industrial influence, Formann's garage techno that is at the same time heavy and airy wouldn't be out of place in the catalog of labels such as Blackest Ever Black, Modern Love or Bristol's Young Echo. His slightly retro-sounding electro fortunately never comes across as pastiche, which he also proved with Friday's exquisite set. With one foot on the dancefloor but never fully stepping into the techno party territory, it echoed the feel of a squat club at 4am, cloaked in smoke coming from the fog machine with some actual fog coming out of your mouth as you try to speak to your friend and give up because the noise is simply too loud.
Back in real life, though, you're enjoying the comfort of Vega's hall, unfortunately able to hear conversations of the careless folks. Some of the audience probably got thinking things would continue in the direction set by Yen Towers' quite dynamic set, which left them with little patience for the slow-building but stunning performance by Peder Mannerfelt.
Having jumped in last minute for the originally announced headliner Mika Vainio who couldn't make it to Copenhagen, Mannerfelt found himself in a somewhat undesirable position of a lead act that a good deal of the audience didn't actually come to see. This is one of the shortcomings of booking such a strong name without having enough time to properly promote it, but nevertheless, props to the organizers for finding a solution so quickly and providing us with an opportunity to see an act in its prime: Mannerfelt's latest album, "Controlling Body", easily counts among 2016's finest.
Appearing on the stage in what looked like a military onesie and wearing the trademark long blonde wig, Mannerfelt was in no hurry to unwrap his intense set. What started out with experimental drone, eventually ended with a straight up techno jam – much to the delight of part of the audience. In between, Peder Mannerfelt masterfully guided us through different shades of the characteristically abysmal sound present in his solo productions as well as his work with others such as Fever Ray and especially Roll the Dice, his underrated duo with Malcolm Pardon. The constantly piercing bass sound underlied whatever kinds of structures Mannerfelt would lay over it, from glitchy noises and weird beats, through almost poppy vocal samples (most likely coming from Glasser's Cameron Mesirow), to his particular vision of techno.
When at one point the volume finally turned up – apparently due to the ending of an event in another one of Vega's halls – we could properly immerse ourselves in all layers of Mannerfelt's sound. It's a shame that this moment came so late into the set, and that very few people seemed as interested in his performance as they most definitely should have been. Abruptly ending his set by closing the laptop lid, Mannerfelt quickly left the stage leaving it to the visibly restless Stockholm based DJ Jin Mustafa.
In spite of a great lineup, excellent sets by Yen Towers and Peder Mannerfelt, and constant attempts to disregard the behaviour and underlying expectations of a part of the crowd, the prevailing mood of eagerness for a "proper" club night – hardly corresponding to the ambitious event description – was just too difficult to ignore throughout the evening, resulting in a rather bizarre overall impression. The idea behind Opaque still seems quite interesting, though – let's hope things work out more smoothly next time!
previous post: Autopsia –

Kroppens iscenesættelse (reportage)