Henning Lundkvist
"Drone Music" (2021)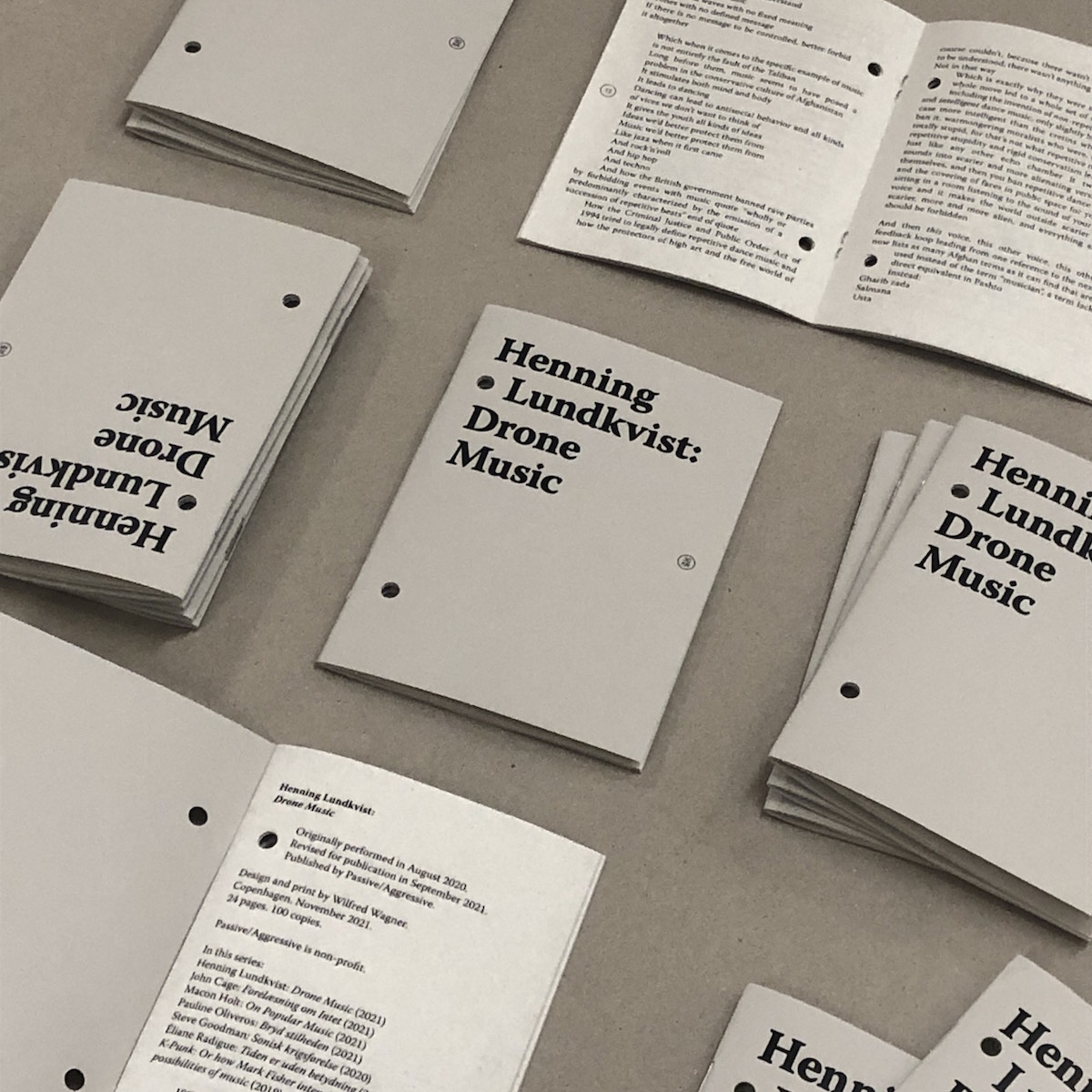 Henning Lundkvist:
Drone Music
Originally performed in August 2020.
Revised for publication in September 2021.
Published by Passive/Aggressive.
Design and print by Wilfred Wagner.
Copenhagen. November 2021.
24 pages. 100 copies.
Passive/Aggressive is non-profit.
All our publications are sold at production cost or on donation.
In this series:
Henning Lundkvist: Drone Music (2021)
John Cage: Forelæsning om Intet (2021)
Macon Holt: On Popular Music (2021)
Pauline Oliveros: Bryd stilheden (2021)
Steve Goodman: Sonisk krigsførelse (2020)
Éliane Radigue: Tiden er uden betydning (2019)
K-Punk: Or how Mark Fisher intensifies the political possibilities of music (2019)
How to order:
1. Subscription: The publication is sent to all new and current subscribers in November via patreon.com/pasaggressive
2. Mail order: Send your post address to info@passiveaggressive.dk – we will get back to you with exact amount to be transferred via Mobile Pay or Paypal. 30 kr + postage. (If you want to buy other products in this series, just let us know)
3. Pick-up at Proton Records (Griffenfeldsgade 50, kld) + our local distributors.
ISSN: 2245-862X
Mobile Pay no. 16919
www.passiveaggressive.dk
Thank you to The Danish Arts Foundation / Statens Kunstfond.