ZINE #4 er på vej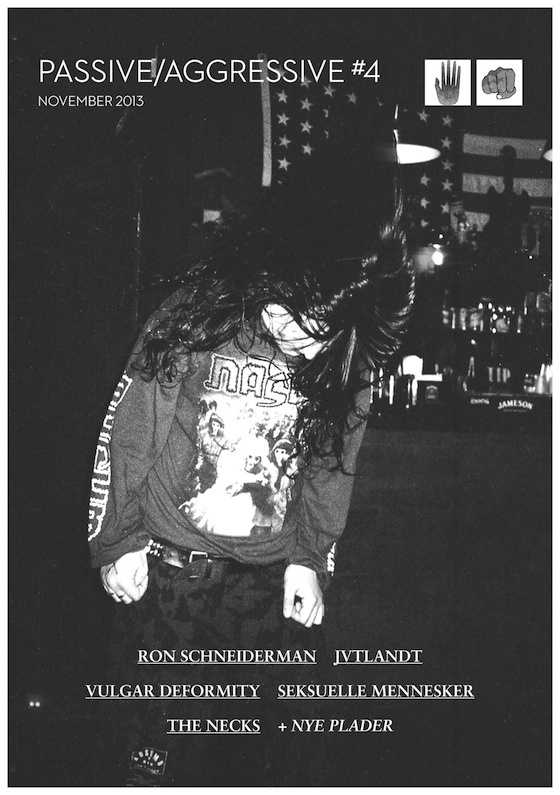 ZINE #4 udkommer i denne weekend med omslag af fotograf Fryd Frydendahl, interviews og pladeomtaler af Passive/Aggressives skribenter. Rasmus Elm Rasmussen fra Causa Sui, Troels Mads fra Festival of Endless Gratitude og Alexander Julin portrætterer Ron Schneiderman, der besøgte Danmark i september. Andreas Korsgaard Rasmussen, Rasmus Junge og Jens Franco fremhæver nogle af de bedste nye plader. Jonas Okholm skriver en lidt anderledes koncertreportage, og så er der interviews med Seksuelle Mennesker, Martin Vognsen, The Necks samt Jeppe og Matias fra Vulgar Deformity. Der er ikke noget tema for udgivelsen, men det er et udvalg af steder, hvor musikken flytter sig allermest – som (muligvis) har det til fælles, at de gør det uden profit for øje. Havde vi haft mere plads, så havde vi taget endnu mere med, men der kommer nok et nyt blad næste år.
"There's that thing, you can be like the most precise, classically trained, musician, playing exactly the score, with exact technique and like so incredibly, beautifully precise – incredible, mindblowing, you know – and it's like, when you are doing that, playing the notes exactly as it is written, and the pitch is right, the bowing is right, you're on the end at the right point, you know – is that the absolute loss of ego in self, that you're so absolved in the process, that actually you are now emoting, because now you've transcended beyond the technique, and now you are playing this music, and the music itself is the power? Or is it the other way?" (Ron Schneiderman)
"Hvis man er nysgerrig, støder man naturligt på ukendte ting, som fanger ens interesse, og det ene fører til det næste. Vi kan jo udveksle erfaringer, så er der chance for, at vi begge to kommer ind i det ukendte. Man kan selvfølgelig også bare følge den til enhver tid herskende buzz, hvis man er helt blank." (Martin Vognsen)
"We never had a manager but just followed our noses and letting one thing lead to another. At that time I had been in some groups investing all kinds of emotional and intellectual energy into projects and then they kind of just evaporated. The Necks was just a therapeutic thing and a way of playing music that I haven't experience before. And it kind of removed all the stress and the eager of it." (Chris Abrahams)
"Jeg kan godt lide idéen om at sparke en bold op i luften og så se, hvor den lander. Det kan være alt, der påvirker den bold, men den lander et eller andet sted, og så er det det, man har. Ellers må man flytte den." (Holger Hartvig)
Passive/Aggressive er non-profit. Alle skribenter og bidragydere arbejder gratis.
Info: ZINE #4 udkommer i 300 ex. 36 sider A5 hæftet i toppen, pris kan variere fra 0-20 kroner. Udgivet med støtte fra GOODIEPAL-legatet. Distribueres hos Sort Kaffe & Vinyl, Insula Music, Jazzhouse, Æter, Headquarters, Rama Records, Københavns Hovedbibliotek eller via postordre (pre-order). Vi modtager donationer til at dække fremtidige trykomkostninger via Big Cartel. Releasefest den 2. november (RSVP).
previous post: Arve Henriksen –

Nostalgiske landvindinger