Händer som Vårdar –
Ingen forløsning, kun forhindring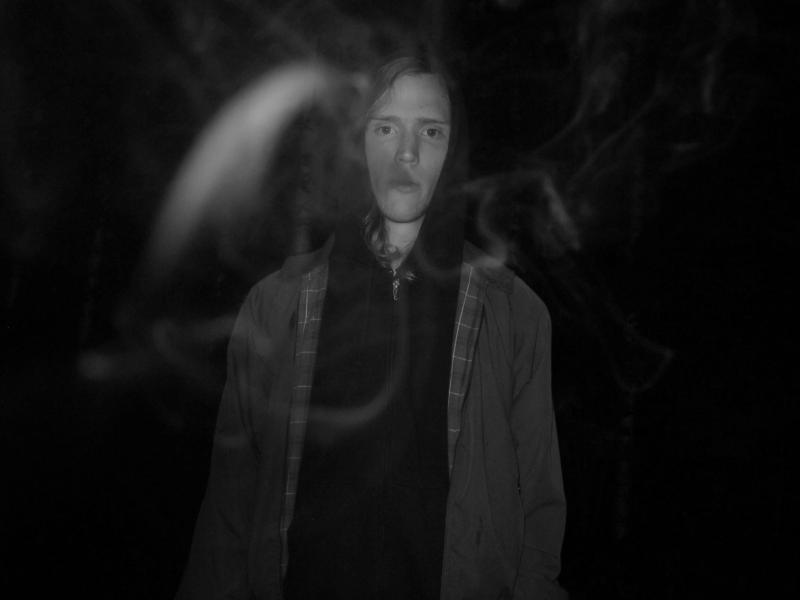 Af Anina Uldum
Svenske Henrik Söderström står bag navnet Händer som Vårdar – et noise/industrial-projekt, som gør brug af tape loops og bl.a. udspringer af miljøet omkring Release The Bats, Järtecknet og Utmarken. Ifølge Posh Isolation, der har udgivet "Interiors", bærer båndet i højere grad end projektets tidligere udgivelser skyggen af et narrativ og en vis romantisk sensibilitet. I albummets liner notes beskrives udgivelsen som "Five pieces performed for the furniture, but dedicated to a person in a adjacent room." Titlerne på numrene lægger også an til en undersøgelse af rum, tid og forholdet til andre personer, f.eks. "Morning Room (With 1 Sleeping Person)".
Når man giver sig til at undersøge "Interiors", viser det sig dog hurtigt, at der er noget, man ikke får adgang til. I forlængelse af det tema, som titlen "Interiors" indikerer, så er der også noget, der skjules. Nogle gange får vi et kort øjeblik adgang til noget menneskeligt, organisk, varmt og levende. Men vi ser det kun i korte skygger, som refleksioner i beskidte overflader.
Udgivelsen åbner med nummeret "Between Walls (Alone (person in adjacent room))", hvor en snurrende kold tone bevæger sig rundt som et mekanisk insekt, der nogle gange skal trækkes op igen. Herefter får lyden selskab af en dyb, knurrende buldren, som havde man lagt øret helt ind til maven på et spindende kæmpedyr. De to væsners stemmer cirkler rundt om hinanden og i baggrunden hører man svagt endnu en stemme, der måske snakker, måske synger, måske messer noget uforståeligt.
I "Morning Room (With 1 Sleeping Person)" hører vi et stemningsfuldt piano gemt under kornet støj. En dyb mandevokal synger et par ord her og der. Den knurrende bas lurer lidt under overfladen og den kornede støj begynder at snurre. "Among Others (Alone (Exterior))" åbner med lyden af buldren af spredt slagtøj, og straks tager støjen over igen og forsøger at dække over de mere organiske trommer og hi-hatte. En svensk røst taler og tiltager i styrke, og alt bliver stille og roligt mere og mere kaotisk. De forskellige lydlige komponenter forsøger at overdøve hinanden for så at fortryde.
"In the Blue Room (With 2 People)" lyder som vinden, der suser i træerne og mellem høje bygninger, eller som når vinden får store metalplader til at vibrere i et dybt toneleje. Forskellige mekaniske og elektroniske lyde summer og svirrer. De minder meget om lydene fra gammeldags sci-fi-film, men fremstår her kolde og ensomme uden nogen munter nostalgi over sig. Den kolde, minimale retro-agtige støj, som står i centrum for udgivelsen, åbner også sidste nummer "Evening Room (Alone)". Det buldrer, summer og støjer, ikke voldsomt, ikke kaotisk, men monotont og dovent i næsten fire minutter. Så toner det ud. Kækt slutter albummet med et sample fra noget japansk anime – en anelse ironi at slutte på?
Til Brvtalist har Henrik Söderstrom udtalt, at Interiors balancerer mellem et industrial-udtryk og en romantisk collage (tænk Ghédalia Tazartes eller Robert Turman, red.): "Händer som Vårdar started in late 2009, when I was 20. Since then I have released 5 tapes, appeared on a few compilations and splits. Thematically the project was originally pretty bleak and depressive, becoming more broad over time, but always very personal. Musically it's always been structured industrial noise, assembled from taped sound and electronics. The name Händer som vårdar is Swedish for "Nursing hands". There's no literal hidden meaning to the name, it's meant as an image to be interpreted and to evoke a mood. … For my recent tape on Posh Isolation, I sketched a more musical work, with a progressing, romantic narrative, but ended up with static, industrial pieces, like situations that could appear in any order. It then came naturally to present them as settings or tableaus, hence the title (Interiors)."
Når man snakker om musik, der støjer, snakker man bl.a. om en wall of sound: Som lytter bliver man sænket ned i eller ramt af en bølge af lyd. På "Interiors" fremstår støjen også som en væg. Ikke som et hav i bevægelse, bare en væg. Dens kolde ryg holder dig ude og inviterer dig ikke ind i musikken. Udgivelsen består af en række grynede, forfaldne fotografier af en verden, der er gået i stå. Der er ingen forløsning, kun forhindring.
Info: "Interiors" udkom på kassettebånd på Posh Isolation i starten af januar. Händer som Vårdar udgiver LP på svenske Järtecknet i februar.

previous post: Funeral Future –

Tordnende techno bygget af sparsomme grundsten