Kelela –
Truth or Dare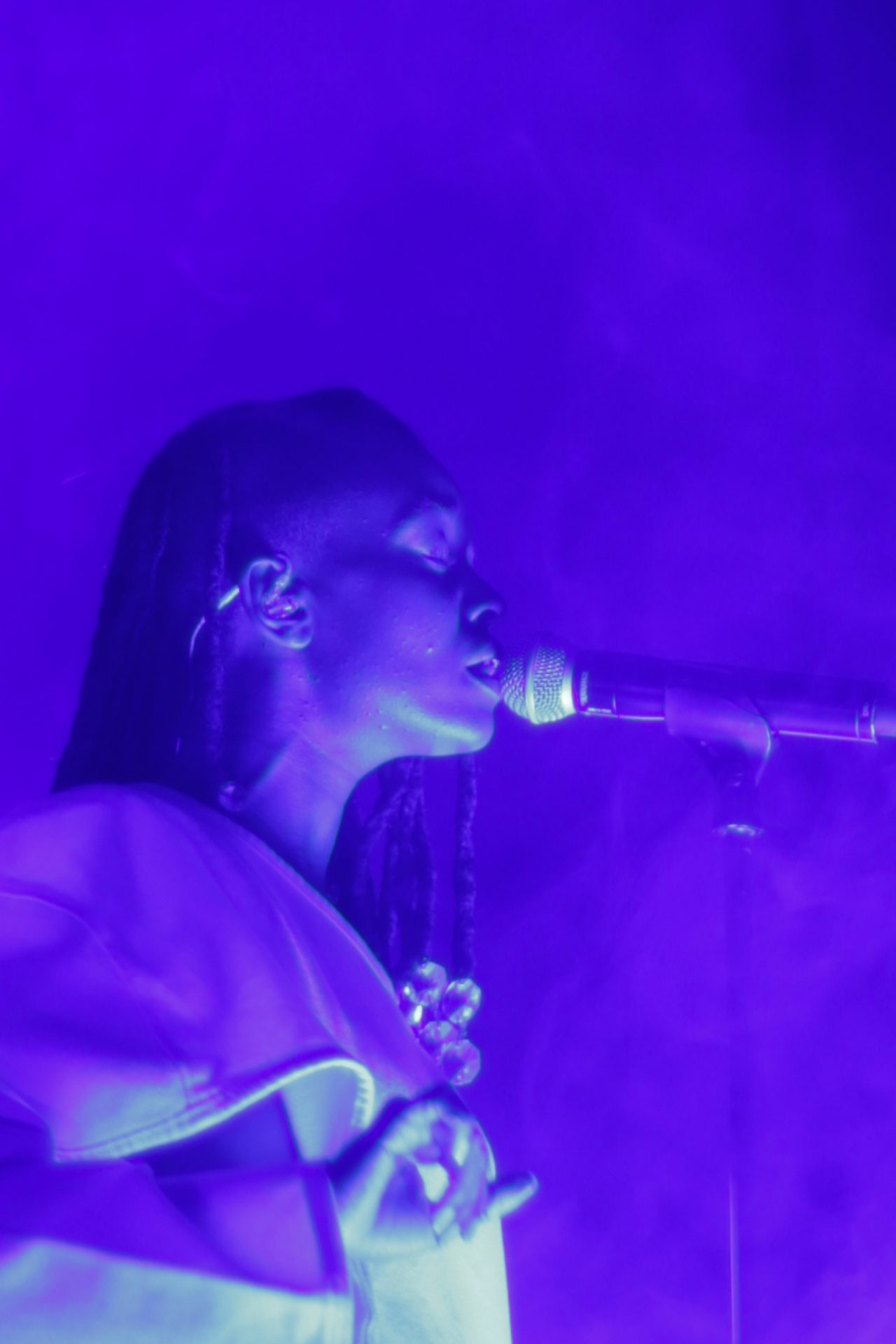 Kelela "Take Me Apart" (Warp, 2017) / Kelela, live at Pumpehuset – review by Ivna Franic. Photo by Anna M. Kanabas.
Los Angeles-based Kelela's 2013 mixtape Cut 4 Me was not only an introduction to a new, powerful voice of contemporary r&b: it was also a demonstration of an original approach to the genre's sometimes not-overtly-exciting musical backdrop. As much as Cut 4 Me was all about Kelela's vocals and lyrics that avoided some standard lovesong tropes, it was largely about intriguing beats as well. This year's long awaited debut LP Take Me Apart might have come off unexpectedly subdued at first, with the still very interesting music productions seeming somewhat restrained in order to make more room for the vocals.
In a live show following the album's release Kelela's vocals come front and center. As witnessed last week at Pumpehuset, she masterfully manages to maintain the audience's attention fleshing out Take Me Apart's mostly slow-paced material throughout the almost-an-hour-and-a-half long set. It is difficult to pinpoint the highlights, from the piercing bass of "Blue Light" and the delicacy of "Better" early on, to the delightful performance of "Truth or Dare" or an especially intense rendition of "The High" later in the show. Considering that the show largely relies on Kelela's vocals, it's small wonder that a simple cough can make shake up the whole thing. For some an unexpected disruption in the otherwise uninterrupted mood, for others a welcome break from the show's slickness, the moment doesn't last for long as Kelela is back to shape within a minute and restores everything right from where she was forced to pause.
The performance is clearly planned to the details, from setlist to the outfits and light; transitions between songs are smooth, Kelela's moves are coordinated with those of two backup vocalists. As much as everything appears to be meticulously directed, though, the show never feels automated, on the contrary: this perfectly set-up frame allows Kelela to focus on her part and deliver a truly immersive performance. Displaying a unique blend of shy and dominant stage persona, she makes a room packed with several hundred people feel quite intimate, as if we are attending a private session with a renowned relationship expert. Kelela doesn't wait long for the audience to call for an encore, and although it seems like the show is running for long enough already, her early cut "Bank Head" proves to offer a stunning finale to an engaging performance.
Having demonstrated that she can easily tackle various approaches to music production on early releases, and justified her reputation as the leading face of the new r&b with this year's LP, with the new live show Kelela pretty much cemented the position of a force to be reckoned with. If Cut 4 Me's sound of something fresh and different was immediately striking, Hallucinogen and Take Me Apart showed Kelela honing her vocal skills and taking a more subtle approach to song building, with layers of details brimming beneath a seductive surface. Her current live show carefully unpacks these layers, laying bare all the emotions and struggles behind them. On album and live stage alike, Kelela is very much focused, knowing exactly what she wants and how to achieve it without ever coming off as if she's trying to hard.
Despite her latest album's title plea, by listening to it and attending the live show, it's you who grants her the permission to take you apart.
previous post: Twin Cities –

2017-mixtape #2