Yousuke Nakano –
Subtly funking you up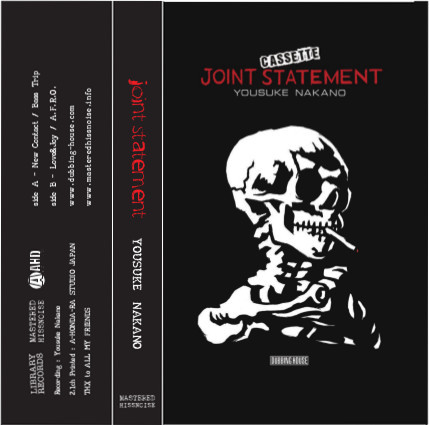 By Sandra S. Borch
Never judge a cassette by its cover. This time is no exception. The cover of Japanese Yousuke Nakano's "Joint Statement" is pretty cool. Showing a skeleton with a lit cigarette and a red headline sending a strong bad ass signal with a hint of punk or a hint of noise. However, the inside of the cassette is far from both punk and noise. It contains eleven tracks with enough groove to turn the afterparty into a soulful comedown.
"Joint Statement" was released on Nakano's own label named Dubbing House back in October 2015. However until now (found on at a recent Japan trip, ed.) the tape hasn't made its journey from the far-east coast to Scandinavia.
The opening track "Strange Party" is also the best track. It's a sonic extension of easy summer breeze. The continuous tap on the tambourine shakes up the jingles and keeps the energy high. Tracks like "Beat the Enemy" and "Bass Trip" has the same level of energy and atmosphere. It's a percussion party from start to stop.
The rest of the cassette makes some more surprising cuts and turns. There are shades of dub in "A.F.R.O" with sparse halftime beat, pitch-back atmosphere and slow bongos. "London Burning" has some jazzy elements combined with a weird sort of big band feeling at the same time it is a complete banger. "Love & Joy" has got a more reggae touch to it with its vocal. For all its beauty, the track 'Blue Boys' is the closing track of the tape. It's a more mellow feeling, aided by some welcome flanger on the hi-hats. 'Blue Boys' also has a swinging beat, as if Nakano tried to turn the afterparty into a soulful comedown.
Most of the charm comes from cheeky beats and tricky basslines as melody takes a backseat to rhythm on the tape. This cassette might not be a big room banger but it could make every hip pending side to side. This is house music that subtly funks you up. 'Joint Statement' is an odd and exotic world of its own.
Info: Listen to Yousuke Nakano "Joint Statement" (Dubbing House, 2015) in full length on Spotify. Excerpt below.
previous post: Hiraki –

Klassekampen opløst i permanent krisetilstand