Bright Kids –
debutudgivelse med flashback til et klubværelse i 90'erne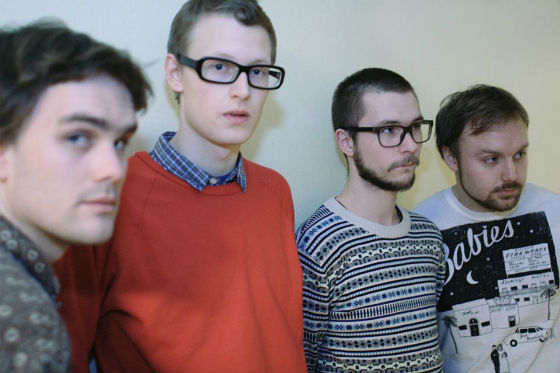 Hvornår er man ved at være et gammelt røvhul? Når man er gammel nok til at forbinde en bestemt genre eller lyd med konkrete episoder for 15 år siden, frem for 'blot' som en lydlig reference? Grunden til det retoriske spørgsmål er en selvbetitlet ep, som københavnske Bright Kids udsender i denne uge, der beamer mig tilbage til 90'erne, dengang alternative rockmusikere (også) satte indhold over form.
Brights Kids – hvoraf to ud af fire medlemmer meget passende bærer hornbriller – forener to af årtiets fremmeste guitarbands fra hver sin side af Atlanten: Teenage Fanclubs ligefremme sangskrivning og krystalklare harmonier og Pavements anarki og lurende kaos. Begge grupper roterede på min grammofon og cd-hylde i slut-90'erne/start-00'erne, og måske er det derfor, at tågede minder om kolde klubværelser, cup noodles, sammenpressede dåseøl, hjemmerullede smøger, uvaskede persienner, krøllet sengetøj og slidte band-t-shirts dukker op i erindringen. Eller også er det blot, fordi Bright Kids' tekstunivers er ungdommeligt og let lidende på en ikke overgjort eller unødigt klynkende 'teen spleen'-facon. Nok også fordi man ikke at blive overfodret i løbet af de 15 minutter som ep'en varer. Eller sagt på en anden måde: her er strittende guitarstrenge, sløset charme og overanstrengte stemmebånd for alle pengene.
Bright Kids giver koncert på Bakken til Første Torsdag i Måneden den 1. november med Happy Hookers for Jesus og Hand of Dust. (RSVP) "Bright Kids EP" udkommer 29. oktober, lyt herunder eller download her.

previous post: Drømmerejse med Highlife, Lucky Dragons og Lamburg Tony (premiere)