Click Festival 2019 –
Strategies of resistance (a live report)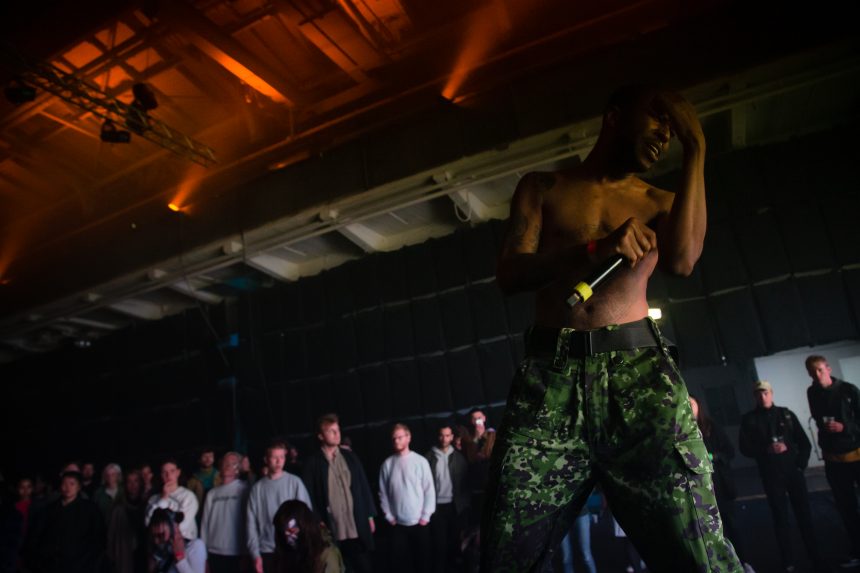 Click Festival 2019, 18-19th of May @ Kulturværftet, Helsingør – reportage by Ivna Franic.
Taking place one weekend in May, Helsingør's Click Festival presents a tight selection of music and art performances, talks, installations and screenings spread over two days. Now in its ninth year, the latest edition of Click saw the music program cutting down on headliners more than ever before, opting for a boiled down lineup of the international underground's most exciting offerings at the moment – even if they have yet to reach the status of festival darlings. In place of the Holly Herndons, Mykki Blancos, Laurie Andersons or Arcas of previous years' lineups, were Nkisi, Prison Religion, Leikeli47 and House of Kenzo. And despite the seemingly weaker attendance, it might be precisely this abandonment of the hierarchical festival structure that has helped Click achieve such a coherent approach to this year's topic, "death worlds", which has proven to be much more than just a cool-sounding festival tagline.
Operating at the intersection of music, art, technology and science, Click 2019 chose to frame its whole program in the context of necropolitics, dealing with the transformation of certain populations into "the living dead" through social and political power. In Coco Fusco's powerful language-based performance "Words May Not Be Found", testimonies on the details of the Herero and Nama genocide that took place in German South-West Africa in the early 20th century shine a light on various parallels between the colonial past and present – not only in relation to the strategies used to assert political control over underdeveloped countries but also in regards to the common representation of the colonized. Under the surface of a banal animal rights-themed performance in which Slovenian artist Betina Habjanič dedicated hours to carefully sewing together a disassembled pig, "Love Act: Marche Funèbre" uncovers a much more interesting theme of care for another being. Jeannette Ehlers' video installation "The Gaze" might tackle the issues of race and power structures in a very straightforward way, but its positioning in the main hall of the festival holds a compelling lesson to all music festivals that consider the art/technology part of the program as little more than a convenient excuse to adorn the space with a few cute light installations.
While some of the concerts felt almost like a musical backdrop to viewing the installations and art performances, such as Resina's intriguing but not quite attention-grabbing performance "Traces" or Phew's vocal experiments (accompanied by some serious headbanging action), others allowed little space for your mind or body to wander anywhere else.
Richmond duo Prison Religion got straight to the point with their terrorscape of unsettling noises, and aggressive beats that often suddenly drew back leaving the floor entirely to distorted vocals. Early on in the performance, an abrupt outbreak of screams came from the audience courtesy of four dancers before they joined Prison Religion-members Poozy and False Prpht on stage in a dystopian dance-off. Providing somewhat of a structure to the deliberate sonic mess, the dancers and the visuals, which included dramatic news segments, helped root Prison Religion's cathartic blend of noise, industrial, hip-hop and whatnot firmly in the current sociopolitical landscape that is as terrifying as it is familiar. While Poozy's own description of their music as "music to beat the shit out of your oppressors. Music to beat the ALT right" does seem pretty accurate, on stage another, celebratory aspect emerged from the power to bring people together.
Taking the stage after Prison Religion, Nkisi did not appear to be the slightest bit insecure about following up such an intense performance – she just confidently delivered a forceful set of her own. Her trance-inducing approach to techno imbued with polyrhythms, dark undertones and noisy parts massages the senses and tickles the mind, proving once again why Nkisi is one of the best club acts out there right now. Following her elegantly exciting set, DJ Lag's feel-good energetic approach almost felt a little out of place at first. The audience happily gave in to all the fun though, joining him on the stage for a wild dance party. Well, that was before we got to learn the true meaning of "wild" courtesy of House of Kenzo.
Halcyon Veil affiliates like Prison Religion, House of Kenzo turned it up to 11 right from the very beginning of their performance. And when you start at 11, there's not much place to go, right? …That is unless you can just go on keeping it at that level and serve a show to remember, which House of Kenzo-members Ledef, Brexxitt and Grapefruit most definitely did. The audience – a little shy at first – quickly grew ecstatic and ended up taking over the runway part of the stage for the second time that evening. More than the flashy dance moves, voguing skills or sickening beats themselves, House of Kenzo are all about the immediate and unfiltered approach to these things, and that's what made pretty much everyone completely lose their shit. It was up to Leikeli47 and The Empire Line to finish the evening off, with the Sunday music program dedicated entirely to the late Julius Eastman.
Although cramming an elaborate program into barely two days is always bound to cause some organizational difficulties and inconvenient schedule overlaps, Click Festival manages to maintain a relaxed and friendly vibe. And moments like Brexxitt almost stealing Prison Religion's show at some point, or Nkisi having a blast during the House of Kenzo madness testify that it is not just the audience who feels at home there.
Somewhat like Austrian Donaufestival, based in the small town of Krems just outside of the capital Vienna, Click seems to position itself more as an extension to Copenhagen's cultural scene than your usual regional festival that might be willing to compromise its vision in order to attract a broader local audience. Presenting a well thought-through selection of different performance and exhibition formats, and giving space to marginalized voices, Click succesfully fills the gap in what Copenhagen has to offer. Not only in regards to its cutting-edge music selection but also its art program, this year the festival offered a very interesting and definitely more diverse program than a lot of the shows, exhibitions and performances we have recently had the opportunity to see in the capital.
Info: Revisit the full line-up here: www.clickfestival.dk/concert
previous post: Kasper Marott –

Drømmefulde dansetoner og polyfonisk percussion