Jesse Osborne-Lanthier –
Eksperimentel house m/ metal, hår og papir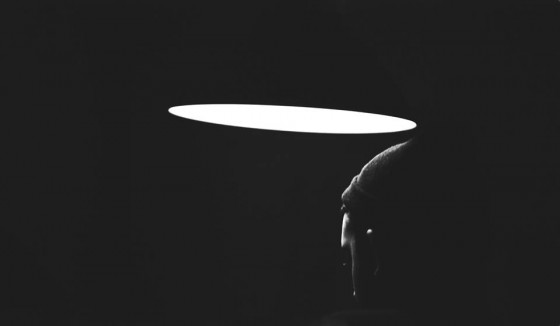 Tekst af Alexander Julin. Foto af Madison Dinelle.
Jesse Osborne-Lanthier er både musiker, designer såvel som lyd- og visuel kunstner. Ud over at have gjort sig bemærket under sit alias Noir og duoen Femminielli Noir (bestående af ham og Bernadino Femminielli) er Jesse Osborne-Lanthier nu også aktuel med et kassettebånd udgivet under sit borgerlige navn på Hobo Cult Records. Som det fremgår af hans Bandcamp, ligger der en række tematiske visioner bag musikken – "His works explore tendencies like hybridity, minimalism and saturation; and tend to recreate present human experiences such as ambiguity, conflict and discomfort" –, men det nye bånd kan også tages for musik med en mere fysisk appel, der går direkte i kroppen og ikke blot appellerer til intellektet.
"Athenaeum of Unedited, Superannuated, Incomplete, Unreleased, Intimate Works, 2011-2013", er, som titlen indikerer, en opsamling af solomateriale, der ikke er nået frem i lyset via Osborne-Lanthiers andre projekter. Optagelserne er skabt ud fra en længere række musikalsk udstyr, hvis enkelte funktioner jeg ikke kender, men også materialer såsom metal, hår og papir. Optagelserne stammer fra en række shows i Montreal, Berlin, Barcelona og Nottingham, og bortset fra justeringer af lydstyrken etc. er de ikke blevet redigeret efterfølgende. Dette medfører en vis spænding eller utilregnelighed i musikken, som må siges at være altafgørende for, at udgivelsen ikke bliver for kedsommelig og komfortabel.
I stedet lægger den sig et sted mellem et udfordrende take på dronet, minimalistisk house og et forfriskende soundtrack til morgenkaffen (hvilket i dette tilfælde er en ros). "Athenaeum of Unedited…" placerer sig selv i en perfekt position som et uformelt, men udfordrende lille værk, der er svært utilregneligt, men aldrig overdrevent prætentiøst.
previous post: Jomi Massage –

Et uddybende interview om et kunstnerisk nu / nu