Passive/Aggressive –
New magazine gets international release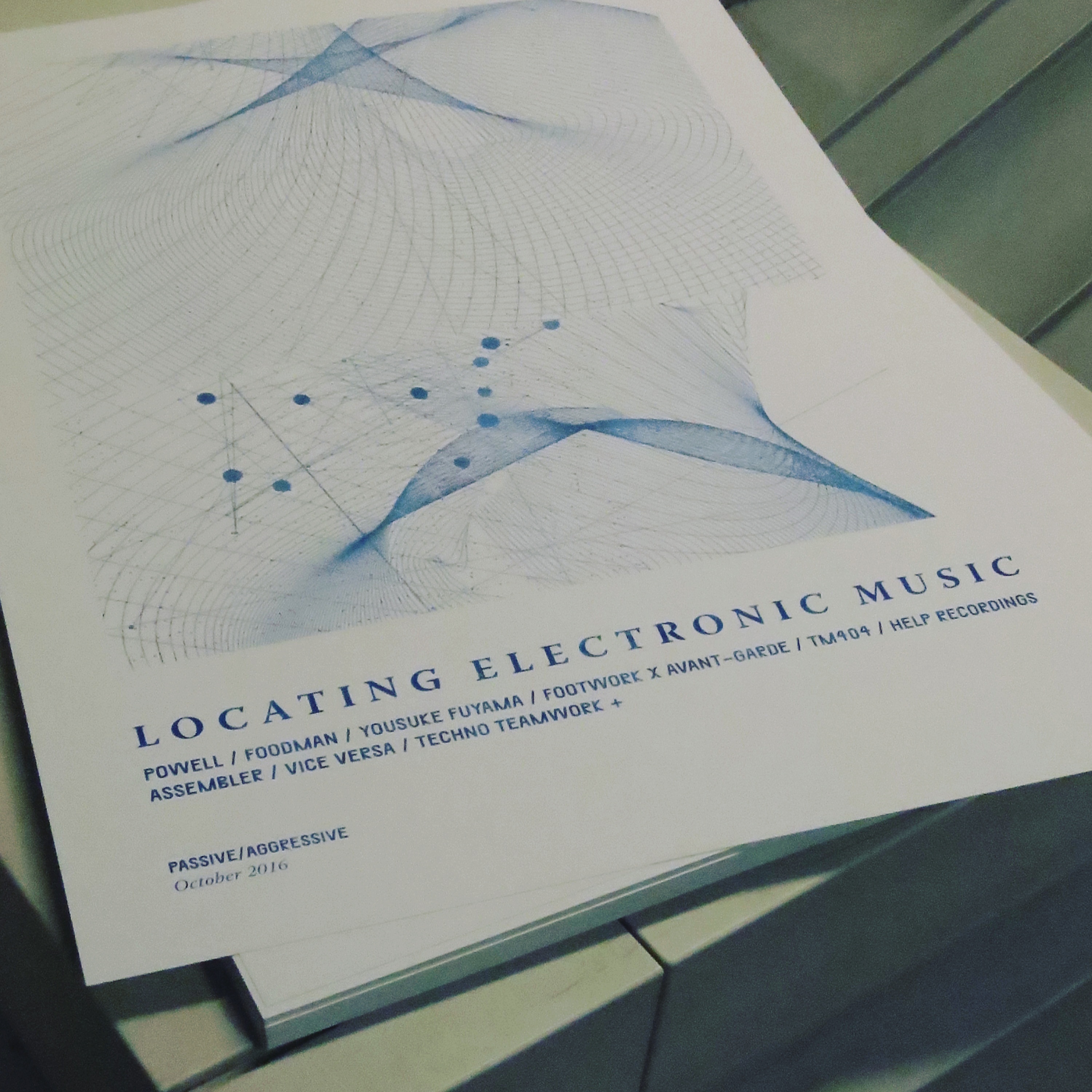 The sixth edition of the ZINE by Passive/Aggressive is out in October 2016. For the first time it is written in English and will therefore be distributed worldwide in the coming month.
The new magazine is titled "Locating Electronic Music" and focuses on new electronic music in the widest understanding imaginable. Artist interviews, in-depth features, a festival reportage and thoughts on the meeting between dance music and the avant-garde.
ZINE #6 – LOCATING ELECTRONIC MUSIC
POWELL / FOODMAN / YOUSUKE FUYAMA / FOOTWORK X AVANT-GARDE
TM404 / HELP RECORDINGS / ASSEMBLER / VICE VERSA / TECHNO TEAMWORK +
"It's almost like festivals are the new major labels. Like in the old days major record labels would sign these huge acts and know that they would sell hundreds of thousands of records. Now festivals sign huge acts and know that hundreds of thousands of people will come and see them. I think this kind of effect is dripping down into what used to be this precious beautiful thing, which was dance music and electronic music." – Oscar Powell.
現在のエレクトロニックミュージックのシーンは本当にエ キサイティングだとおもいます。しかしインターネットは諸 刃の剣で、似たような音楽も非常に増えているとかんじ ています。情報を閉ざすことも独自に進化するためのヒントなのか もしれません. / "I think the current electronic music scene is very exciting. However, the internet is a double-edged sword and I feel the amount of very similar music is increasing at tremendous speed. Maybe the trick is to shut down all the information in order to create original work." – Foodman, Takahide Higuchi
"I just kept on recording for my own amusement. After all, a good studio is the best amusement park." – Andreas Tilliander, TM404
"When you have been involved with industrial, power electronics, punk, hardcore, grindcore, black metal, whatever, which all is about the world being shit, Satanism, murder and death – then at one point you just get a bit tired of the negative element, and I think techno is the perfect counterbalance to all the death and destruction, because it's not a totally different aesthetic, but the message is different." – Klaus H. Hansen, Vault-101
"Sound is a mere result of an energy passing through the air creating a vibration. Therefore sound has no place and is a nomad crossing borders and stepping on new territories every time brought to life." – Introduction.
Print: Cyclus paper, 44 pages, risographic print, edition of 500. Made by Sandra S. Borch, Susanne from Studio Mogs, visual artist Fuyama Yousuke and Wilfred Wagner from KLD Repro in collaboration with Passive/Aggressive.
ZINE #6 will be released and distributed with help from our friends in Sort Kaffe & Vinyl & Insula Music in Copenhagen, Commend in New York, Cafe Oto in London, Big Love Records and Nighthingale in Tokyo, Flux Festival in Aarhus, Phono Festival in Odense among others. Full distribution list will be updated at passiveaggressive.dk/zines shortly. Passive/Aggressive is a non-profit Copenhagen-based music forum.
Pre-order ZINE #6 at passiveaggressive.bigcartel.com – with a small bonus stock of the latest two zines.
previous post: Videodrones –

Synthsmitten fra Fyn