Physically Sick 2 –
Music and medicine against legally administered poverty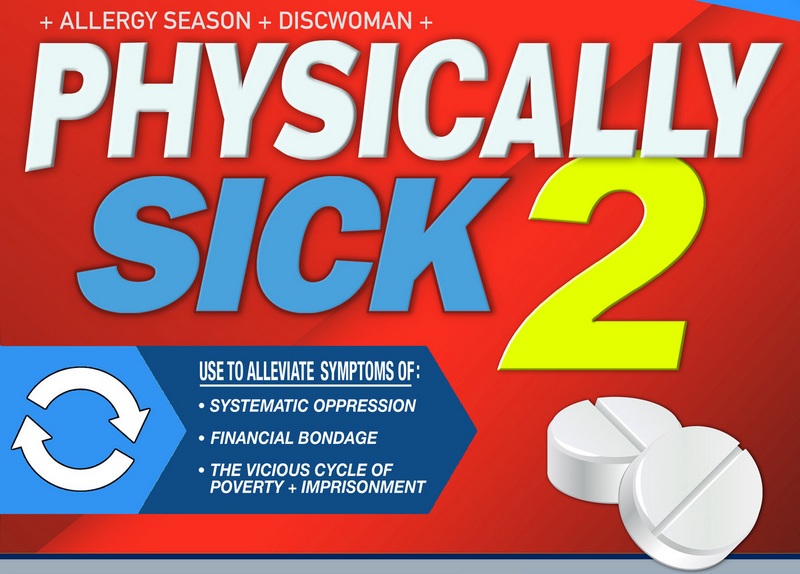 By Emil Néné Rasmussen
In the always peculiar legal world of the USA, a particularly odd system is set in motion almost every time someone is held in custody or otherwise detained. The system is called bail, and it is the procedure of letting the detained person pay a deposit to the court in return for being released until their trial. While the exact cost of this procedure varies from state to state, depending on the severity of the crime, it has potentially destructive financial consequences for those impacted by it. No matter where one stands on crime and punishment, the matter of the fact is that 1: "We do not tend to confine the most dangerous – we jail the poorest among us", 2: "Our jails are disproportionately filled with Black and Latino men" and 3: "Defendants sit in jail for long periods awaiting trial. Some defendants have even waited in jail for more than four years before trial". (Alexander Shalom, "Bail Reform as a Mass Incarceration Reduction Technique", 2014)
So what can you do?
You could buy this – admittedly more self-reflective – "Band Aid"-ish concept compilation called "Physically Sick 2". By doing this you can support the Brooklyn Community Bail Fund, an organisation which helps people in need of bail money they can't afford themselves. As the title suggests, it is the successor to last year's "Physically Sick", which supported a number of charities.
It is a compilation by Allergy Season and Discwoman, curated by Umfang, Frankie Decaiza Hutchinson, and Physical Therapy. It is released digitally with a name-your-price model, but no matter the price you choose, it would be an understatement to say that you will definitely get your money's worth. At a staggering 44 tracks by 46 different musicians it also happens to be a very good insight into today's international world of electronic music.
Besides being mostly techno or house, there's no strict coherence in the style of music presented on this release. Industrial and harsh pieces like Danish Puce Mary's "A Severed Head", coexist side by side with quieter pieces such as Ciel's "Terracotta". However, there does seem to be a thorough melancholy or disquieting hopelessness on most tracks.
Doxa's "Disideratum" for example uses a maddening, rolling percussion to invoke a sense of non-direction that hammers on and on. Rune Bagge's "Demons" comes with a powerful, distorted beat over a tapestry of bass filled ambiance. Others are more explicitly hands on with the social aspect of the compilation, such as Tygapaw's "BLACK WOMXN EXPERIENCE" or Laurel Halo's "Excerpt From an Open Letter to John Paul II". The latter features a recording of former Black Liberation Army member Assata Shakur, where she describes her trial: "I advocate an end to capitalist exploitation, the abolition of racist policies, the eradication of sexism, and the elimination of political repression. If that is a crime, then I am totally guilty".
The theme is ever present, scattered through the titles and the sounds. "False Witness" by Claudia Jones obviously alludes to the practice of judicial murder through bearing false witness, thereby twisting justice in favor of the already powerful. Here it is depicted by sinister, crawling drum patterns. It is hard to say whether the atmosphere felt on this track is seen through the eyes of the victim or the witness. Perhaps it belongs to the entire social context of trials, court rooms and the subjecting eyes of the law.
Two of the most interesting tracks on this compilation come from BEARCAT and Hiro Kone. BEARCAT delivers a strange mixture of heavy beats and creeping melodies that sound half screaming and half machinic. Feels like hiding in the shadows, both wanting to reveal your power and to hide it. Similarly Hiro Kone's dubstep on "Twisted" is like urban nighttime silence, echoing through time.
I must also mention the metaphor of being sick or with sickness in general. The cover, mimicking a pill bottle, promises to alleviate symptoms of systemic oppression and financial bondage. It is almost a punch to the side, in the face of American drug and medicine culture (a trademark of the Allergy Season label). With most tracks and artists regarding themselves as sick by definition, we must also swallow the medicine. The symptoms exist regardless and painkillers will never be the end of it – but it prolongs the inevitable. Regardless of the important politics of this compilation, it also happens to be a diverse insight into electronic music today and should be of importance to anyone who is even remotely interested in where electronic music is going at the moment.
Info: "Physically Sick 2" was released in the beginning of March.
previous post: MaerzMusik –

Deconstructed and recomposed (a live report)